| | | |
| --- | --- | --- |
| WHAT IS THE BEST APPROACH TO COPY-WRITING? In this new age of rediscovery and ever increasing demands on one's time, it is offensive to market with excessive copy to make a simple point. If the most effective advertising design is easy to digest, it is reasonable and respectful to use a minimal amount of words to communicate an opportunity. Creative writing is always concise, memorable, and crisp copy will attract attention in print or online. Pen and keyboard have the power to elicit a broad set of emotions, change history, and make or break a sale. | | |
BE GENUINE
We are bombarded by marketing in a win/lose concept of economy where advertising claims are often deceptive, inflated, and in extreme cases, outright fraud! There are also a surprising number of websites that are baffling with the shear volume of information crammed on a page, which makes the back-button a handy thing, but leaves a foul taste as a result. These kinds of tactics will not build customer loyalty nor a quality brand. Be creative, respectful, authentic, and sincere when writing advertising copy.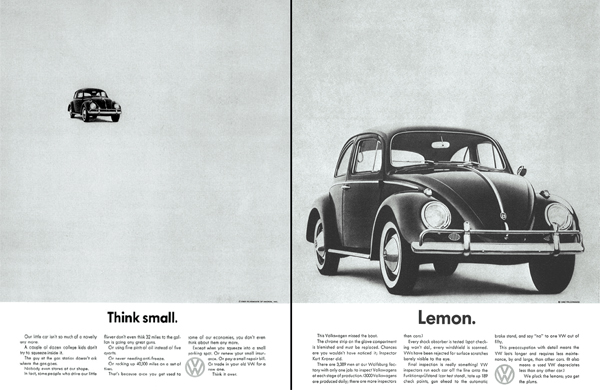 Volkswagon has maintained a very simple and imaginative approach to their adverting on television and in print as launched in 1959 by Doyle Dane Bernbach advertising agency. The designs are austere, usually containing one engaging headline, an interesting image, a little body copy and the VW logo. They were always playful and very memorable with lines such as; "Drivers Wanted."
click for larger image
INDIVIDUAL WORDS IN AND OUT OF FASHION CAN ADD RICHNESS
It is interesting to observe how certain words can earn such a powerful reputation, that they can represent an entire era, such as; Flapper, Beatnik, Wikipedia, Groovy, Antidisestablishmentarianism, Talkie, Geek, Grub, Gravity, Genome, Anesthetic, Airplane, Electricity, Radio, Television, Submarine, Spacecraft, Nova, Dander, Fodder, Corpuscle, Bamboozle, Gammon, Lucifers, Plunder, Greenbacks, Skedaddle, Hoosegow, Balderdash, and Razzmatazz, to mention a few. Of course there are many compound words and phrases used as slang that also change with our consciousness. When enough time passes, words that were once passé become fresh for reuse, and can add associated cultural history or contrast to the piece.
ENGLISH IS A RICH LANGUAGE TO WORK WITH
English is not an easy language to learn because it evolved into a conglomeration of words from many other languages, where spelling and pronunciation rules are not consistent. It is a broad language that gives us a wonderfully large pallet of words to choose from, as William F Buckley was fond of demonstrating at the expense of seeming obtuse, or alienating some readers, which is not healthy approach to good adverting copy. May we select our words wisely.
REMOVE THE CHAFF
Potent writing, like any art of expression, contains only what is necessary, and crafted so that it can no longer be simplified without loss of meaning. This applies to headlines and body-copy. Clarity is most important when to goal is to inspire action, or impart information of value. Excessive use of flowery adjectives is a thin disguise for corporate bull-ogna, which is pointless in a culture that has little tolerance for reading verbose sales pitches. Essays have been written claiming that the art of writing, is more the skill of re-writing and self-editing.
A LIST OF SOME POSITIVELY INSPIRING WORDS
Abundant
Achievement
Active
Affectionate
Appreciate
Beauty
Charity
Coexist
Commemorative
Concert
Confidence
Considerate
Coordinated
Creative
Credible
Deft
Delectable
Devise
Divine
Durable
Elated


Emerging
Endowed
Energetic
Enhanced
Essence
Extraordinary
Flair
Flourish
Formulate
Gallant
Generate
Generous
Graceful
Guidance
Happiness
Harmony
Healthy
Honesty
Inspiration
Integrity
Ingenuity

Intelligence
Interdependence
Invent
Joy
Kindness
Knowledgeable
Love
Legacy
Lush
Memories
Motivation
Nurture
Nourish
Orchestrated
Peaceful
Persistence
Poise
Powerful
Proven
Purpose
Quintessential

Rapture
Refined
Relativity
Resourceful
Respect
Reservoir
Scrumptious
Serenity
Sincerity
Strength
Success
Supported
Stewardship
Thrive
Trust
Unity
Vitality
Wholesome
Wisdom
Worthy
Zing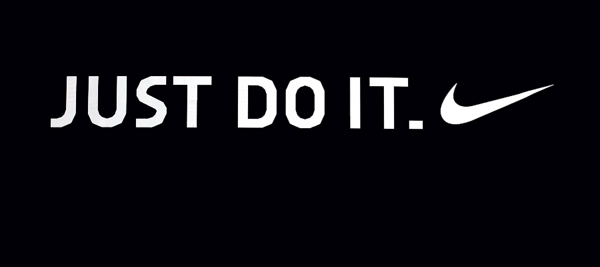 Nike's "Just Do It" campaign was so simple an obvious that it took a long time before someone thought of being that literal, that simple, and encouraging to the athletic-at-heart simultaneously. These ads typically had these three words, the Nike logo, and also appeared imposed over an image of a sports hero in action. Great stuff!
BEGIN WRITING THE AD WITH THE OBVIOUS
To nail the concept, put down what you really want to say, and all the information that must be included. From that first draft, refinements and punch can be added. Of course the text needs to do its job without weakening the visual presence of the overall design, or distract from the illustrative image and brand graphic. Experiment by writing all the different versions of the headline that can be brain-stormed. Now there are some choices that might suggest appropriate image to support or juxtapose the headline. Call a great marketing designer to help refine your ad and put together the pieces in magnetic manner.
– – Mark Smollin
© 1999-2010 Mark Smollin - All rights Reserved