MICHAEL SMOLLIN – Artist Profile
Michael was born in 1925 to a Russian father and Polish mother who immigrated to the United States early in the twentieth century to avoid being abused by the coming of WWI. They established their family in the quiet community of East Hampton, Long Island, New York. He played trumpet in the high school marching bad, learned piano, and graduated with 28 students in the class of 1943. Extra time was donated to local cultural acclivities at Guild Hall, decorating sets for plays, filling a variety of roles supporting art shows and special events.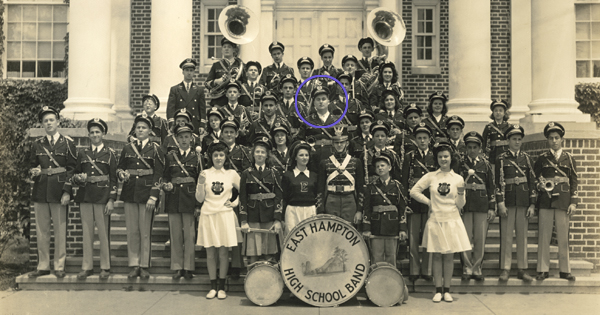 WWII

Military service began at Cornell University under the ASTP program, but 'Mothers Marched on Washington" to kill the program and so his basic training started at Fort Benning GA. Michael was deployed in the Battle of the Bulge with the 75th Infantry Division, awarded the Purple Heart for shrapnel wounds, which took him out off active duty and probably saved his life. After medical recovery in England, Michael returned to the States seeking an art education.


Teaching at Bournemouth
Hand painting Xmas cards
PRATT INSTITUTE
| | | |
| --- | --- | --- |
| | | The GI Bill, good grades and creative potential granted him acceptance to Pratt Institute, a professional co-ed college in Brooklyn, New York, where studied advertising design in a three year certificate program. This is also where he met and fell in love with Cornelia Mueller. They married in 1950 and lived in a small apartment while Mike began his advertising career. The Art Directors Club of New York held a job placement competition for promising seniors of local colleges and Michael won first prize, which led to his first job at Hazard Advertising as a production artist. |
ADVERTISING AGENCY HISTORY
Carloni Studios: Production Artist

Young & Rubicam ( Y&R): Art Director for television
accounts: Lipton, Swansdown

Ed Graham Productions: Art Director
accounts: Tip Top Bread, Milbrook Bread, Tide, Triple S Blue Stamps
First illustrated book in collaboration with author/comedians Bob Elliot and Ray Goulding; Linda Lovely and the Fleebus

J Walter Thompson: Art Director
accounts: Ford

Ogilvy & Mather: Senior Vice President, Television Division
accounts: Mercedes, IBM, Hathaway Shirts, Gillette

Ray Favada Productions: Animation Designer
accounts : Sugar Crisp, The Great Space Coaster – Emmy Award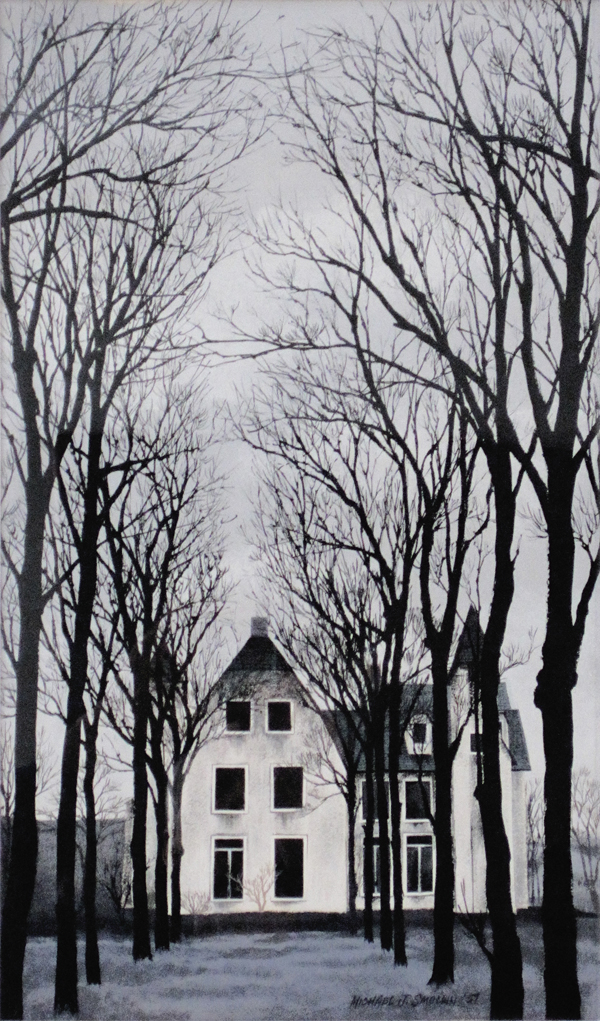 Winter Manor 1959: Gouache painting on illustration board.
FREELANCE ILLUSTRATION HISTORY
Michael's inventive advertising talents were rewarded by promotions, yet as an executive, he was virtually isolated from the love of making images and he decided it was time to return to the drawing board. The transition wasn't easy and it took time to secure an agent and attract a set of clients. Major clients included TV Guide, Time Magazine, Milton Bradley, and other game companies. In addition to executing freelance jobs,. Michael administrated the Illustrators Workshop and a stellar group of artists.

The Illustrators Workshop: Managing Director 1977-1978
The Illustrators Workshop was a four week seminar to assist graduate students prepare for a commercial illustration career, held by these promenant American Illustrators:

Robert Peak
Marc English
Robert Heindel
Bernie Fuchs
Alan Cober
Fred Otnes
Michael Smollin

Presentations, demonstrations, exhibitions and dormitory facilities provided at Marymount College in Tarrytown, New York.

Visiting guests included art directors and other industry professionals working in the tri-state area.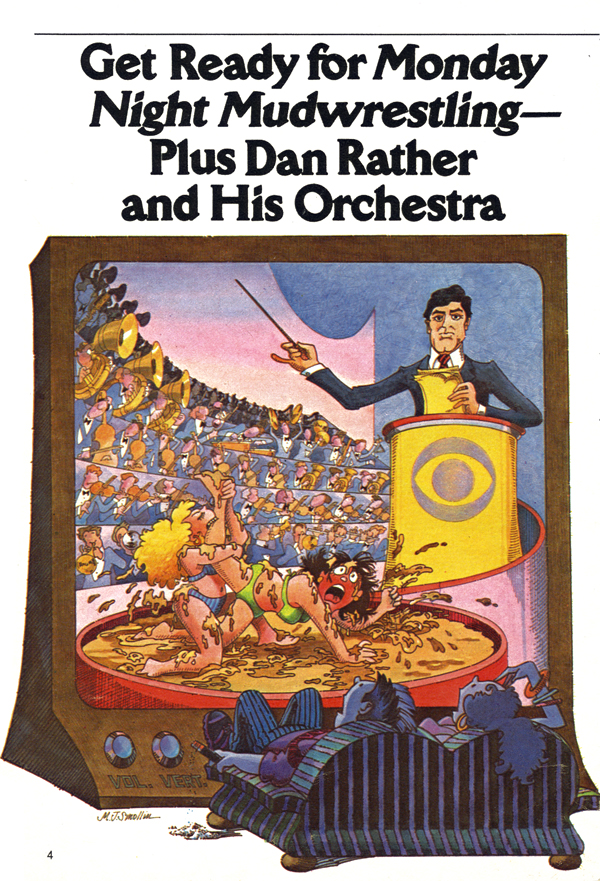 BOOK ILLUSTRATION HISTORY
With the invention of Jim Henson's Sesame Street program on PBS, Random House publishers made the introduction to a lasting association between two dedicated creatives. Many books, calendars and record albums were illustrated featuring the Muppets as individuals or in groups. The first book was; The Monster At The End Of This Book published in 1971, the most popular Sesame Street title of all time, reprinted by popular demand in 1977, 1999 along with its sequel book, Another Monster At The End Of This Book. Please Do Not Open This Book was reissued thirty years after it first appeared in 2006. All three books featuring the ever popular, lovable, furry old, Grover are the most popular illustrated books by the artist. As of 1995 Michael illustrated six all-time bestselling paperback children's books: The End Of This Book (>2,500,000), In & Out, Up & Down (1,768,390), Gover's Hide & Seek (1,683,969), Ernie and Bert Can – Can You? (1,617,461), Ernie's Bath Book (1,146,930), I Can Count To 100… Can You? (1,124,542).
The Monster at the end of this Book
published: 1971
reissue: 1977 & 1999
Another Monster at the end of this Book
published: 1996
reissue: 1999
Please Do Not Open This Book
published: 1977
reissue: 2006
Most of Michael Smollin's illustrated books were published through Random House and The Western Publishing Company. A complete career list of illustrated titles and available cover art can be viewed in the Book Catalog. Twenty-two educational books and 10 companion pieces were conceived and created for Lego as a new product line, printed in seven languages abroad, but not available in the United States.
Mike's Illustrated books have been credited with different naming conventions. Credits have been printed on books covers and title pages under the names; Mike Smollin, Michael Smollin, and Michael J Smollin. The Lego book project required the digital drawing skills of his son, so illustration credits for this educational series appeared as: Michael and Mark Smollin.