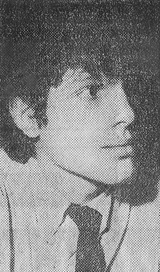 Dick Sandhaus, Class of 1967
1966 - For Outstanding Performance Being The First and Only Staples Impresario!
Dick is a classmate of vision who arranged the legendary musical artists to appear in concert at Staples Auditorium, proms and dances from 1965 -1969. The list includes: The Animals, The Beau Brummels, The Blues Project (twice), Cream, The Doors, The Grass Roots, James Gang, The Left Bank, The Loved Ones, Mitch Ryder, Poco, The Remains (twice), The Rich Kids, Rhinoceros, Sly and the Family Stone (twice), The Young Bloods, The Yardbirds and The Young Rascals.
Dick made the confession that there was no reason why a name act couldn't appear at our school, so set about making the arrangements. He approached Jim Caulkins for permission and financial assistance, because there was no cash fund available at the beginning of the school-year. Upon the principal's suggestion, Dick made a pitch to the BOE. They were so impressed with this local youth in madras jacket and knit tie, that they agreed to support his wholesome entertainment proposal for the community.
I'm also quite sure we did a Staples show with Mitch Ryder and the Detroit Wheels. Finally, I know there was a show headlined by Taj Mahal during the tour he did with the all-tuba band. There were some notable opening acts. The Blues Project concert was opened by Richie Havens. When the Blues Project was detained in NYC finishing a recording session, "Jeremy Steig and the Satyrs" drove up to do a (very long) set until the Blues Project arrived. The faculty and parent chaperones were miffed by our violation of the 10pm concert curfew. The Yardbirds show (and one or two others) was opened by an ambitious "local" band then calling itself "The Strangeurs" and, in later appearances, "The Chain Reaction". They were fronted by a guy most people at the time regarded as a Mick Jagger impersonator, Steve Tallarico. Steve changed his last name to Tyler a few years later and started another band called Aerosmith. I'm trying to get you a copy of the video from the Rock and Roll Hall of Fame induction ceremony where Steve introduced Led Zeppelin prior to their formal induction. Steve recalled -- on camera -- first meeting Jimmy Paige backstage at Staples.