T H E W E S T P O R T M U S I C S C E N E
PROFESSIONAL BANDS
It took a community with diverse interests to produce this cavalcade of talented performers, so we had jazz, folk, and blues threads in addition to the rock acts booked at Staples High School. This list does not include any of the academic choir, orchestra, plays, etcetera, presented by the students and staff. Bands are placed in the calendar order of their event performance. Some acts are missing because no records or memorabilia have been found thus far. The Remains begin the list because Bill Briggs graduated in the class of 1964, and Barry Tashian graduated with the Staples class of 1963. They are also an exceptional band in terms of the quality and energy of their music based on any popular standard. – All images belong to their respective copyright owners.
THE REMAINS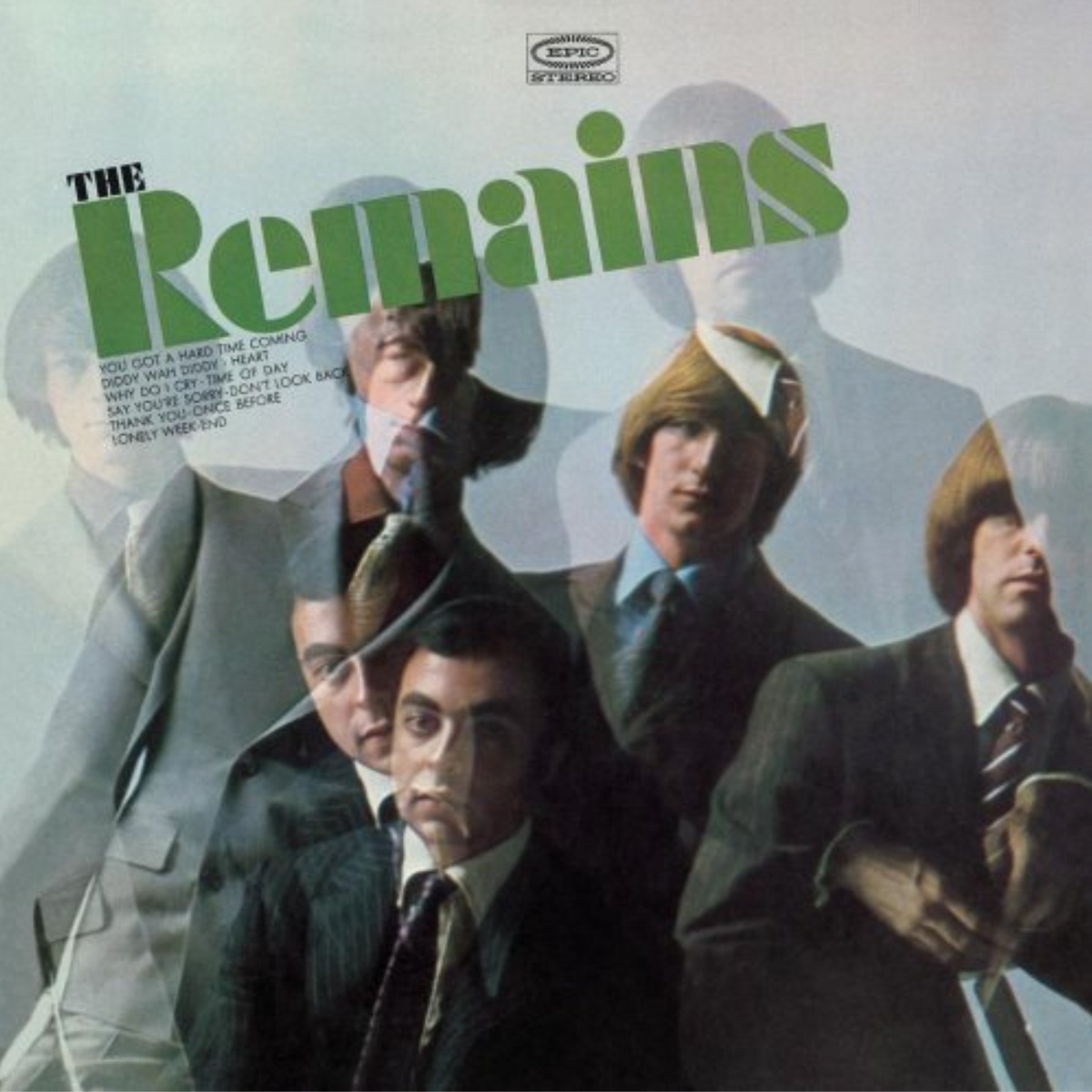 Active 1964 - Present: Barry Tashian - guitar & vocals, Bill Briggs - keyboards & vocals, Vern Miller - bass & vocals, Rudolph "Chip" Damiani - drums, N.D. Smart - drums (1966)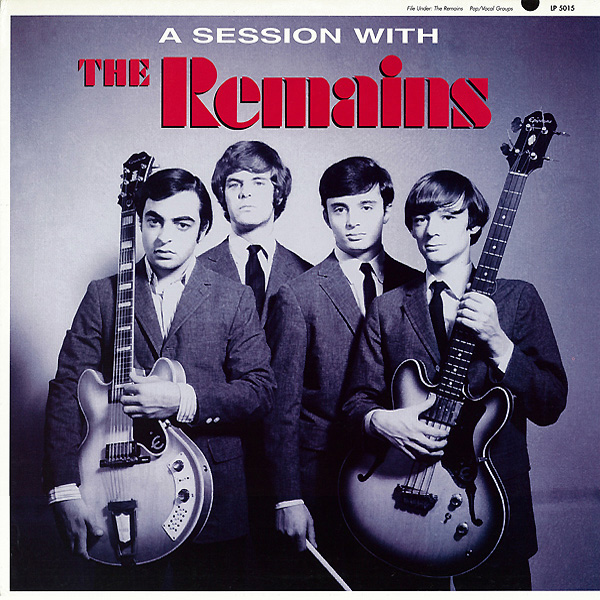 Barry, Bill, Chip & Vern. It is interesting to note the dressed-rock flavor of this album art compared to the first, which had a sophisticated and mysterious quality.
In 1964 The Remains, who started out at Boston University, signed a record deal with Epic Records, performed on the popular NBC show, "Hullabaloo," played on "The Ed Sullivan Show," and opened for the Beatles' last tour before breaking up. In the past decade, The Remains re-united to record their first album in 36 years, toured Europe to great acclaim, were the subject of a stage musical in New York City, "All Good Things," and, most recently, saw their story made into a documentary film, "America's Lost Band."
On December 5 2010, The Remains will return to their roots to be inducted into the Boston Music Awards Hall of Fame.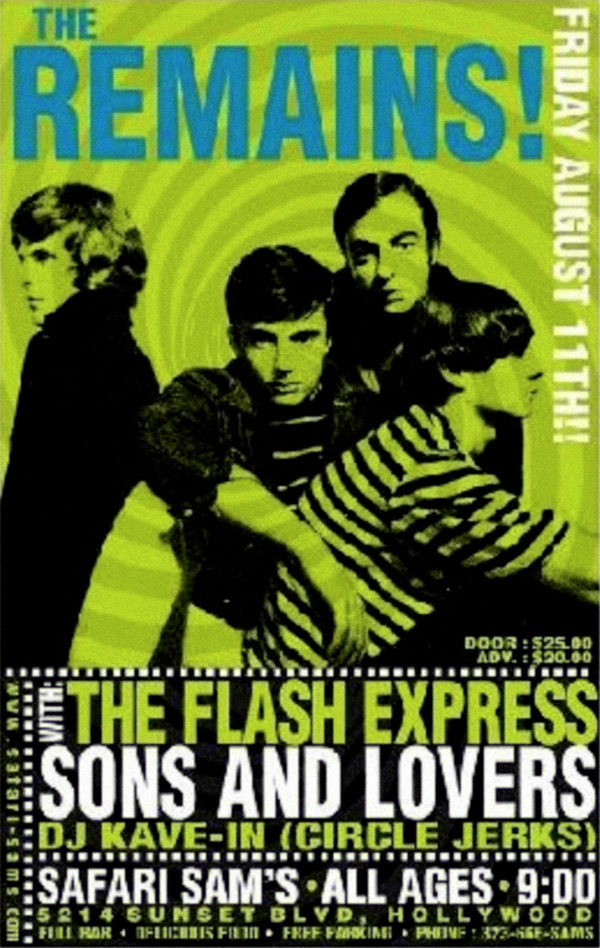 Poster for the Remains Reunion 11 August 2006 at Safari Sams in North Hollywood.
The club sits at the east end of a strip-mall on Sunset Boulevard. It was a warm evening and there was no air-conditioning. Sams was an open two story ceiling the structural supports visible, balcony upstairs, stage against the south wall, bar on the north wall, and everything was painted black. I bought a margarita, introduced myself to Barry on the outside patio, and then compared experiences with Marilyn Briggs about our teenage-children before the first band went on. The first two acts were okay, but seemed more like lots of banging without finesse or impressionable melodies. When The Remains took the stage the place was full, so I stood beside the mixing board for the best sound and things came alive. I noticed Bill's keyboard wasn't getting through and the tech agreed with some adjustments. Barry was driving the rhythm on his 1966 Epiphone Al Caiola Sunburst guitar and singing those classic tunes. In the middle of the set, I noticed people of all ages bouncing to the music and singing along with songs I thought only a handful would know. I chuckled at the thought of under-estimating the band's influence and ardent fans on the west-coast. SInce I never saw the band live in Westport, this was a treat that will stay with me. – – Mark Smollin 2012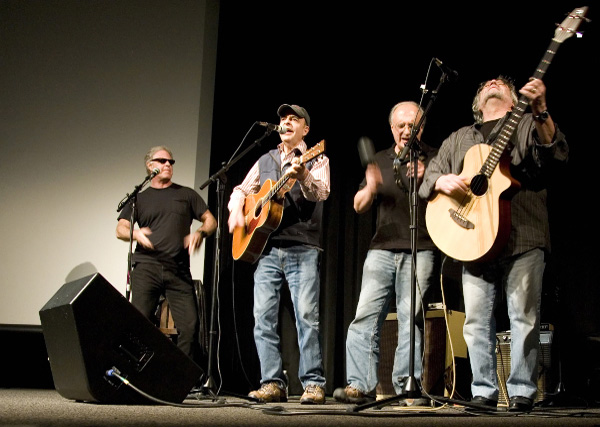 2009: Left to right: Bill Briggs, Barry Tashian, Chip Damiani, and Vern Miller

I will always have a Loving respect for this group and it thrills me that they are still playing together. The Remains performed in Providence on 3 April 2009 after the screening of the film "America's Lost Band", the story of the Remains. The film was part of the SENE Film, Music and Arts Festival held April 2-5 2009.
LEONARD BERNSTEIN & ISSAC STERN – Sunday August 30 1964 - Auditorium
New York Times August 31 1964: BERNSTEIN JOINS STERN IN CONCERT; Four Other Fairfield Artists Play for Integration Fund
WESTPORT, Conn., Aug. 30 -- Leonard Bernstein and Isaac Stern play piano and violin together occasionally for pleasure. Last night, at the Staples High School Auditorium here, they played together for the first time for a paid audience to help raise money for the Student Nonviolent Coordinating Committee.
SAMMY DAVIS JR Plus – Sunday November 15 1964 - Auditorium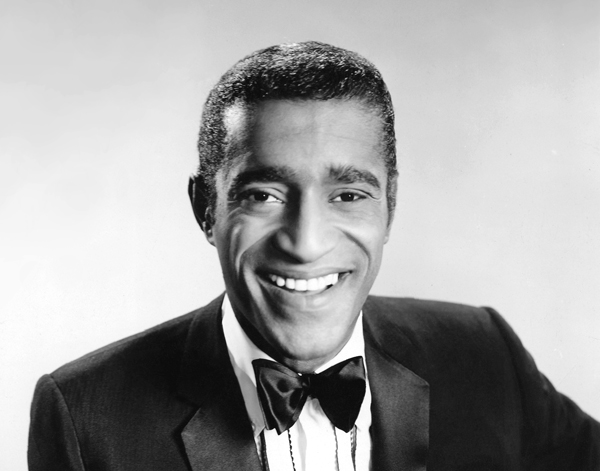 New York Times November 14 1964: Arthur Schlesinger Jr. and Sammy Davis Jr. are scheduled to appear tomorrow at a benefit here for the John F. Kennedy Library. The benefit at Staples High School, on North Avenue, is expected to raise at least $10,000 for the library, in Cambridge, Mass. George Constantikes, a lawyer, is chairman of the benefit. The two-hour program, starting at 4 P.M., is also to include Betty Comden and Adolph Green, the lyricists, and the cast of the British revue, "Cambridge Circus."
PRODUCING ROCK CONCERTS AT STAPLES
The First Staples Impresario!

Dick is a classmate of vision who arranged the legendary musical artists to appear in concert at Staples Auditorium, proms and dances from 1965 -1969. The list includes: The Animals, The Beau Brummels, The Blues Project (twice), Cream, The Doors, The Grass Roots, James Gang, The Left Bank, The Loved Ones, Mitch Ryder, Poco, The Remains (twice), The Rich Kids, Rhinoceros, Sly and the Family Stone (twice), The Young Bloods, The Yardbirds and The Young Rascals.

Dick made the confession that there was no reason why a name act couldn't appear at our school, so set about making the arrangements. He approached Jim Caulkins for permission and financial assistance, because there was no cash fund available at the beginning of the school-year. Upon the principal's suggestion, Dick made a pitch to the BOE. They were so impressed with this local youth in madras jacket and knit tie, that they agreed to support his wholesome entertainment proposal for the community.

I'm also quite sure we did a Staples show with Mitch Ryder and the Detroit Wheels. Finally, I know there was a show headlined by Taj Mahal during the tour he did with the all-tuba band. There were some notable opening acts. The Blues Project concert was opened by Richie Havens. When the Blues Project was detained in NYC finishing a recording session, "Jeremy Steig and the Satyrs" drove up to do a (very long) set until the Blues Project arrived. The faculty and parent chaperones were miffed by our violation of the 10pm concert curfew. The Yardbirds show (and one or two others) was opened by an ambitious "local" band (Yonkers NY) then calling itself "The Strangeurs" and, in later appearances, "The Chain Reaction". They were fronted by a guy most people at the time regarded as a Mick Jagger impersonator, Steve Tallarico. Steve changed his last name to Tyler a few years later and started another band called Aerosmith. I'm trying to get you a copy of the video from the Rock and Roll Hall of Fame induction ceremony where Steve introduced Led Zeppelin prior to their formal induction. Steve recalled -- on camera -- first meeting Jimmy Paige backstage at Staples.
it was Paul Gambaccini (66) and Dick Sandhaus (67) who did the concerts. Paul was President of the Staples Student Organization, SSO, Dick was president of the Junior Class to graduate 1967. Dick became president of the SSO the next year. He continued to book concerts such as The Doors after he graduated through his Campus Entertainment Services and I stuffed envelopes. Dick designed and/or drew the posters for the Rascals, Beau Brummels, and others, and classmate Dave Withers, a great artist, did Cream and others. My campaign posters for Senator-at-Large promptly got stolen because they were do beautiful. – – Ellen Sandhaus
1965
THE BEATLES 65 TOUR – Sunday August 15 1965 – Shea Stadium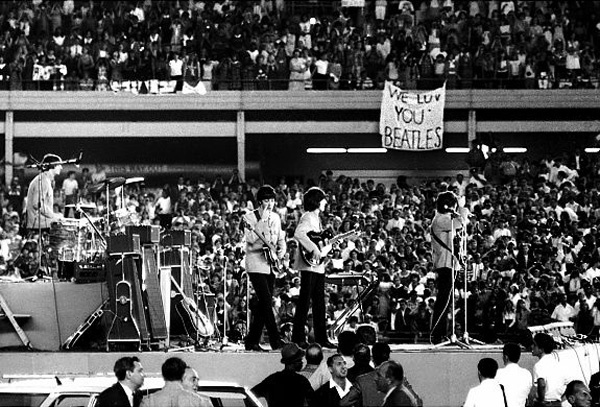 This photo courtesy of nydailynews.com
The Beatles did not play Staples even thought they secretly arrived Westport for some rest from all the media attention. This concert is placed here to establish context to rock music in American culture and how The Beatles affected the presentation of other international and local bands, most notably the hair styles and suit uniforms. By 1968 rock attire had changed to reflect a more casual attitude and place focus on the quality of music.
THE BEATLES 66 TOUR with the Ronnetts, the Remains, and the Cyrkle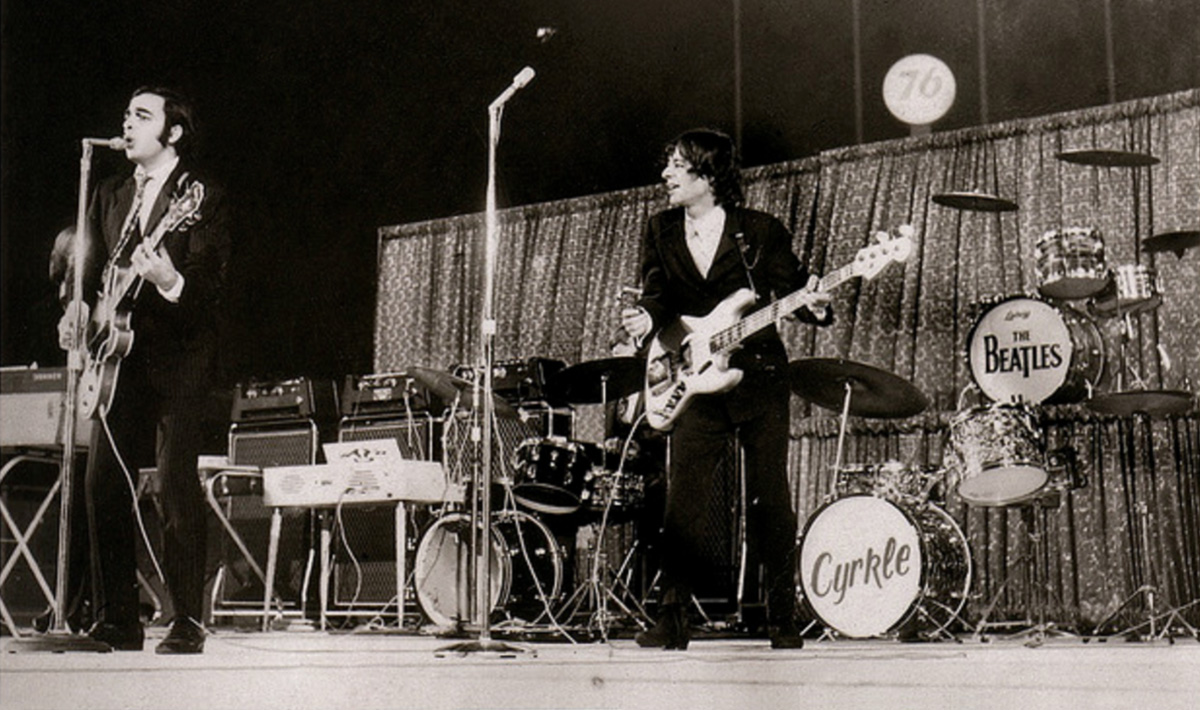 Photo by Ed Freeman © 1966. Most people think the band's most prestigious accomplishment was playing this gig on the last Beatles Tour 1966, but they have been together longer than the Beatles, and their music is just as well executed.
Pictured below the Beatles Shea Stadium show Tuesday August 23 1966.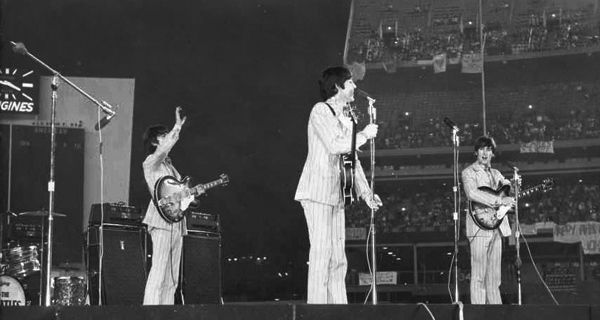 BAND(S) UNKNOWN – June 1965 – Class of 1966 Junior Prom – Cafeteria
66 class Junior Prom was in spring '65 was held in the cafeteria and with a live band. Remember Mr. Higgins commenting on his "seating chart" as Jaffe and I danced. – – Carl Swanson 2012
THE WREYS with THE MYSTICS – Saturday November 27 1965 8–12
Benefit Dance For The Westport Leukemia Society – Staples Cafeteria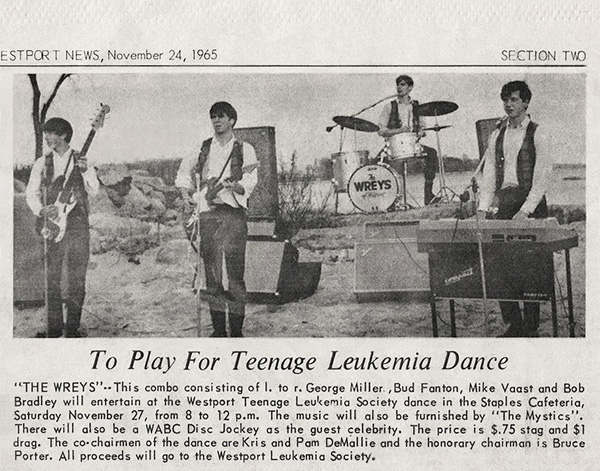 Active: 1965-1967: As pictured: George Miller (66) - bass, Bud Fanton (66) - guitar, Michael Vaast (67) - drums, Bob Bradley - keyboard, and singers all.
From Westport News November 24 1965: To Play For Teenage Leukemia Dance: "THE WREYS" -- This combo will entertain at the Westport Leukemia Society Dance in the Staples Cafeteria, Saturday November 27, from 8 to 12 pm. The music will also be furnished by "The Mystics." There will also be a WABC Disc Jockey as the guest celebrity. The price is $>75 stag and $1 drag. The co-chairmen of the dance are Kris and Pam DeMallie and the honorary chairman is Bruce Porter. All proceeds will go to the Westport Leukemia Society.
THE BEAU BRUMMELS with THE TRIUMVIRATE – Sunday December 19 1965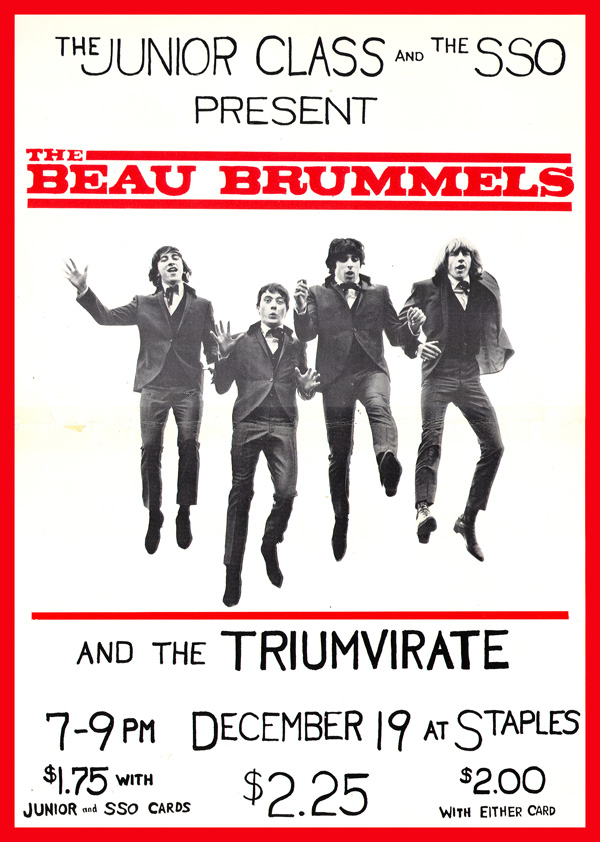 San Francisco band

Active: 1964-1969, 1974-1975:

Sal Valentino - lead vocals, Ron Elliott - lead guitar, Ron Meagher - bass, Declan Mulligan - rhythm guitar, bass & harmonica, John Petersen - drums.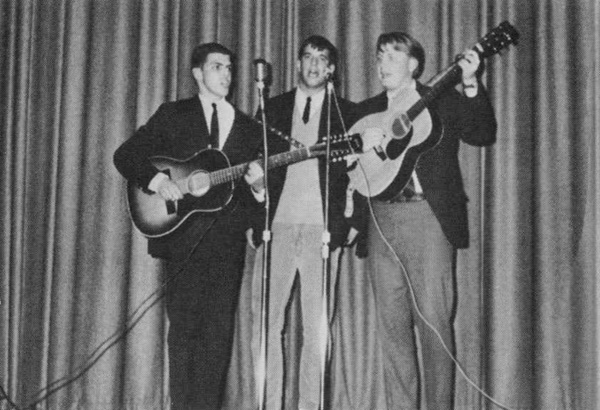 The Triumvirate: Folk-trio Robert Carlson (66), Steve Emmett (66), and Chris Avery (66).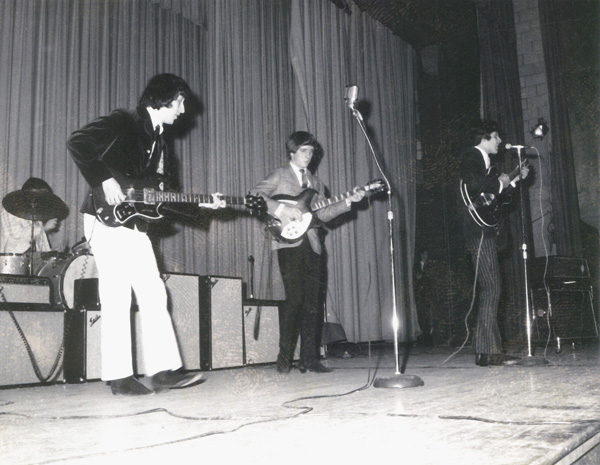 Beau Brummels performance in the Staples auditorium 1965 – ©1965 Ellen Sandhaus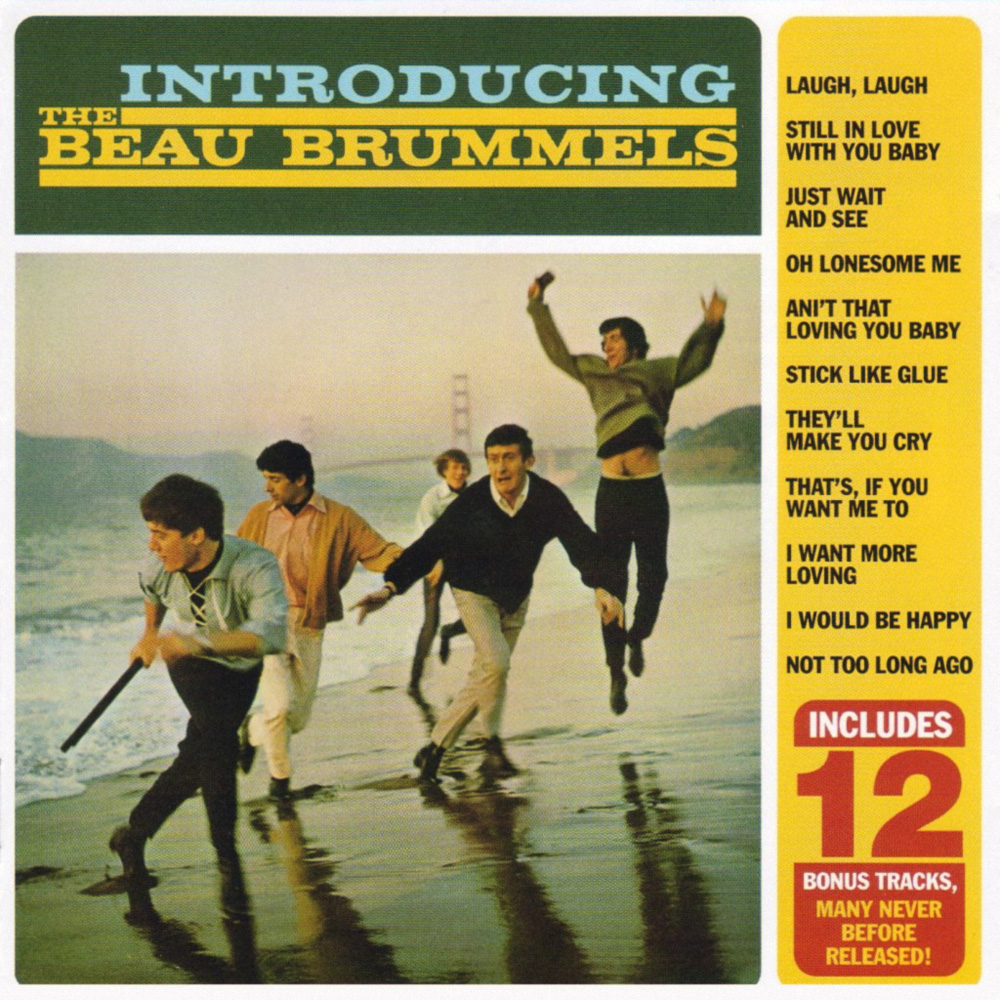 THE SAINTS – December 1965 – Holly Ball – Westport YMCA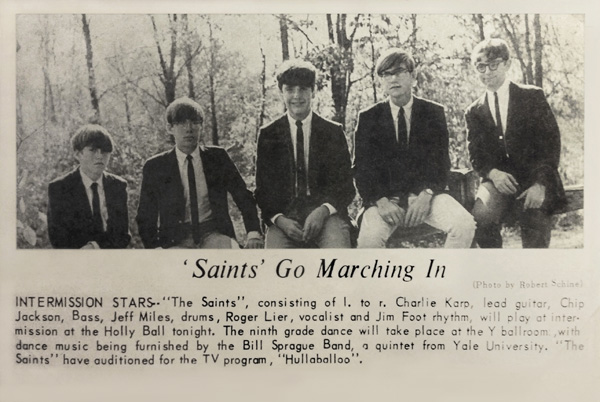 It is rather humorous that the Westport News would bill the band as "INTERMISSION STARS," but curious that the Bill Sprague Band was not adequate in some way to have the Saints play the intermission, which cannot legitimately be called an intermission since they played. It makes one think Sprague may have been too conservative musically. The following year the Saints provided music for the Holly Ball exclusively.
Many dances and concerts were given at the Westport YMCA by professional local bands, including the Saints, the Rogues, and Smoke, which added to the mass of music entertainment in our city.
1966
REMAINS with THE TRIUMVIRATE – Saturday February 12 1966 – Auditorium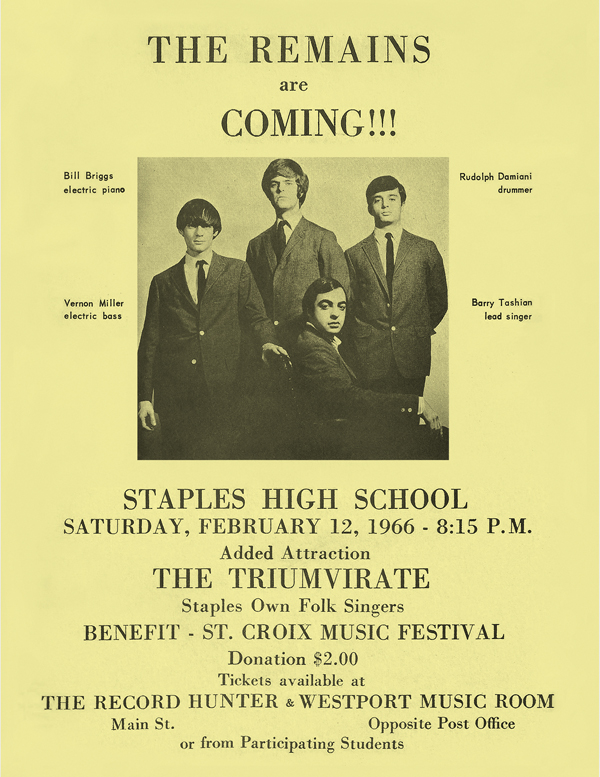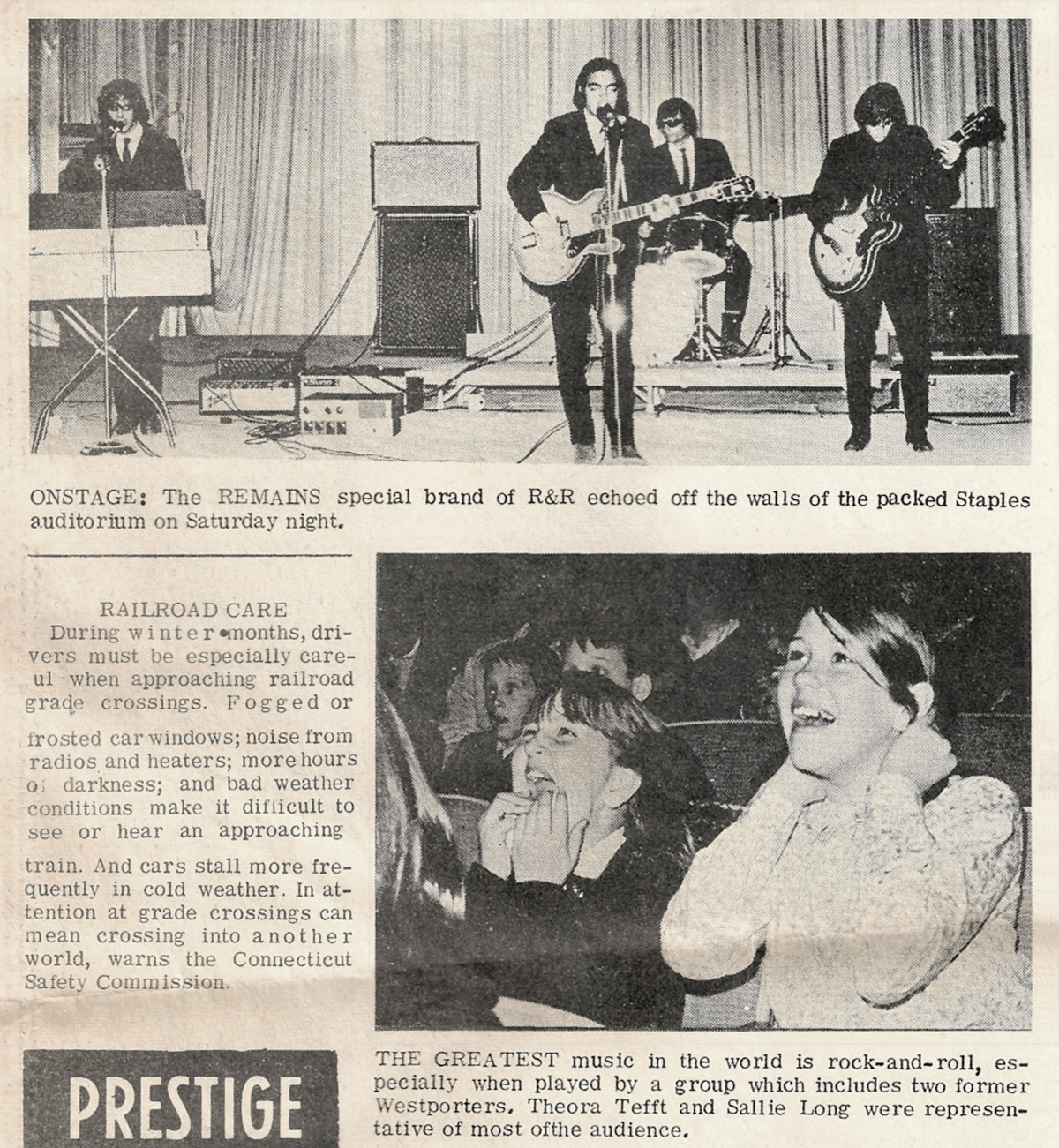 Folk-trio, The Triumvirate opened for the Remains comprised of: Bob Carlson, Steve Emmett, and Chris Avery, seniors from the class of 1966.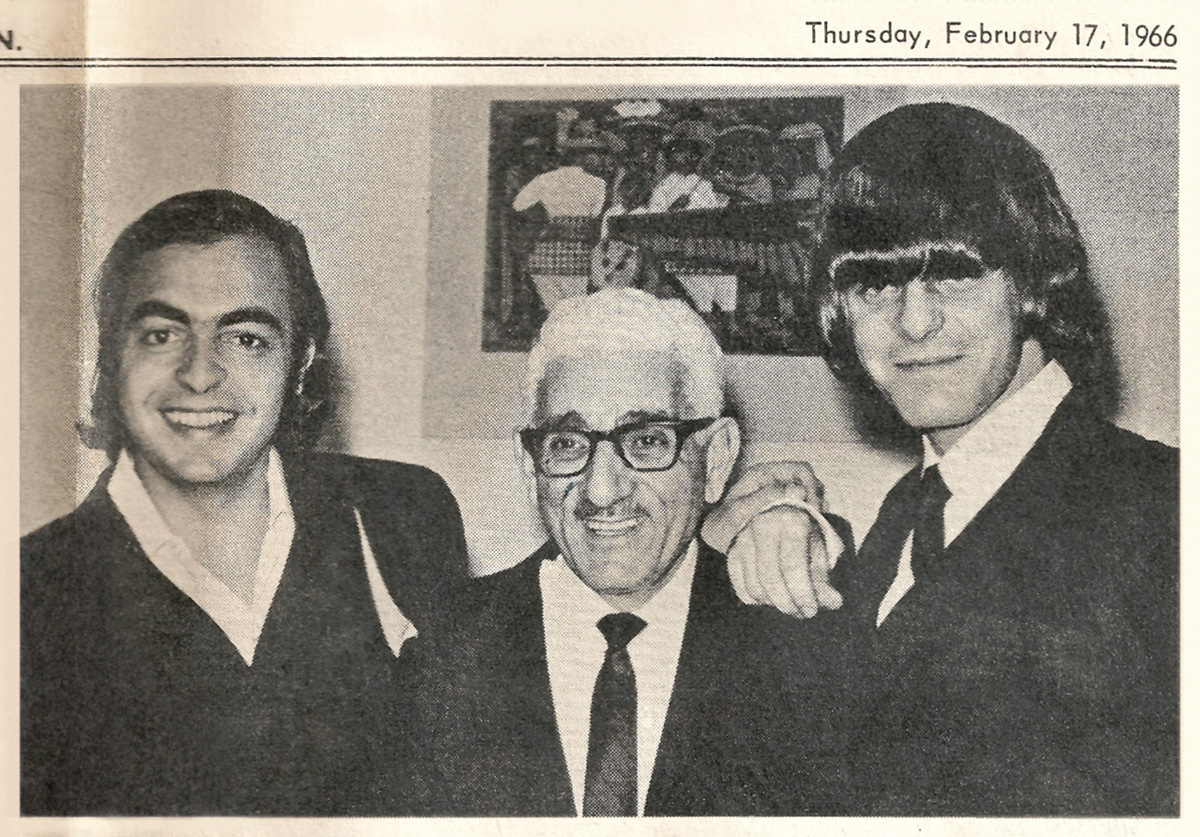 According to the Town Crier: Two of the four Remains, Barry Tashian and Bill Briggs from the class of 1963 are pictured here with John Ohanian, director of music for Westport Schools. The band gave a concert Saturday night for benefit of the music department trip to St Croix, Virgin Islands, this spring.
Obviously the stress of working as a music teacher in Westport was hazardous and deserved a tropical hiatus, so we salute these generous gents for their sacrifice.
THE LOVIN SPOONFUL – Saturday April 30 1966 – Canceled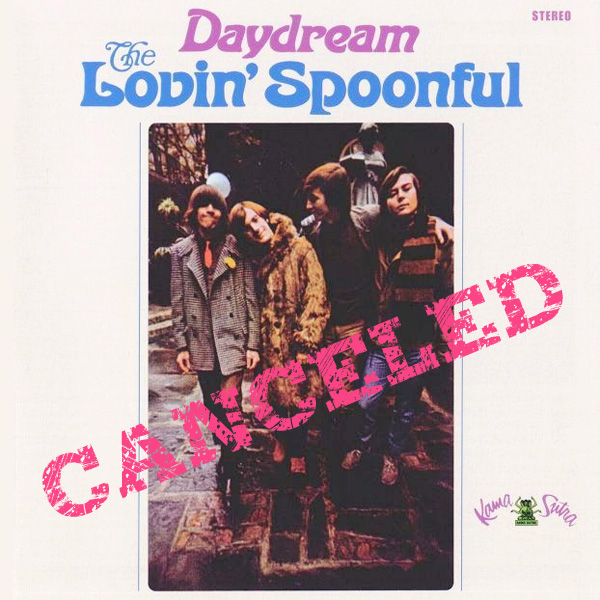 The school paper mentioned the Spoonful canceled their intial agreement due to a band member's hospitalization.
THE ANIMALS – Tuesday May 10 1966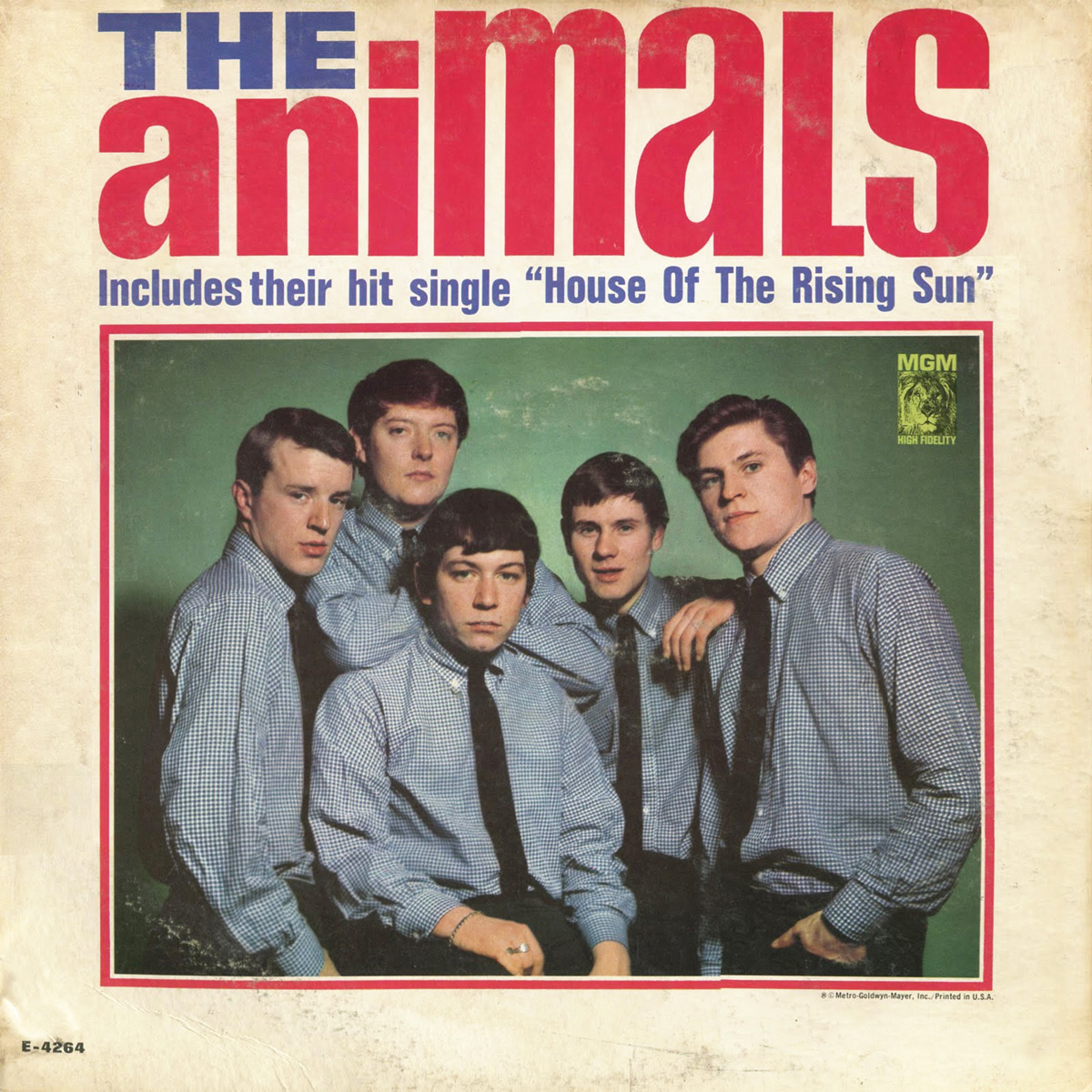 Active: 1963-1968, 1975-1976, 1983: Eric Burdon - vocals, Alan Price - keyboards, Hilton Valentine - guitar, John Steel - drums, and Bryan "Chas" Chandler - bass.
Because of their wild stage act people called the "animals" and the name stuck.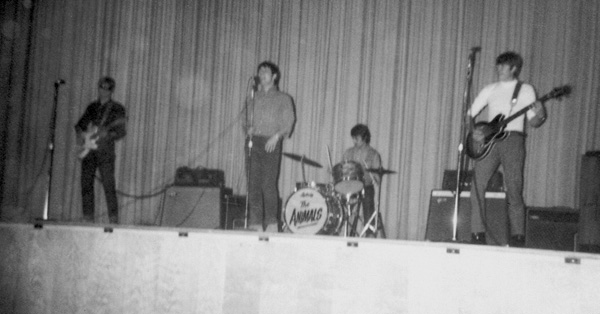 Eric and crew performing in the Staples auditorium 1966. © 1966 Ellen Sandhaus
BLUES PROJECT with SCREAMERS with TRIMUVIRATE
Class Of 1967 Junior Prom "UNDERGROUND" – Saturday May 28 1966 – Cafeteria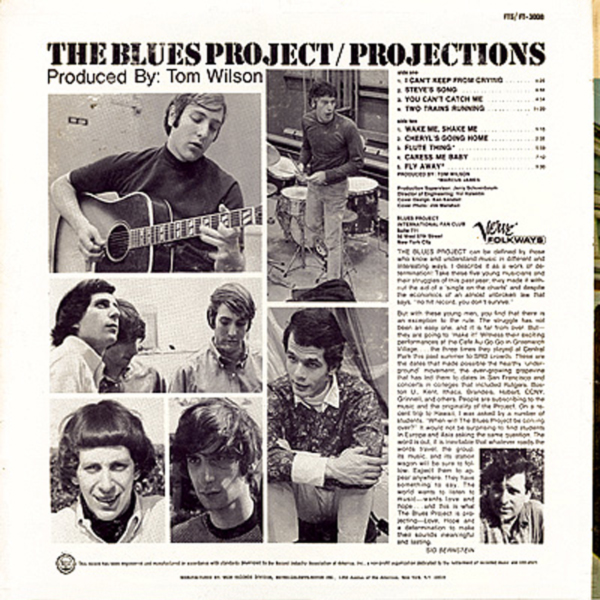 The Blues Project Lineup: Danny Kalb - guitar, Al Kooper - Keyboards, Steve Katz - guitar, Andy Kulberg - bass & flute, Roy Blumenfeld - drums, Emmaretta Marks - lead vocals.
The Screamers and The Triumvirate played the breaks between four Blues Project sets. The decorating committee went to great lengths to transform the cafeteria into a underground lair with stelagtites, stalagmites, and a four-tier waterfall. Over 200 students attended out of the 555-member-class.
There is a story about the first act scheduled to play the prom, and a bad agent that blew the deal, but you'll have to read The Real Rock And Roll High School to find out.
TOM PAXTON – Friday June 3 1966
The concert was sponsored by the Staples Folk Music Society who sold over $600 worth of tickets. Watch a video singing The Last Thing On My Mind, from the BBC 1966.
Folk music was popular during the sixties, perhaps overshadowed by the rock machine, but many folk artists managed a success in the genre at the same time electric music was the rage, and this concert exemplifies the eclectic tastes of Staples students. Folk is geared to a story, or message, where hearing and under standing the words is important, so it is a different vehicle than rock, which is generally geared to romantic expression and dancing. Many 'rock-bands' recorded acoustic songs and soft ballads of folk tradition in addition to their driving repertoire.
CLASS OF 1966 SENIOR PROM – THE UNDERDOGS – June 1966 – Longshore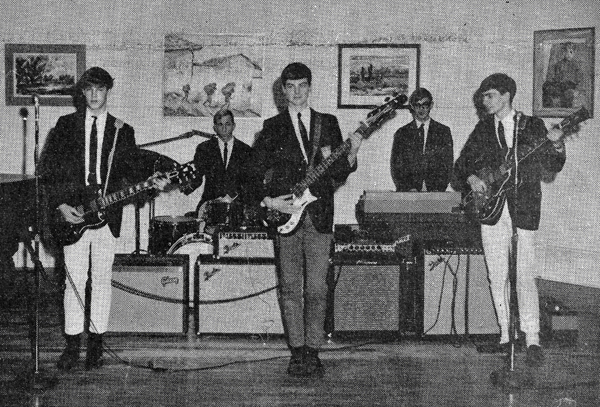 606 members
I was smashed due to the large amount of champagne consumed at the Ogilvy pre-party. It was the beginning of a long relationship with the bottle. Tommy may also indulge you with the details of the party afterwards whereby a GTO ended up in the Lupton's pool. I preferred sex to such sophomoric behavior. Then. – – Carl Swanson 2012

THEE STRANGEURS with THE ROGUES with TRUCKIN MAMAS
Roger Ludlow High School Multiple Sclerosis Society Benefit – Saturday June 25 1966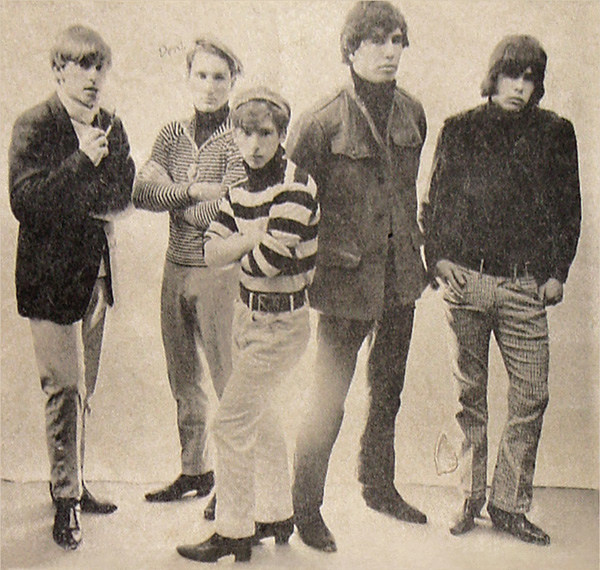 Active: 1964-1969: Don Solomon - keyboards & vocals, Peter Stahl - guitar, Alan Strohmayer - bass, Steven Tallarico - drums & vocals, Barry Shapiro - drums
Thee Stangeurs, promo image from 1966, were joined by The Rogues, and The Truckin Mamas to play a benefit Go-Go-Dance for The Multiple Sclerosis Society held at Roger Ludlow High School, Fairfield CT, which was advertised on Staples campus and the local newspaper.
THE SHOWMEN - Monday June 27 1966 – Longshore – 8:00-10:30
From The Town Crier Sunday June 26 1966: This event was the first in a series of summer dances held at the Longshore Pool Area, sponsored by the Westport Recreation Commission. Music for the occasion was provided by a grant secured with the assistance of the Norwalk Musician's Association, Local 52. Admittance required a Longshore handpass at a fee of one dollar per person, one guest per handpass.
"Dress Rules for the dance will be enforced. Girls must be dressed in properly fitting dresses or skirts and blouses; no slacks or shorts. Boys must wear dress slacks and sport shirts with collars,; no shorts or jeans. Shorts must be tucked inside the slacks. Everyone must wear shoes."
BATTLE OF THE BANDS – Get-Acquianted Dance – September 1966
A Band-War was held at the "Get-Acquianted Dance" so local bands could compete for the opportunity to perform with Thee Strangeurs at the Home Coming Dance to be held October 15.
- Looking for a poster or photograph to represent this event, a list of bands that competed, and where the event was held?
THEE STRANGEURS with LOVED ONES –
Saturday October 15 1966 – Home Coming Dance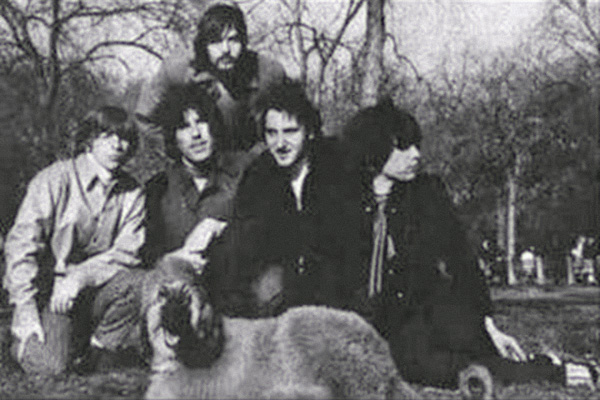 Active: 1964-1966: Strangeurs Lineup: Don Solomon - keyboards & vocals, Peter Stahl - guitar, Alan Strohmayer - bass, Steven Tallarico - drums & vocals, Barry Shapiro - drums
After the game with Polaski, the Home Coming Dance featured bands, Thee Stranguers, and the Loved Ones, who won the Band War at the Get-Acquianted Dance, probably the first dance of the school-year, usually held in the cafeteria.
Around this time the band must have been experimenting with different band configurations, or decided that Steve would make the best front-man and made adjustments. When the band officially changed its name is not clear because tickets were printed with "THEE STRANGEURS," yet most often referred to as The Chain Reaction by spoken word. Within three months after the October 15 1966 and October 22 1966 gigs, they were billed as The Chain Reaction in the January 29 1967 issue of the Bridgeport Post. The new line-up became:
Active: 1966-1969: Steve Tally (Steven Tallarico) - lead vocals, Don Sloan (Don Solomon) - keyboards, Peter Stahl - guitar, Alan Strohmayer - bass, Barry Shore (Barry Shapiro) - drums
THE LOVED ONES – Saturday October 15 1966

THE CYRKLE with THE SULTANS with CHICO VEJAR – Sunday October 16 1966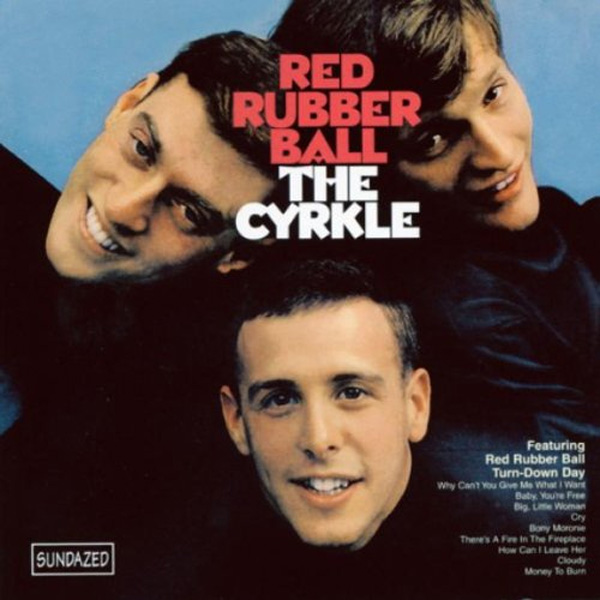 TRIPPLE BILL POP MUSIC BENEFIT CONCERT: 3 BIG SHOWS: 1:30, 4:30, 7:30: Featruing the Cyrkle, The Sultans and Tony Gee & Chico Vejar. Proceeds to benefit United Cerebral Palsy. Soft-rock band The Cyrkle (1961-1968) had a BillBoard #2 hit with Red Rubber Ball on Columbia Records in 1966. The Cyrkle also appeared with The Remains on the Beatles tour of 1966.
YARDBIRDS with THEE STRANGEURS – Saturday October 22 1966 – Auditorium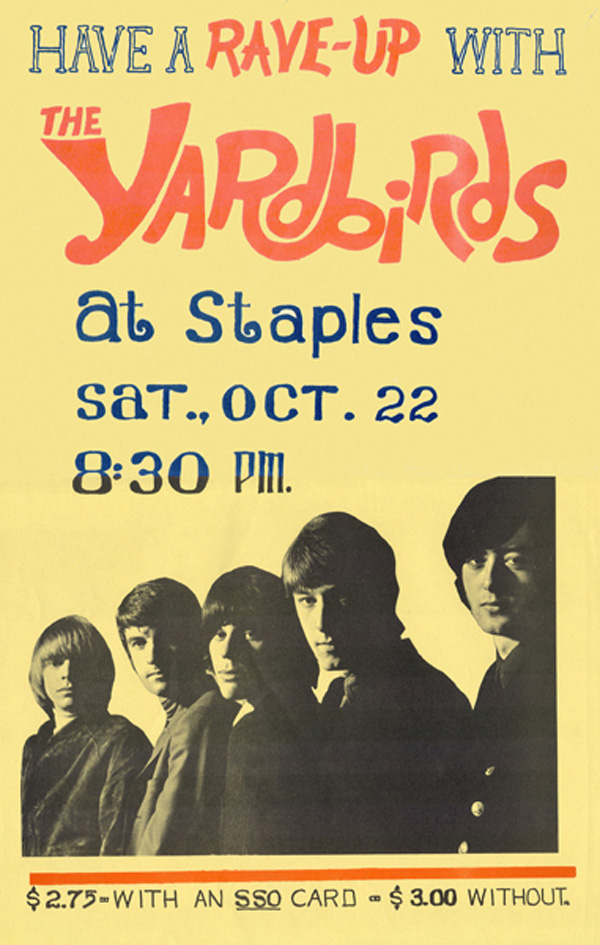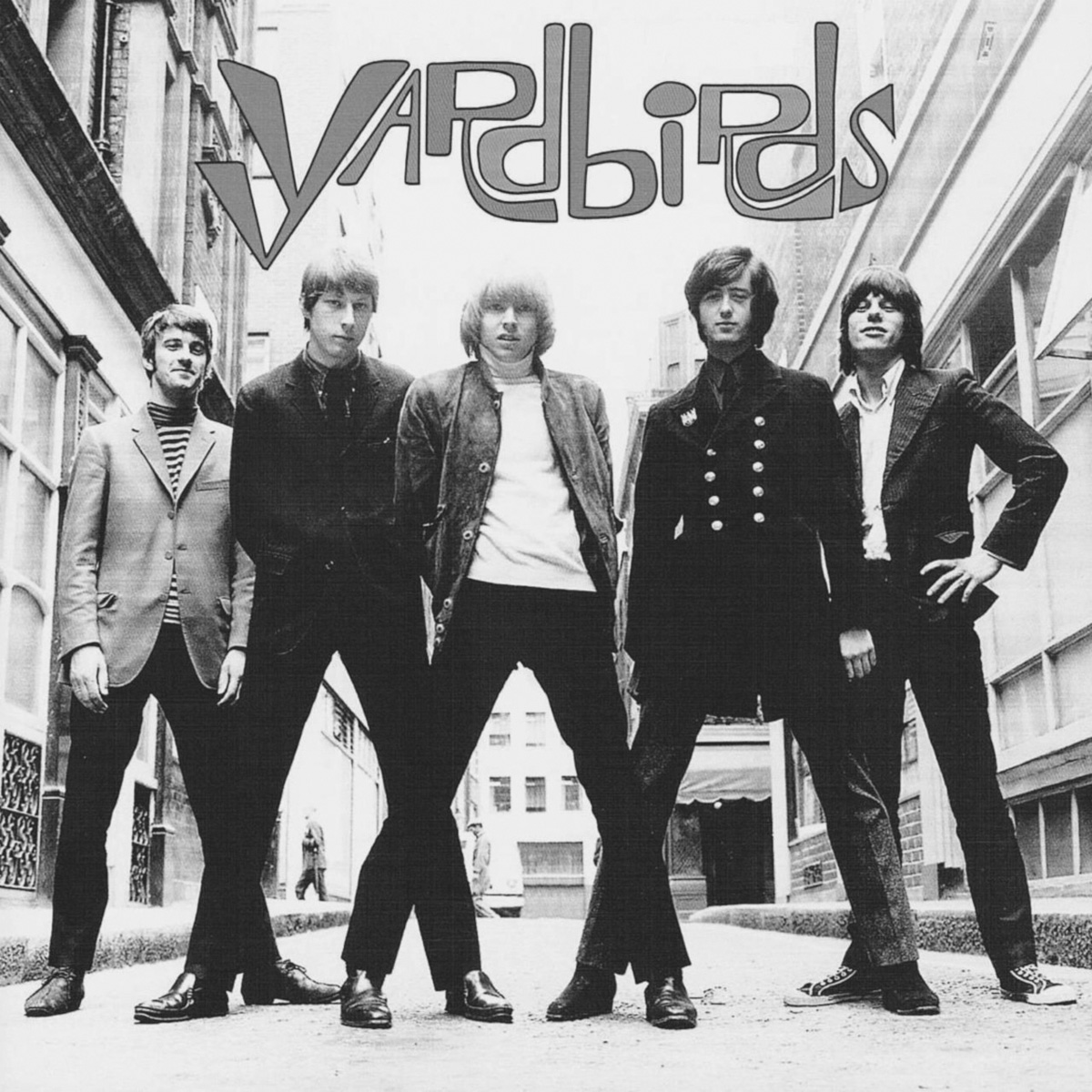 Keith Relf - vocals, Jim McCarty - bass, Chris Dreja - drums, Jimmy Paige - guitar, Jeff Beck - guitar
STUDIO RECORDING SESSION: October 19-20, 1966, New York "Great Shakes" (US commercial)
The Staples event marked the Yardbirds' first US concert appearance.
THEE STRANGUERS – Saturday October 22 1966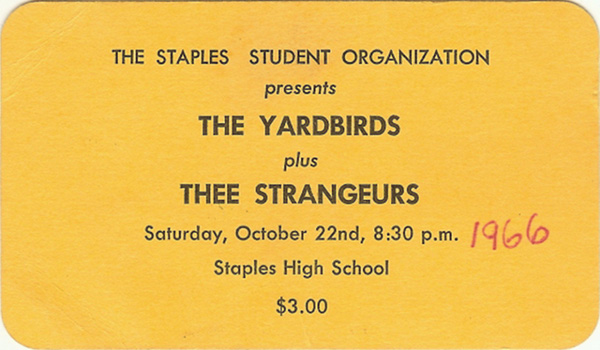 Listen to "Somebody," a song I wrote for Aerosmith's first album: It's all from the Yardbirds. They were the shit to us, out of all the British bands in the Sixties. The Yardbirds were a bit of a mystery. They had an eclecticism — the Gregorian chant-ness of the vocals, the melodic diversity, the way they used guitar feedback. I loved that weirdness.
In the Sixties, I was in a band called Chain Reaction. We got to know the Yardbirds because they played at Staples High School in Westport, Connecticut, in 1966. We had a friend, Henry Smith, who had been our manager for a while, and he had gone to school there. He called me and said, "Steven, the Yardbirds are playing here, and you can open up." It was the lineup with Jeff Beck and Jimmy Page, who was playing bass on that tour. We waited all day for them to arrive. I grabbed their amps, they grabbed ours. We carried each other's gear in, because back then, that's what you did. Hence began the rumor that I was a roadie for the Yardbirds.
They did "Shapes of Things," "Beck's Boogie," among other songs. I was in such awe. They played like no other band. They weren't concerned with clothes or looks or hit singles. Their thing was "What do we do with these sounds?" They did things with harmonics — minor thirds and fifths — that created this ethereal, monstrous sound.
You hear it in every song — the way they could take the blues and turn it into a pop song like "For Your Love," then something psychedelic like "Shapes of Things," which has that weird middle. You can hear the click when Beck hits his fuzz box. Page, in the end, was the one who took those ideas all the way with Led Zeppelin. The two shows I remember where I just sat with my mouth open was that Yardbirds show, and Led Zeppelin at the Boston Tea Party in 1969.
As a singer, the thing I got out of the Yardbirds was that you don't have to have a great voice. It's all about attitude. Keith Relf wasn't great, but how he sang it made him a master. He was a white boy who pushed it to the max. And he was a great harmonica player. You never heard Jagger hanging out on a single note the way Keith Relf could.
The shame is, I know how great the Yardbirds were. But I don't think everyone else knows it. The Yardbirds' music is a gold mine waiting to be stumbled upon. Aerosmith did, because we grew up in that era. The riff in "Walk This Way" is just us trying to explore the blues in the Yardbirds model. What the Yardbirds did is something you don't hear in today's blue-plate-special, cookie-cutter music. Everything is so canned and sliced up now. This was back when a band was a band. You had all those personalities, and they were all truly playing together. And I don't hear that today. The day of those bands, that wild stepping out, is gone.
– – Steve Tyler interview, part of Rolling Stones 100 Greatest ARTISTS Ever, Lipstick Alley Website
THE SAINTS – Wednesday December 28 1966 – Holly Ball – YMCA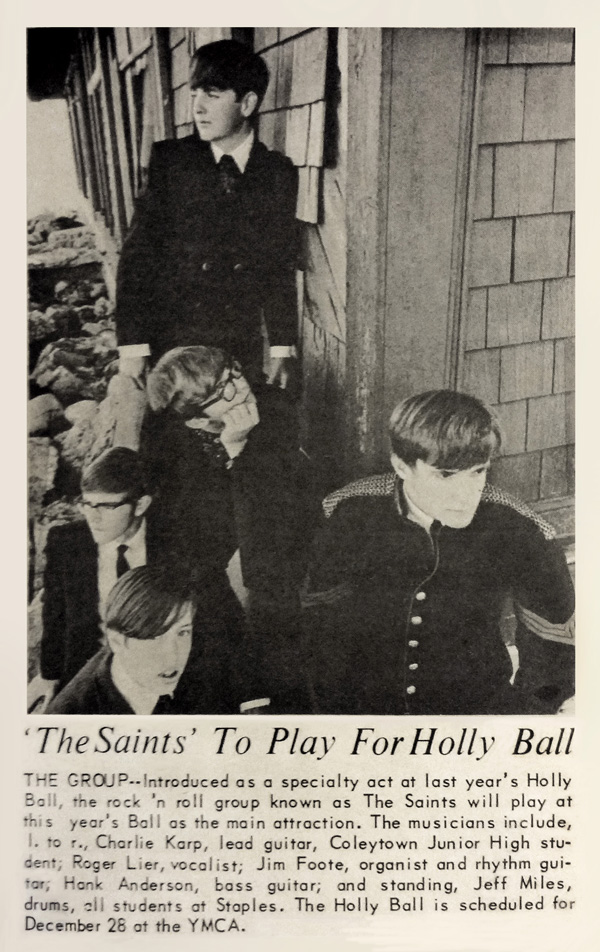 Clipping from the Westport News Thursday December 8 1966
1967
THE CHAIN REACTION – Saturday January 28 1967 – Sadie Hawkins Dance – Cafeteria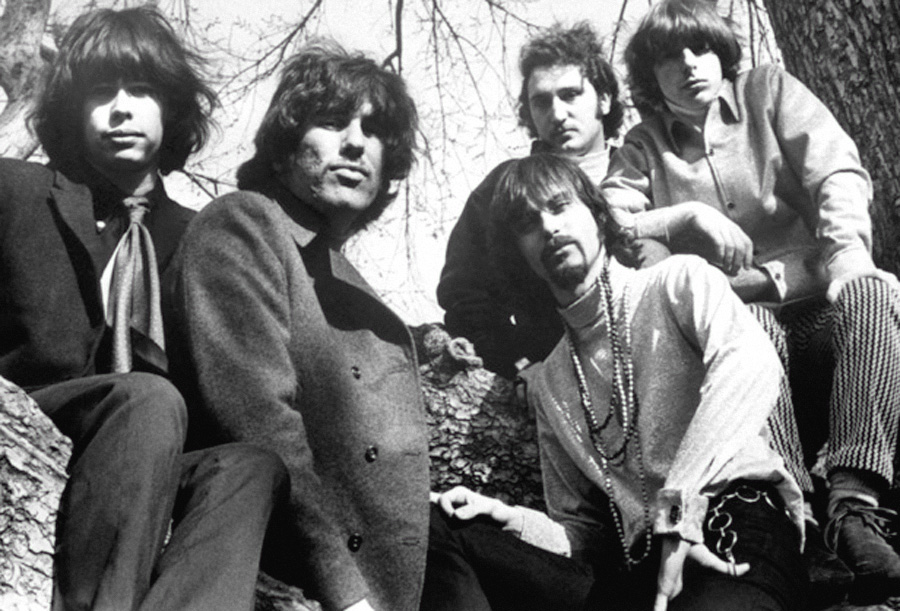 Active: 1964-1968: Chain Reaction Lineup: Steve Tally (aka: Steven Tallarico, Steven Tyler) - lead vocals, Don Sloan (Don Solomon) - keyboards, Peter Stahl - guitar, Alan Strohmayer - bass, Barry Shore (Barry Shapiro) - drums.
Chain Reaction on YouTube: The Sun – When I needed You – Everlovin' Man
The Chain Reaction performed in concert as the opening act for such groups as The Beach Boys, The Byrds and The Yardbirds, which is why Steve Tyler of Aerosmith fame was present to introduce the Yardbirds at Staples.
When Steve Tyler inducted Led Zeppelin into the Rock And Roll Hall of Fame, this is how his speech started: "In 1966, my band, Chain Reaction, opened for the Yardbirds at Staples High School, in Westport, Connecticut. We all carried our equipment into the hall together; as I recall, I dragged a couple of Jimmy Page's amps as well, so I was a roadie for the Yardbirds, or at least that's how the press took it at the time. Anyway, it was the first time I'd heard them play, and it hit me like a heat-wave…"
THE YOUNG RASCALS with LOVED ONES – Sunday February 19 1967
Auditorium SSO Fundraiser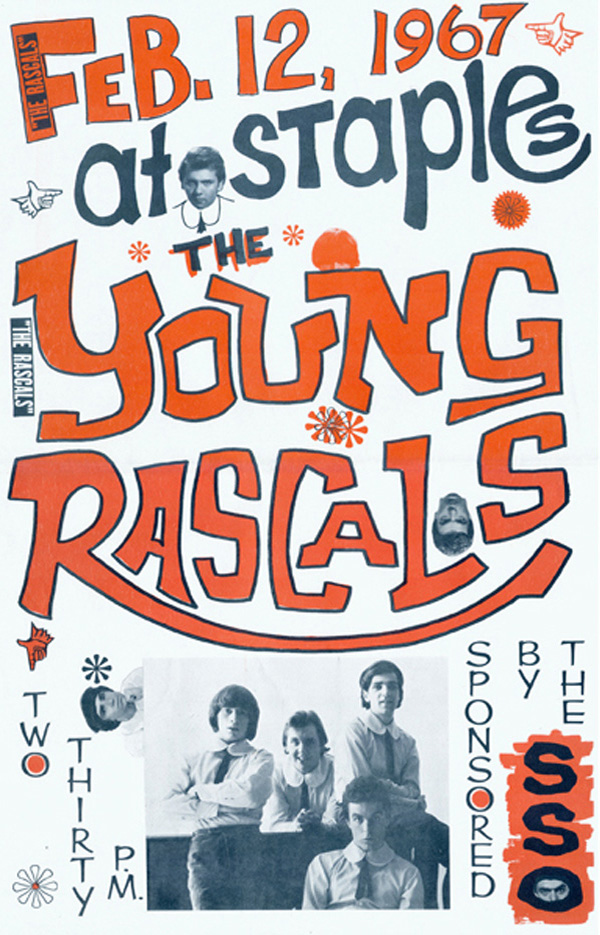 Bridgeport Post January 29 1967: Caption under a photo of the Young Rascals: "The Young Rascals, who's single "Good Loving" will perform at SHS on February 12 at 2 PM. The concert sponsored by the Staples Student Organization will raise funds for a proposed Student Lounge."
Young Rascals Heading for Staples By PETER GAMBACCINI (68), Staples High, Westport
The Staples Student Organization has announced the scheduling of two events featuring some of the top talent in the popular music field. Last night (Jan 28) the Chain Reaction appeared at the Sadie Hawkins dance in the cafeteria. SSO President Dick Sandhaus and-social director Ann Hathaway encouraged all girls to get their men before the dance, although the chase continued after the dance began. In keeping with the theme of Al Capp's Li'I Abner comic 'strip, old, patched up clothes and no shoes were worn. The dance was decorated in regular Dogpatch, USA, style.
The Chain Reaction have appeared at Staples on several other occasions, including , the Homecoming dance Oct. 15 (1966) and the Yardbirds concert Oct. 22 (1966). Their current single, "The Sun," Is getting good play in the East.
"You Better Run" and get your tickets to see the Young Rascals in concert at Staples *Sunday, Feb. 12 at 2:00 pm In addition lo the above mentioned song, the Rascals have hit the national charts with "I Ain't Gonna Eat Out My Heart Anymore" and "Good Lovin'," which reached number one. The Rascals put on a tremendous In person show, and if the first performance sells out quickly, a second evening show may be scheduled.
Tickets are $3 with a 25c reduction to members of the SSO. With these and other activities, SSO President Dick Sandhaus hopes to raise considerable funds for a proposed student lounge, total cost of which is about $11,000. More than $5,000 has been given lo the project by the Board of Education. Work on the lounge has already begun to take form and it should open within the month.
Copyright © January 29 1967 Bridgeport Post
The Young Rascals did appear at Staples high school on Feb 19 196, not Feb. 12 as previously announced on the poster. The Loved Ones opened for the Rascals for shows at 1:30 & 4:30.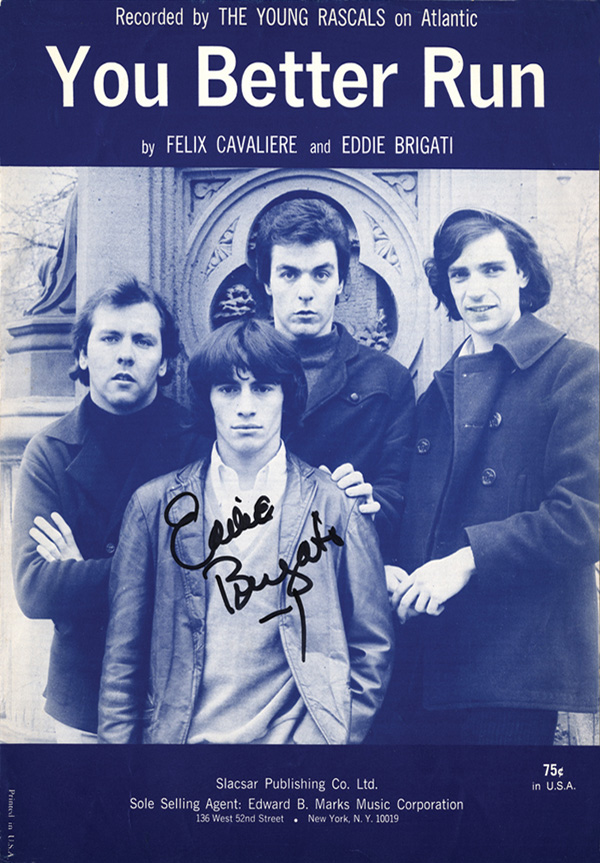 Active: 1964-1972: left to right: Gene Cornish - guitar, Dino Danelli - drums, Felix Cavaliere - keyboards & vocals, Eddie Brigati - vocals & tambourine,
THE LOVED ONES – Sunday February 19 1967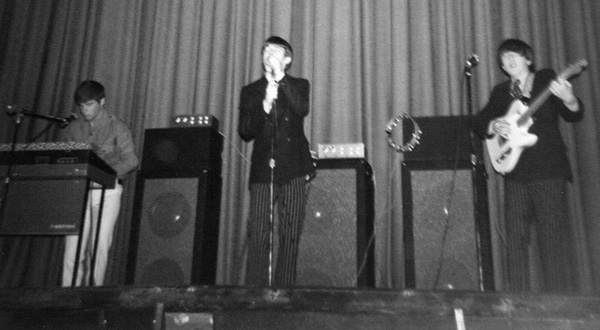 Rocky of The Loved Ones leading the vocals 1967– © 1967 Ellen Sandhaus.
Active: 1965-1967: Rocky Manchester (67) - lead vocals & keyboards, Tim Jackson (67) - drums, Tony McDonald - guitar & vocals, Chris "Liggs" Higgin - bass & vocals
THE SKYLARKS – Saturday February 25 1967 – SSO Dance
Soul Sound
THE BLUES PROJECT with RICHIE HAVENS with JEREMY & THE SATYRS
Friday May 19 1967 – Auditorium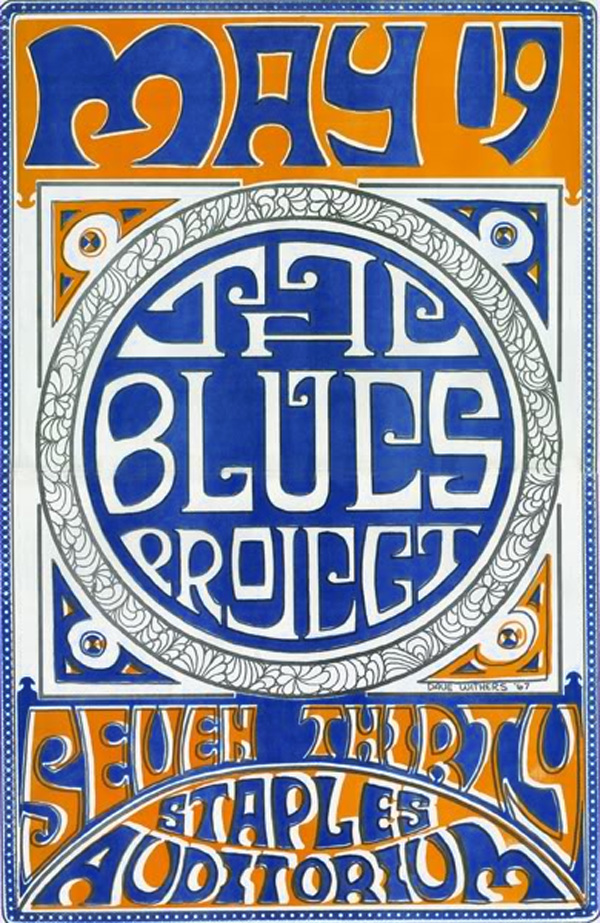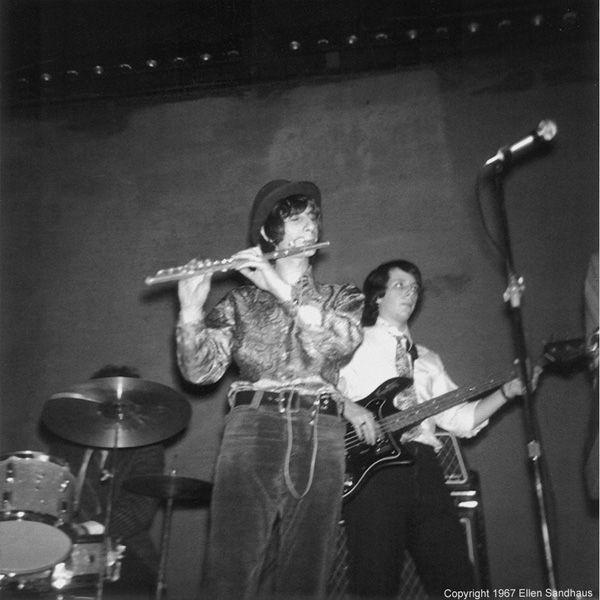 Active: 1965-1967: Danny Kalb - guitar, Steve Katz - guitar, Andy Kulberg - bass & flute, Roy Blumenfeld - drums, John McDuffy (John-John) - organ & vocals
Danny Kalb originally formed the band in spring of 1965 and was reformed September 1965 when they became a hot draw in Greenwich Village New York, releasing albums with Elektra and Verve record labels. Al Kooper became a member of the band for a short time before he and Steve Katz formed Blood Sweat And Tears in 1967.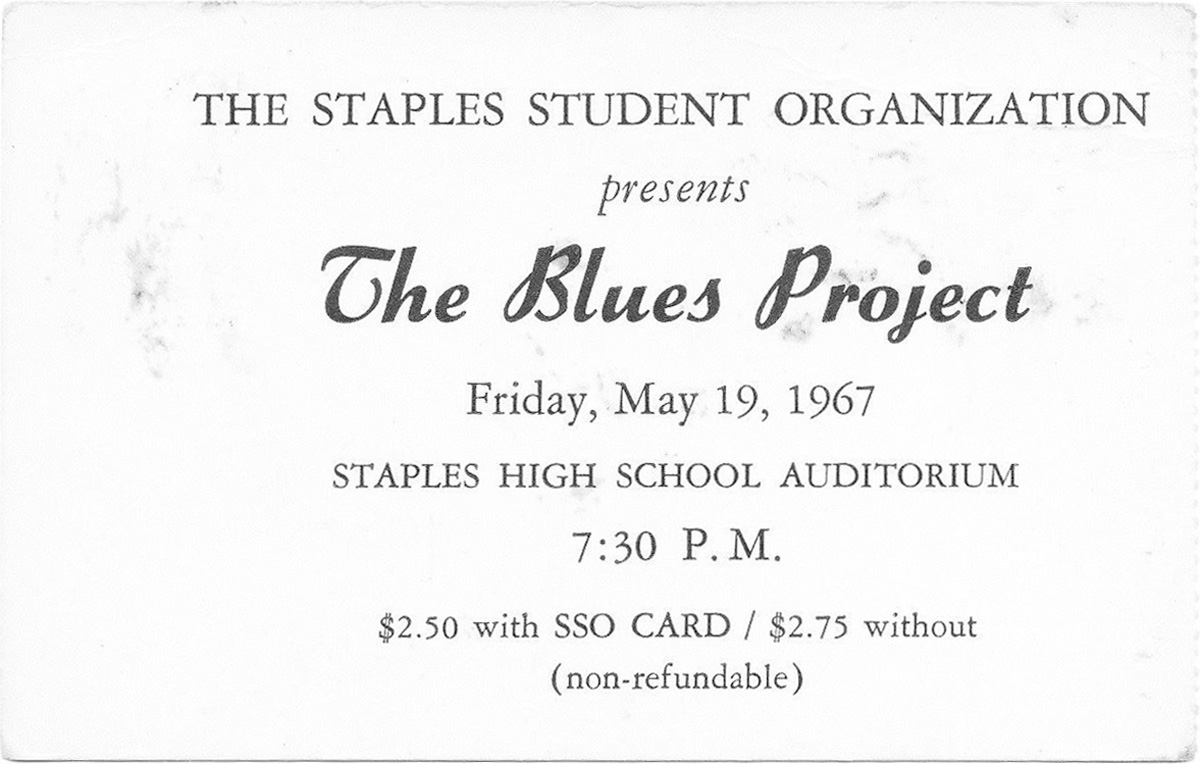 RICHIE HAVENS – Friday May 19 1967 – Auditorium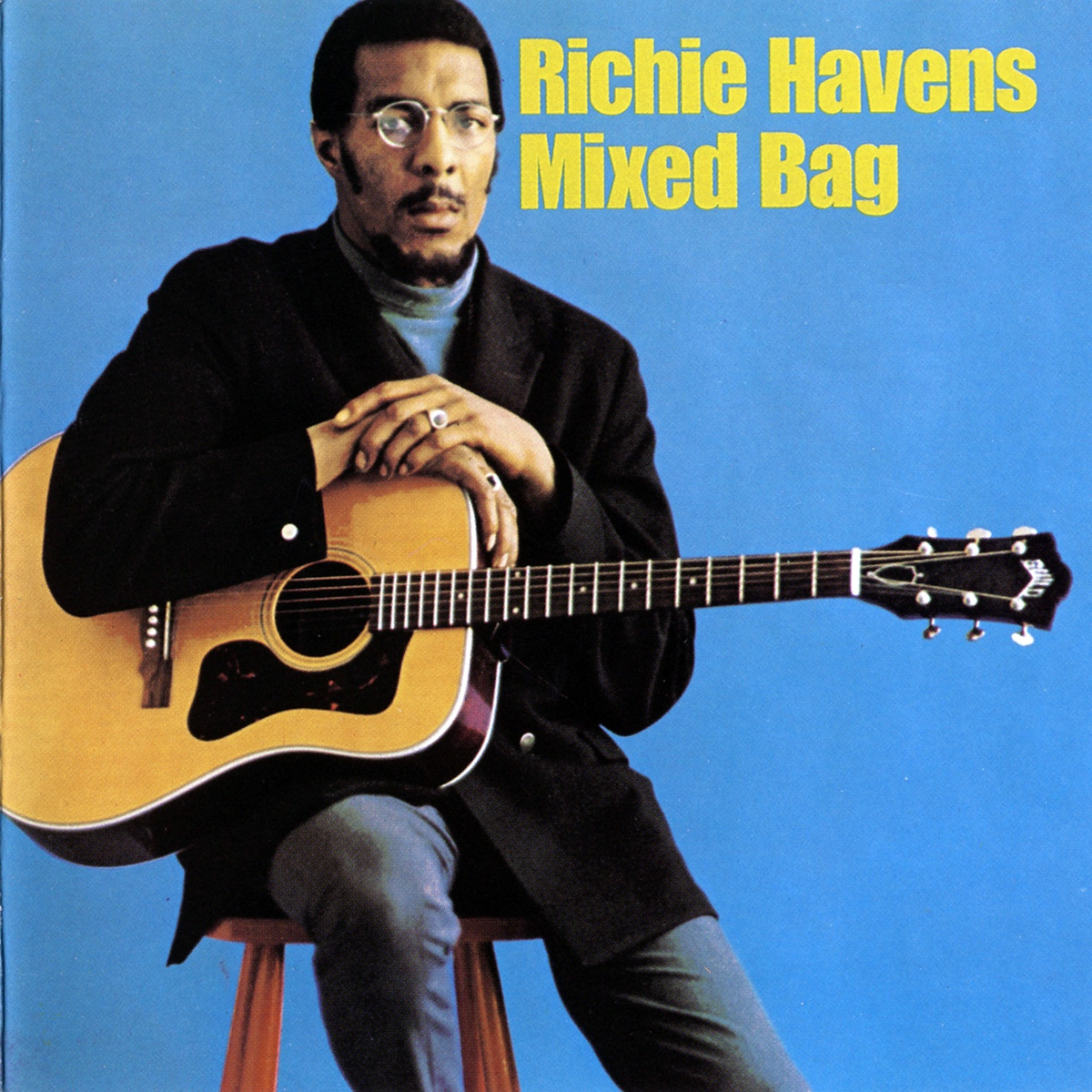 Active: 1965-Present: Richie Havens - guitar & vocals
Known for his forceful rhythm guitar, he received the American Eagle Award in 2003 for his place as part of America's musical heritage, and for providing "a rare and inspiring voice of eloquence, integrity and social responsibility. Richie was the opening act for the Blues Project.
When the Blues Project was detained in NYC finishing a recording session, Jeremy Steig and the Satyrs drove up to do a very long set until the Blues Project arrived. – – Dick Sandhaus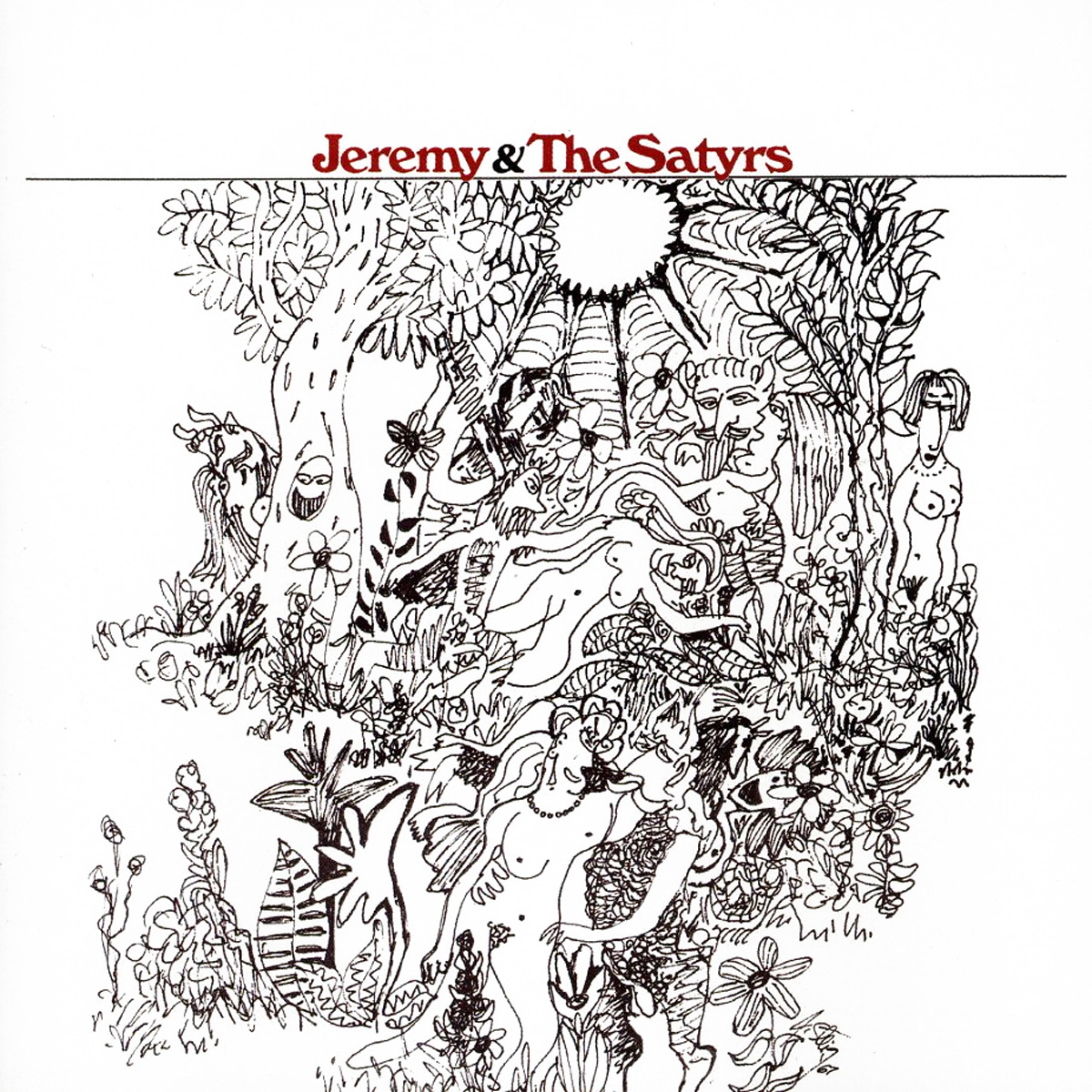 Jeremy and the Satyrs
were a short-lived 1968 band that played early jazz-rock-fusion: Jeremy Steig - flute, Warren Bernhardt - piano, Eddie Gomez - bass, Adrian Guillary - guitar.
THE LEFT BANKE with SHAGGY BOYS – Class of 68 Junior Prom – "May Daze"
Monday May 24 1967 – Cafeteria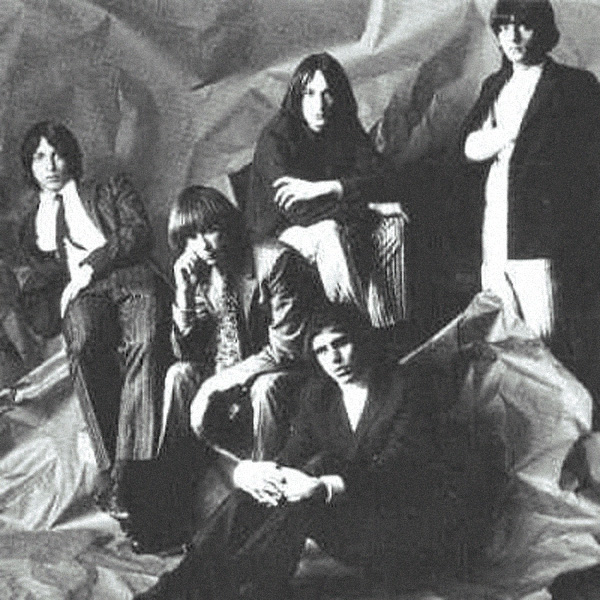 "Pretty Ballerina" is a song written by pianist Michael Brown (born Michael Lookofsky) and was a top 30 hit for his band. Renée Fladen, girlfriend of The Left Banke's guitarist Tom Finn, and object of Brown's affection. inspired the band's biggest hit "Walk Away Renée." Drums - Al Rogers, Bass: John Abbott, Guitar: George (Fluffer) Hirsh, Harpsichord: Michael Brown, Strings: Harry Lookofsky & Friends, Flute: unknown session man, Arranger: John Abbott, Lead Vocal: Steve Martin Caro, Backing Vocals: George Cameron & Tom Finn, Engineer: Steve Jerome, Studio: World United NYC, Date: Early 1966.
BLUES MAGOOS – Class Of 1967 Senior Prom – "Emerald City"
Saturday June 17 1967 – Gymnasium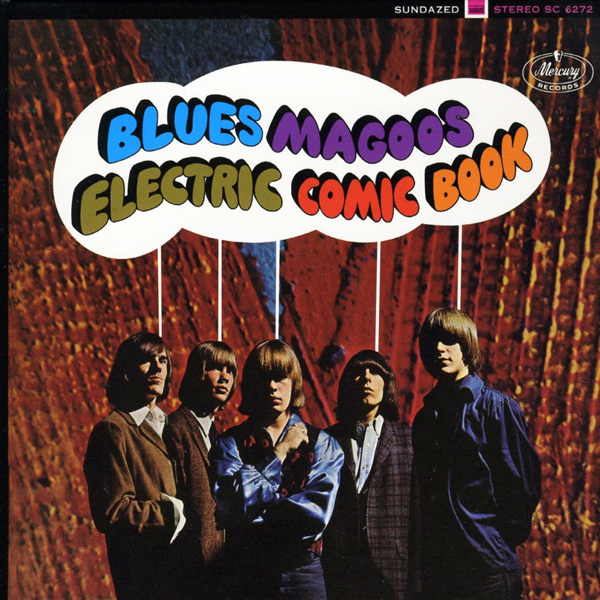 Active: 1964-1970, 2008–present: The band was formed in 1964 as "The Trenchcoats". The original members were Emil "Peppy" Thielhelm aka Peppy Castro - vocals & guitar, Dennis LaPore - lead guitar, Ralph Scala - organ & vocals, Ronnie Gilbert - bass, John Finnegan - drums.
The class was considering Jefferson Airplane for the prom but rejected them in favor of Magoos.
BAND(S) UNKNOWN – Thursday June 22 1967 – Longshore Graduation Dance
After two graduation ceremonies to accomodate the 555-member-class, the PTA hosted a dance at Longshore Country Club beginning at 10:30 pm followed by breakfast at 3:00 am.
PETE SEEGER – Sunday June 18 1967 – World Affairs Center Benefit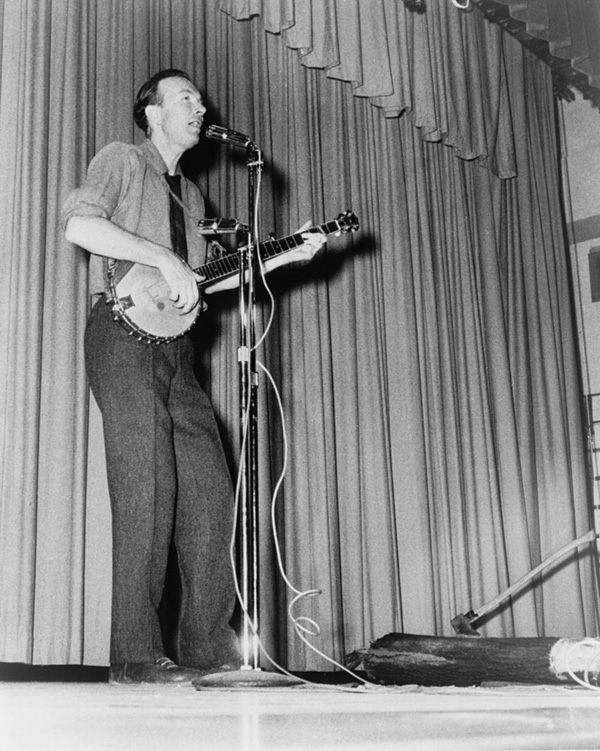 Active: 1939–present: A legendary folk-artist and 'American Treasure' who is a proponent of doing the right things in life.

THE DOORS – Thursday September 21 1967 – Auditorium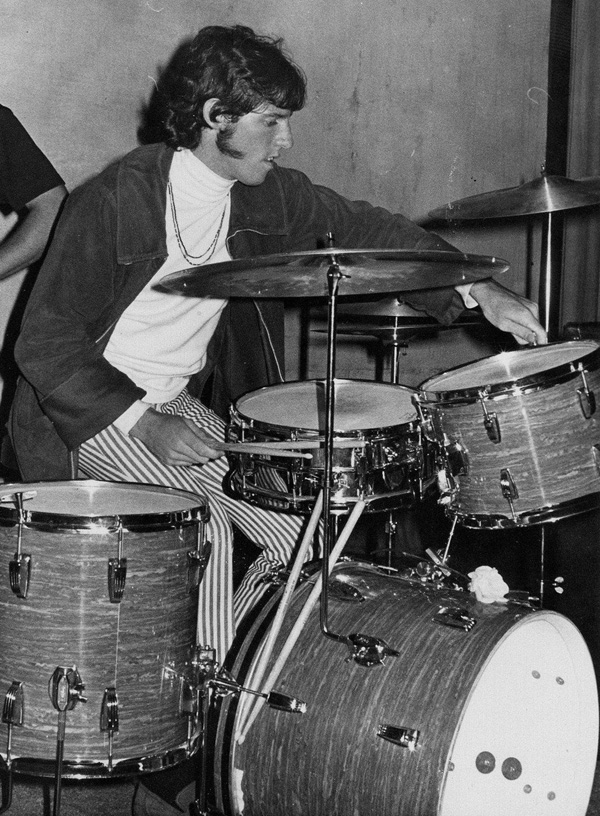 Photo ©1967 Lynn R Dick: John Densmore tuning his Ludwig drums backstage before the concert.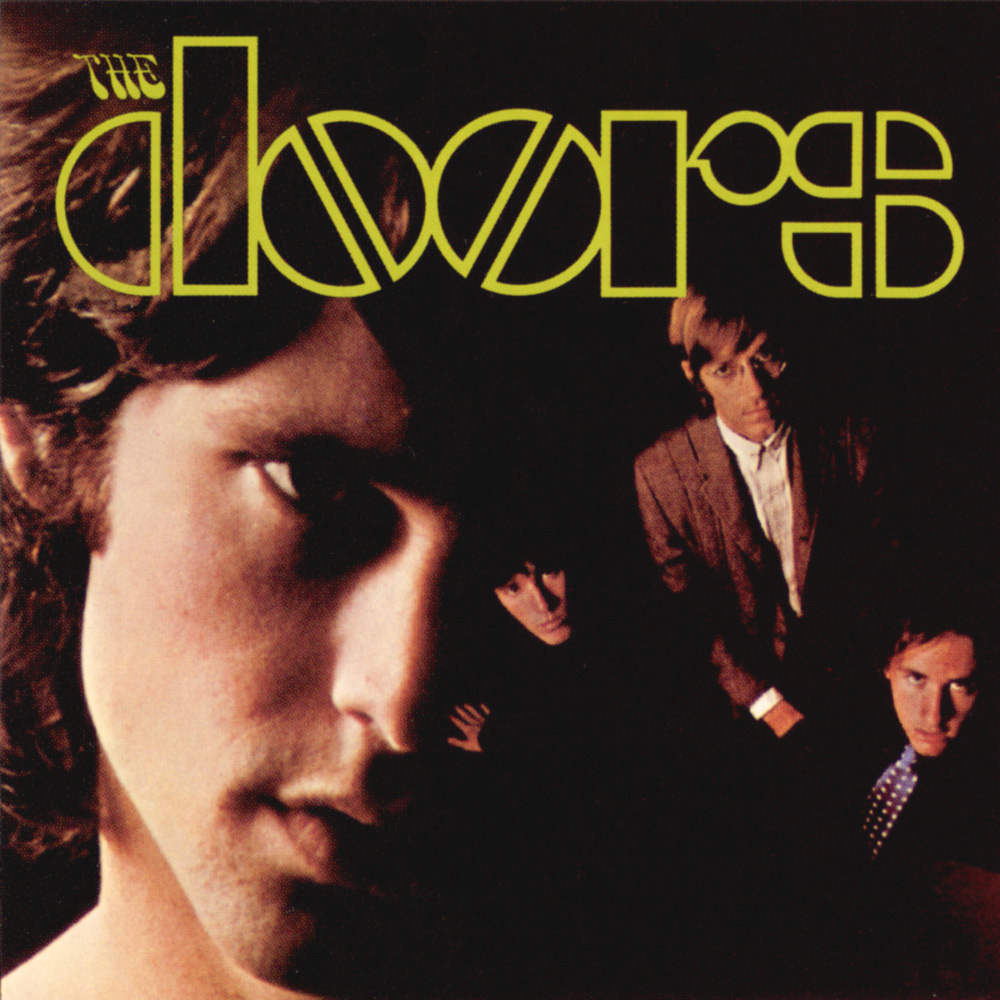 The Doors were an American rock band formed in Los Angeles, California 1965 due to a chance meeting by vocalist Jim Morrison and keyboardist Ray Manzarek. They were later on accompanied by drummer John Densmore and guitarist Robby Krieger. The Following is a review by By BRIAN DOOHAN, Staples High School class of 1968, published in The Bridgeport Post 1967:
Bands Play A Concert At Staples
by Brian Doohan, Staples High, Westport
Financially, it was only a drop in the bucket, but for those who attended the Doors concert recently, it was a screaming success. The four-band spectacular was well received by all who came.
Opening the show, which started late, was Mandrake Root, a local group consisting of Leigh Sobel, Chip Jackson and Tony Prior. They performed several numbers including, a parody on a deodorant commercial, and a version of a current hit, Get Together. Following them was another local group, the Strawberry Fun Band.
Appearing just before the Doors was The Coming Storm, a professional band which which stayed on for more than 30 minutes. Accompanied by a psychedelic lighting show, complete with flashing colors and strobe lights, The Coming Storm went through several types of music including, blues, rock, and ballad.
There was another delay while problems with the amplifiers were being corrected, and then the Doors appeared. Their material was taken mainly from their first Elektra album and included, Break On Through, their first single release, and a version of the Alabama Song.
After several more selections, all from the album, they swung into their current hit People Are strange, following this were three numbers which took up about 20 minutes altogether. Leading it off was a ballad entitled Crystal Ship, which was followed by their recent smash Light My Fire. To those whose only contact with this song was through radio or the single, the lengthy narrative opening and experimental instrumentation during the middle came as a surprise.
The show was concluded by their longest and most controversial piece, aptly titled The End. A rambling, uninhibited, The End changed style several different times before coming back to the original refrain.
Although the entire cost of the concert was nearly $3,000, the student organization, which sponsored the event, was able to break even due to the $3 admission and capacity crowd. Of the money spent, $2,500 went to the Doors. The rest of the cost was $200 for The Coming Storm and maintenance. The Mandrake Root and Strawberry Fun Band played gratis.
**********
THE DOORS' SECOND album for Elektra Records, Strange Days, seems likely to become the group's second gold LP in two tries – even before it's released. Advance orders of 350,000 copies indicate the record will hit million dollar status before it hits the nation's record stores Monday. Thus far, the group has one gold single Light My Fire, the best selling single of 1967, and is trying to make two goldies in a row with People Are Strange, which is already a number one record in most cities.
– – Copyright © Bridgeport Post
The Doors play tonight at what becomes a very cool place to play considering it's a high school auditorium and the music department's rehearsal room is used as the dressing room, which The Doors turn into a party room!. Others that will make the trip here are the Animals, Cream, Frank Sinatra, the Rascals, Louis Armstrong, Phil Ochs, and Sly and the Family Stone. It sure would of been nice to go to this high school in the sixties! The show goes well with The Doors playing material straight off their first two albums. This show is promoted by the school's student council!
– – DoorsHistory,com
LOUIS ARMSTRONG – Saturday December 2 1967 – Auditorium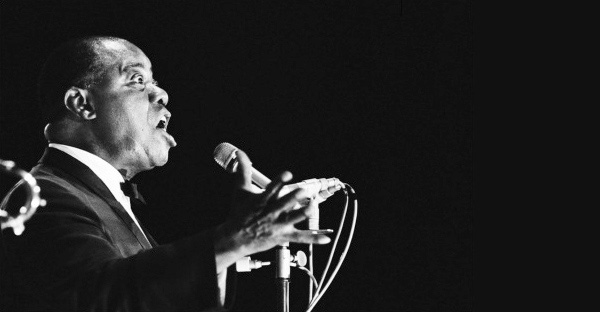 Louis was accompanied by: Marty Napoleon - piano, George "Buddy" Catlett - bass, Danny Barcelona - drums, Jewel Brown - vocalist, Tyree Glenn - trombone, Joe Muranyi - clarinet
1968
CREAM with SOUL PURPOSE – Wednesday March 27 1968 – Auditorium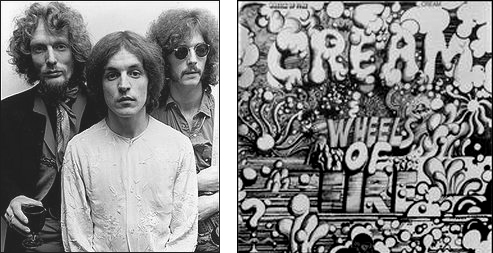 As pictured: Ginger Baker - drums, Jack Bruce - bass & vocals, Eric Clapton - guitar & vocals. Their stage setup was always in the same order to the audience: Bruce, Baker, Clapton… BBC
Anecdote: Dick Sandhaus was having difficulty deciding what band to book for this March event because the potential candidates were all five-star acts. Instead of making the decision himself and taking the chance of being harangued throughout eternity, he put the democratic process to work. SSO Volunteers handed out small quarter-sheets of paper as students arrived with three check boxes and asked to vote for the band they wanted to hear, and then deposit the slips into a box with a slit located center campus. The choices were: Jimi Hendrix, The Who, and Cream! 'Pharrrrr, out… Mannnn!'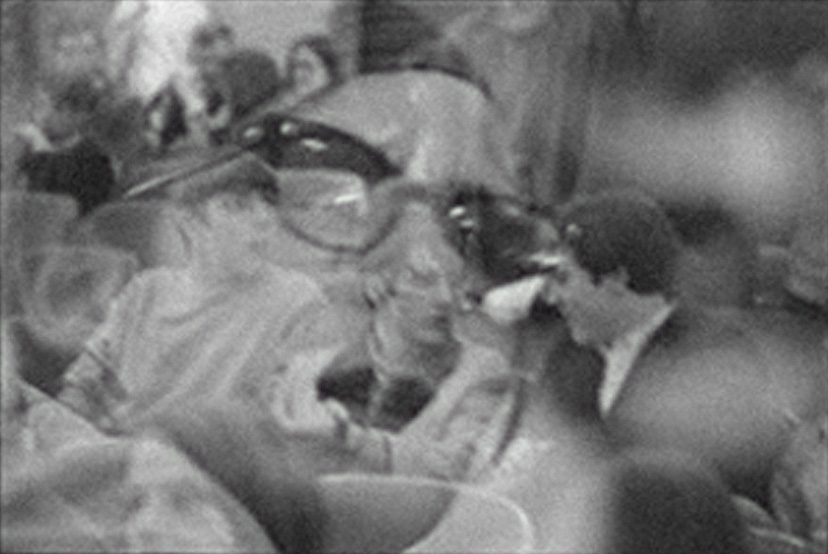 View exclusive shots of the Staples Cream Concert from 27 March 1968 – Photos © 1968 Jeremy Ross. Thank You SO Much Jeremy!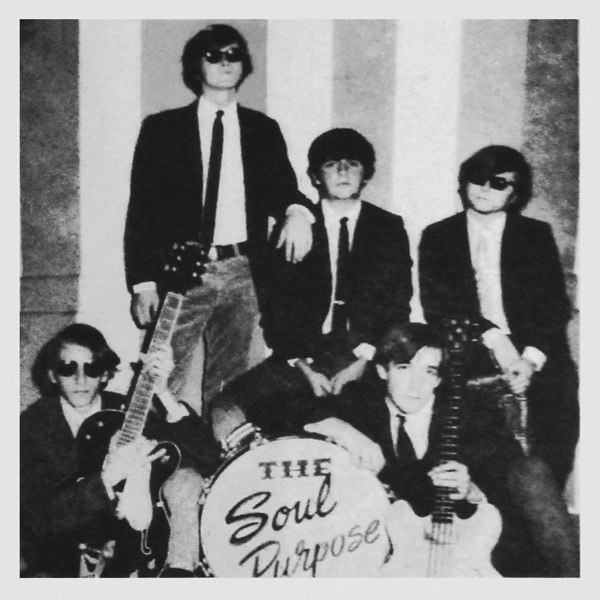 Kenny Samuelson (68) - lead guitar, Roger Lier (69) - vocals, Jeff Miles (69) - drums, Hank Anderson (69 d) - bass & vocals, Jim Foote (69) - keyboards
PHIL OCHS – Sunday March 31, 1968 – Auditorium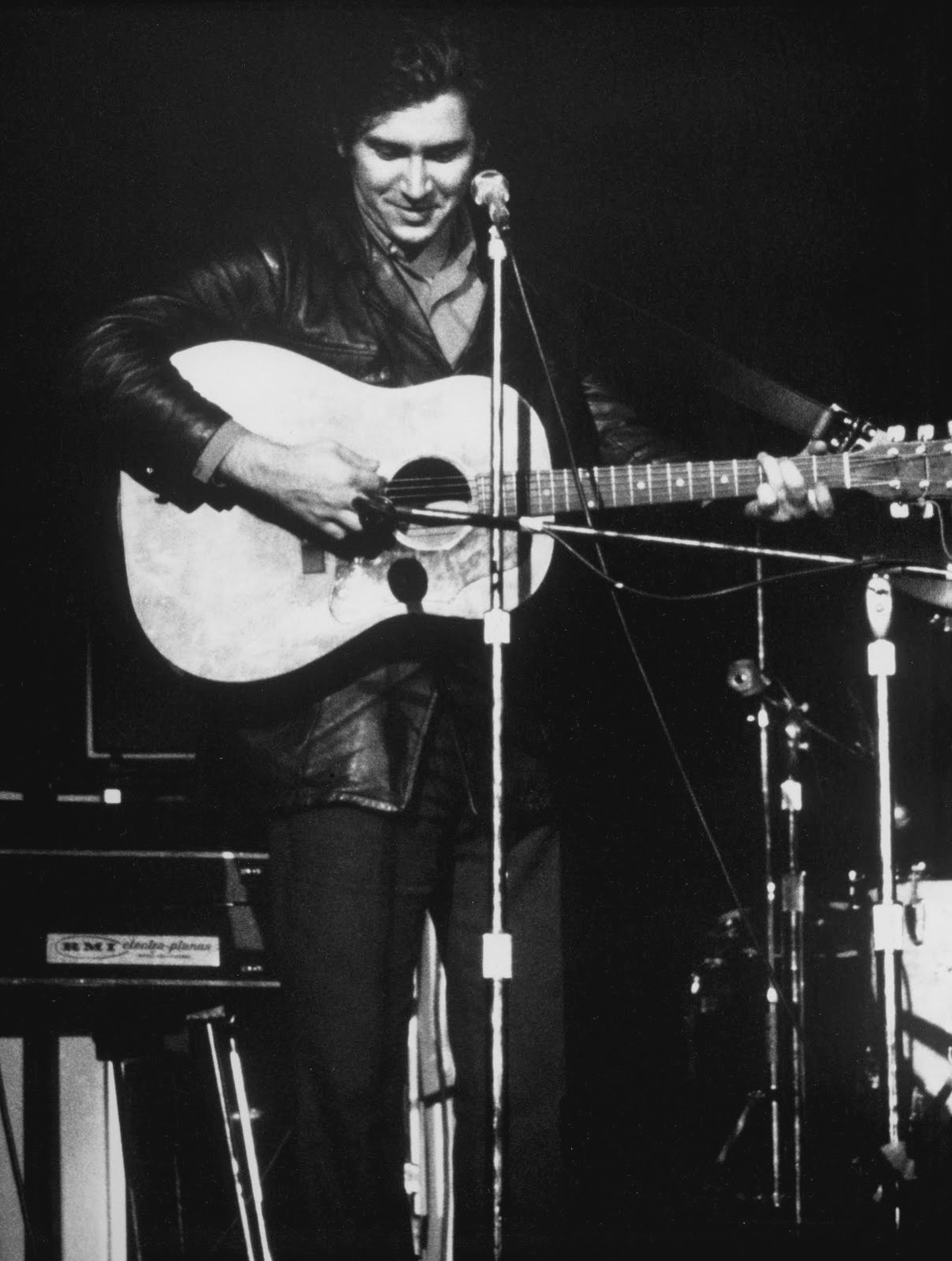 Phil Ochs (1941-1976) One of the most outspoken protestors of the Viet Nam War. Read NY Times Obituary.
SLY AND THE FAMILY STONE – FOR TWO NIGHTS!
Friday May 24 1968 with MANDRAKE ROOT– Auditorium Concert
Saturday May 25 1968 – Sock-Hop In The Gym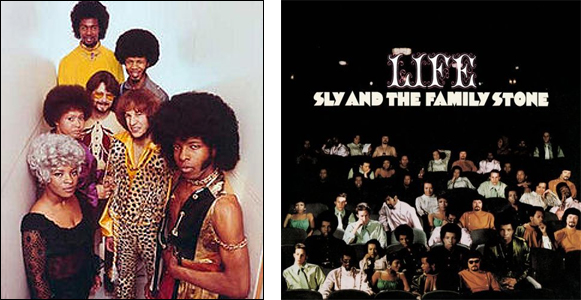 Active: 1967-1983: Sly Stone - guitar & vocals, Cynthia Robinson - trumpet, Gregg Errico - drums, Ronnie Crawford - saxophone, Freddie - guitar & organ, Larry Graham - Bass.
Of course The Family's performance in the gym was a sock-hop, there were no shoes allowed on the fine maple floor. The cafeteria would be too small for the number of attendees, and there was little room to dance on the auditorium carpet.
According to the Town Crier, Sly's appearance at Staples in May 1968 was "kicking off the Spring Carnival weekend."
Sly and the Family Stone are an American rock, soul, and funk band from San Francisco. It was formed by combining two bands: Sly & the Stoners & Freddie & the Stone Souls, and merging the names.
Both The Doors and Cream were great, but I've gotta tell you, my memory of dancing to the music in the gym, in socks, to Sly and the Family Stone is hard to beat. – – Mark Defriest (69) 2009
MANDRAKE ROOT– Friday May 24 1968 – Opening For Sly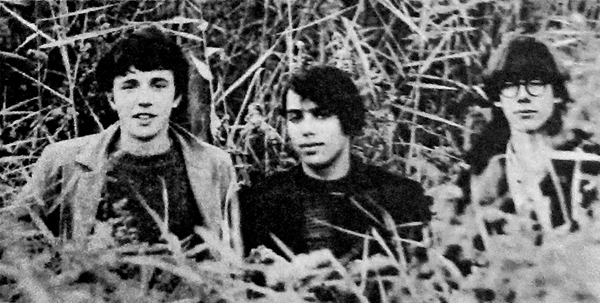 Mandrake Root becomes a five-piece: Frontman Leigh Sobel

(69)

- lead vocals,

Tony Prior - Guitar & vocals, Chip Jackson (69) - Bass & Vocals, Jeff Miles (69) - drums, Jim Foote (69) - keyboards
?? – Monday May 27 1968 – Class of 68 Senior Prom
652 members

SLY AND THE FAMILY STONE – Wednesday June 25 1968 – Longshore Country Club
This event was sanctioned by the principal of SHS, Jim Caulkins, as a place to fill the void in the town, lacking a good place for youth to socialize during the summer with music of the era. Going forward, the venue was intended to become a teen club for activities on Wednesday and Thursday nights.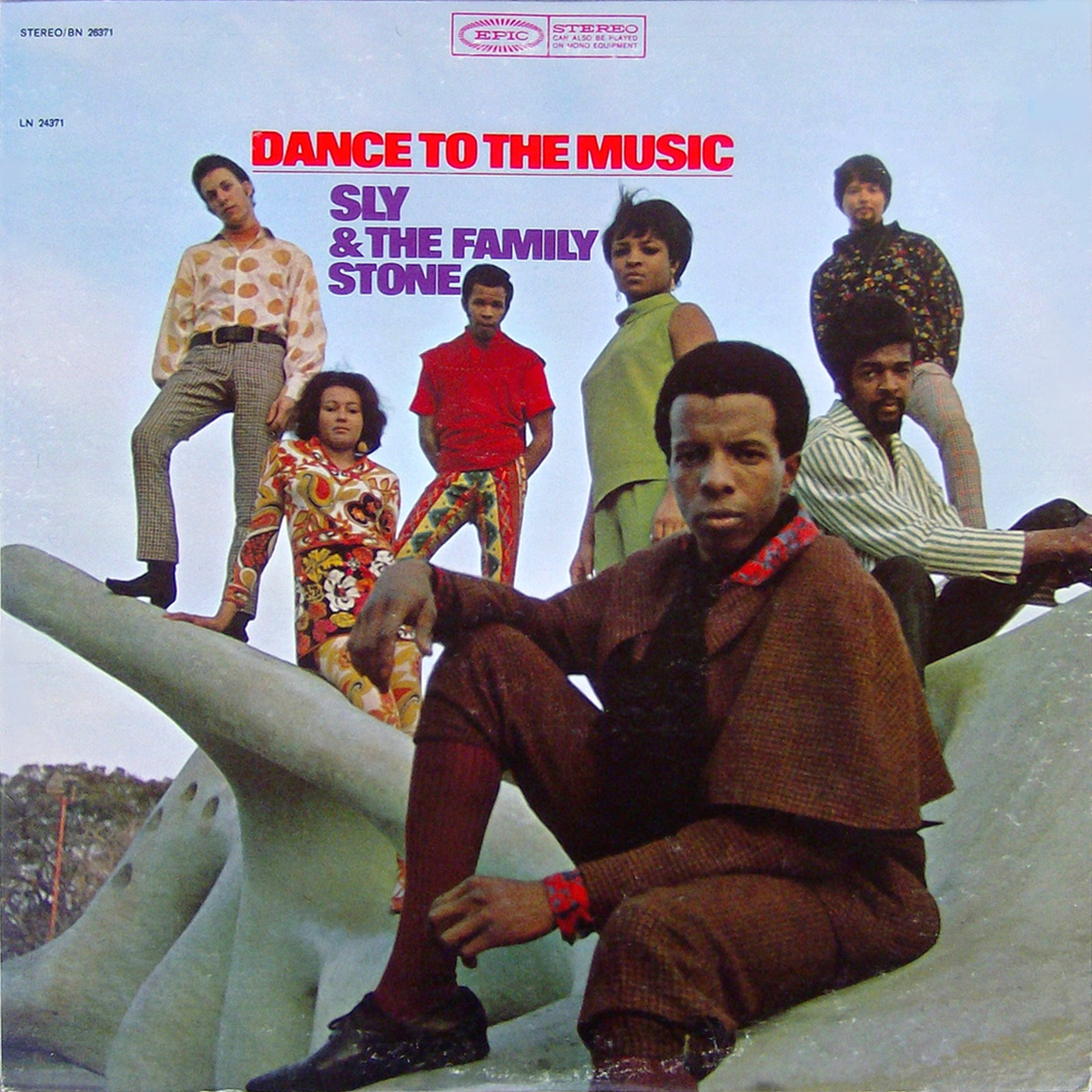 Dance To The Music album was released in April of 1968, and the tile cut was hot, and they were bring it to Westport in June. The single was released in January 1968 and peaked at #8 on the Billboard chart, later ranked #223 on Rolling Stone's list of the 500 Greatest Songs of All Time, and setting a standard emulated by many bands. The textures in this music were unprecedented yet became categorized as 'psychedelic soul,' but a great combination of rock and R&B nonetheless.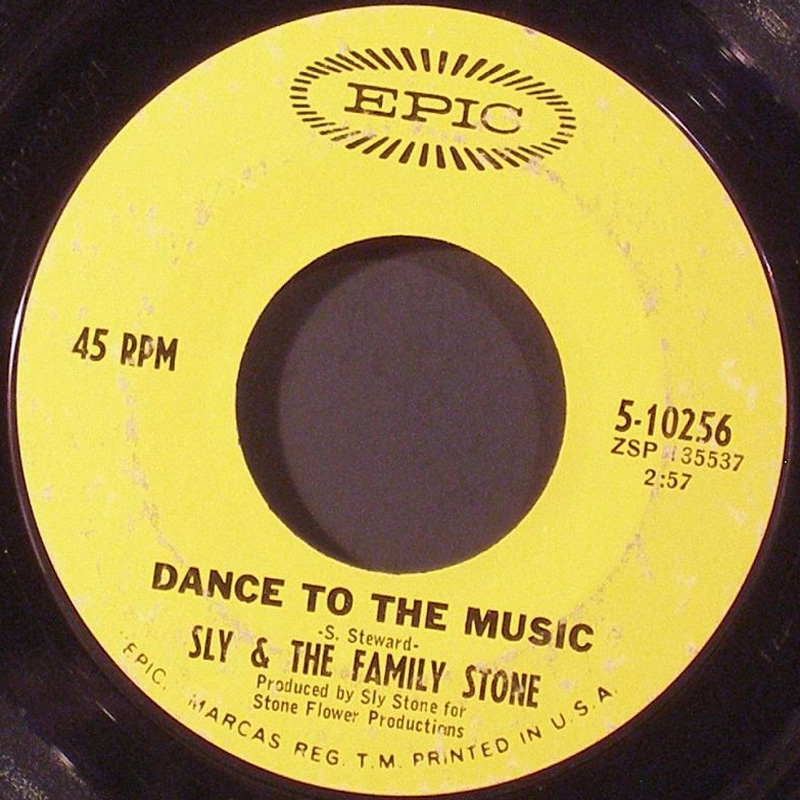 When Sly and family were at Longshore Country Club, all their equipment didn't get there, so I borrowed my work truck from Taylor's Flowers at the time… and if i remember right… went to Joe Nistico's and he loaned his Hammond to Sly for the night. – – Jeffrey Rahn
MANDRAKE ROOT – Monday November 25 1968 – Cranberry Ball Benefit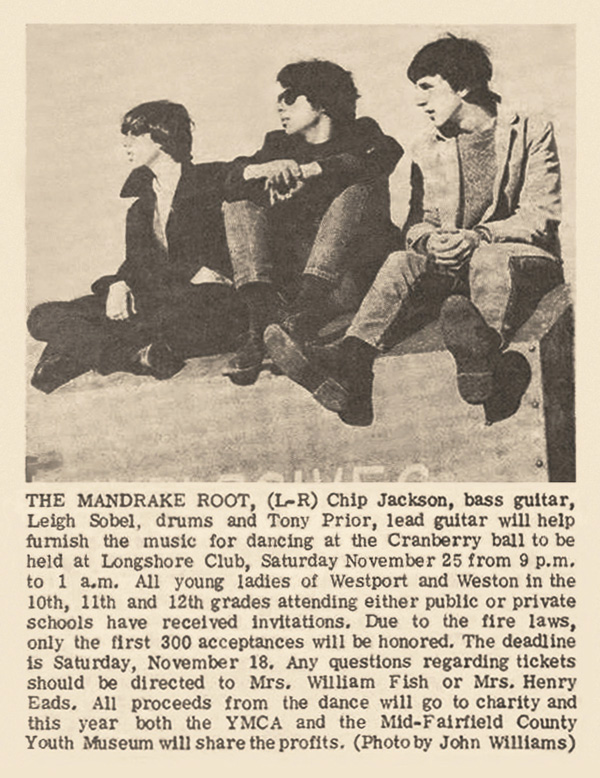 1969
ODETTA HOLMES – Sunday April 20 1969 – Benefit Concert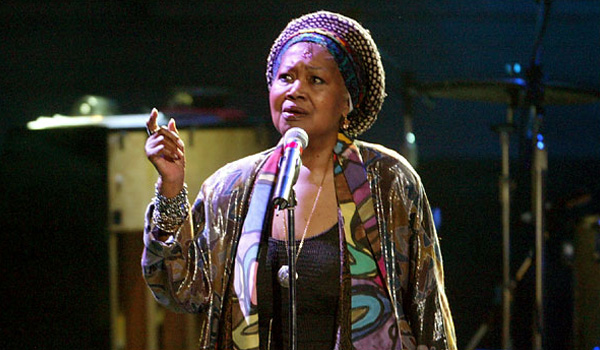 Odetta Holmes (1930-2008) American folk-singer and freedom activist often referred to as 'The Voice of the Civil Rights Movement,' a major influence in the folk revival movement of the 50s and 60s, who inspired other artists such as: Bob Dylan Joan Baez, Pete Seeger, the Guthries, and Janis Joplin. In 2005 she was honored a "Living Legend Award" by the Librabry Of Congress; honored with the "Visionary Award" by the Kenndey Center, music tribute by Tracy Chapman in 2004, among many others.
If only one could be sure that every 50 years a voice and a soul like Odetta's would come along, the centuries would pass so quickly and painlessly we would hardly recognize time. – – Maya Angelou
RHINOCEROS with JAMES GANG – Thursday May 29 1969 – Auditorium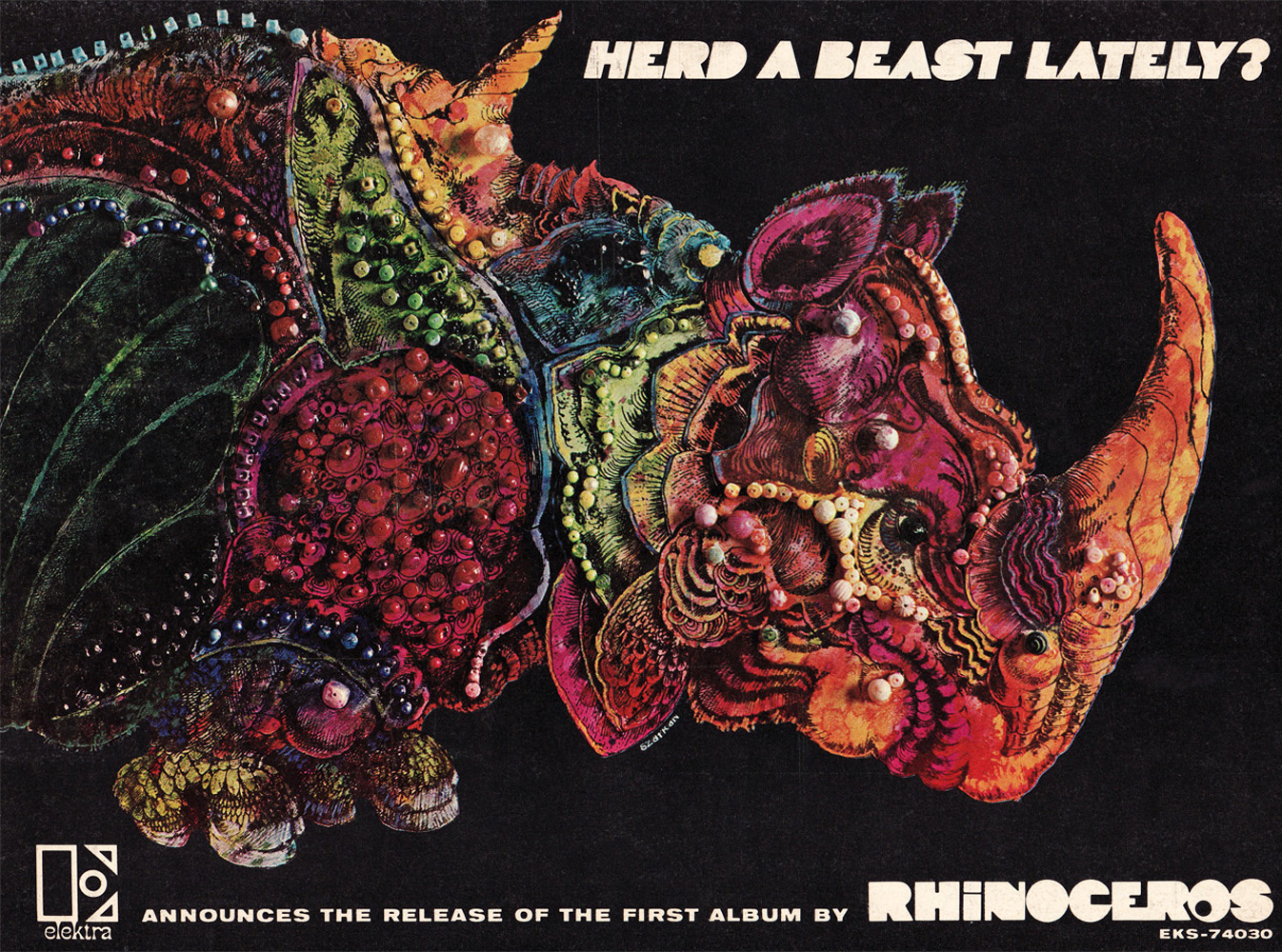 Active: 1967-1971: John Finley - lead vocals, Danny Weis - lead guitar, Michael Fonfara - organ, Larry Leishman - lead guitar & vocals, Peter Hodgson - bass, Duke Edwards - drums & vocals
The James Gang (with Joe Walsh) were the opening act with two shows, one at 7:30 and one at 10:30. Both bands were hot, the James Gang trio with open sustained tones and great melodies, and Rhinoceros with crisp complicated arrangements of their driving tunes.
JAMES GANG – Thursday May 29 1969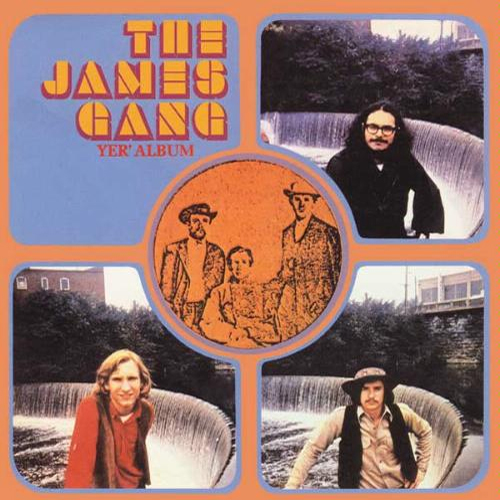 This Configuration Active: November 1969 – December 1971: Joe Walsh - guitar & vocals, Jim Fox - Percussion, Dale Peters - bass & BU vocals
The band started out with six members. Some members came and went and came again. Keyboardist Ronnie Silverman bailed out in Detroit when JG was opening for Cream, so they took the stage as a three-piece and liked the sound. In November 1969 bassist Dale Peters replaced Tom Kriss. Joe Walsh left the band in late 1971.
SUNDANCE – June 1969 – Junior Prom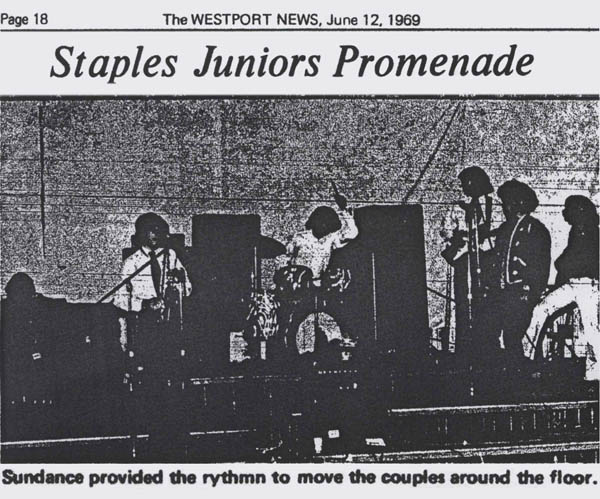 From The Westport News Thursday June 12 1969: It looks like this event was held in a tent or a backdrape was used in the gym for our large class. Please contact us with more information?
CLASS OF 1969 SENIOR PROM – June 1969
660 members

WOODSTOCK – AUGUST 15, 16, 17, 18, 1969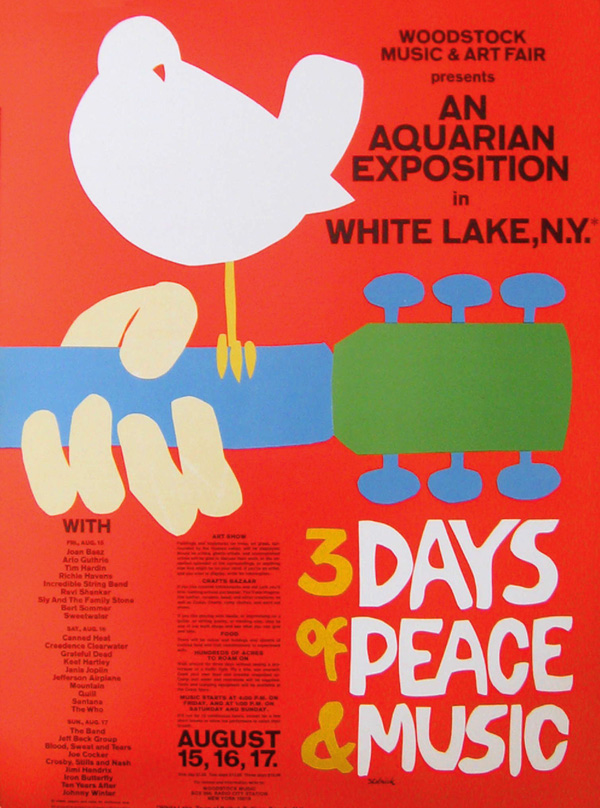 There was a tremendous excitement in the air about this unprecidented event where the biggest names in contemporary music would be performing, and as an aspiring seventeen-year-old musician, my mouth watered at the idea of attending Woodstock. I missed Hendrix and other hot rock bands when they played locally, so this was a chance to learn about different ways of playing music from the best. It was only a two hour drive through the country from Westport, so I was rearranging my schedule to take time off work and get my girl friend to go, when news reported the New Your freeway was a parking lot! They estimated more than 250 thousand people were there already, many more than anticipated, lacking enough facilities and supplies to meet the need, and rainy weather was predicted on top of that. The pictures on TV made it look like a 'Love-In,' but tough going nonetheless, so I chickened-out. I was bummed. – – Mark Smollin
THE FUN BAND featuring BUDDY MILES with JAMES COTTON BLUES BAND
Sunday December 21 1969 – Auditorium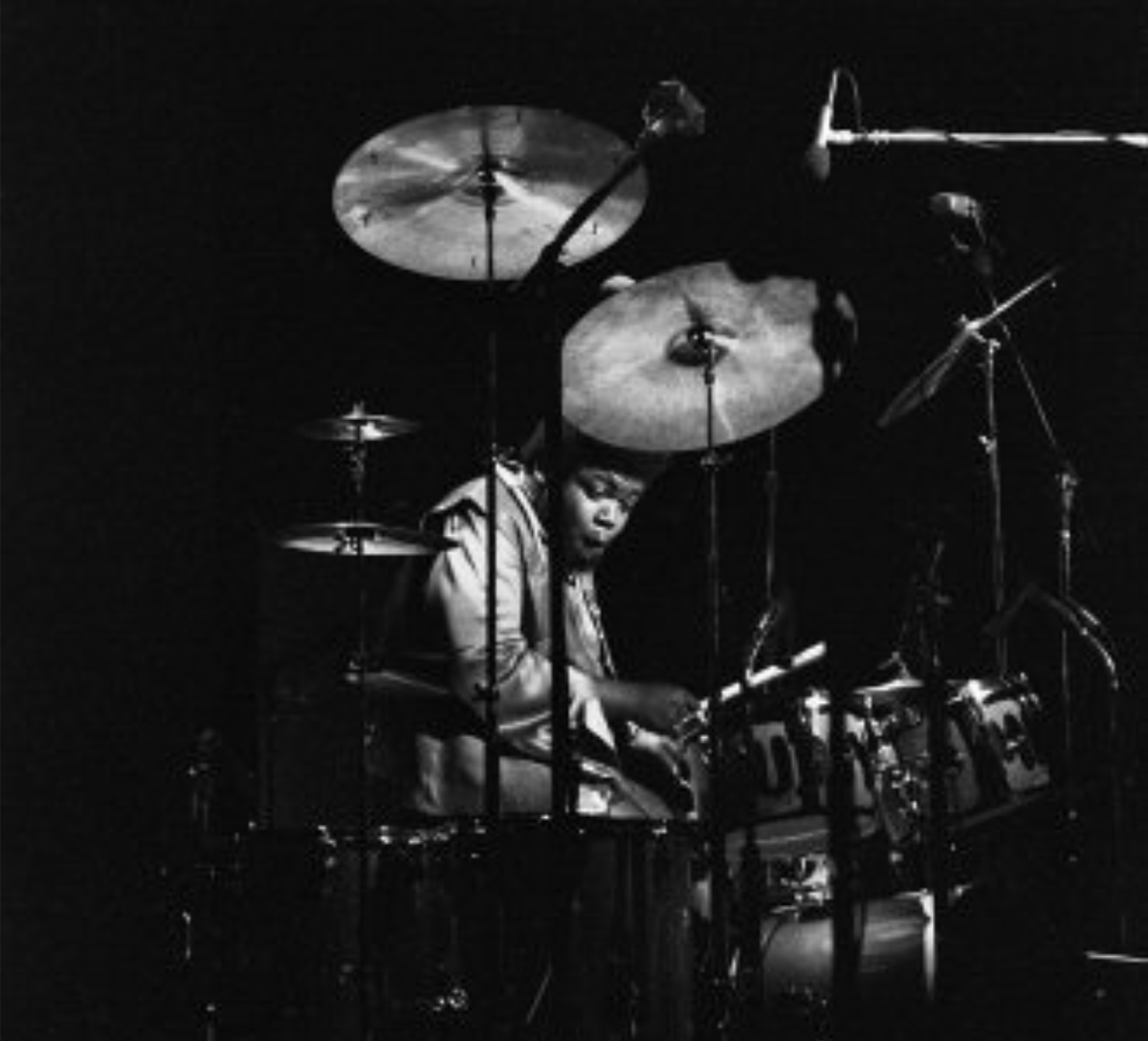 Photographer: Joe Sia: Ten days after playing Staples, Buddy was at the Filmore East December 31 1969, and the folowing night, January 1 1970, with the Band Of Gypsys. Both performances were recorded and the Band Of Gypsys album soon created from those tapes.
Active: 1969-1974: Buddy Miles (1948-2008) - drums & vocals
It was a great concert, Charlie Karp played with his band (the warm up act,) which included Brian Klarman. Brian played my Wurlitzer electric piano that I had bought from John Leimseider… Brian was also extraordinary that night… his amp was too low so it was not that easy to hear and he broke a reed!... It was a great concert, and Charlie was drafted by Buddy as a result of their great set. The concert in 1973 is another story,... I believe Buddy Miles also played there in 1985-6?. – – Geoff Reed
JAMES COTTON and his BLUES BAND - Sunday December 21 1969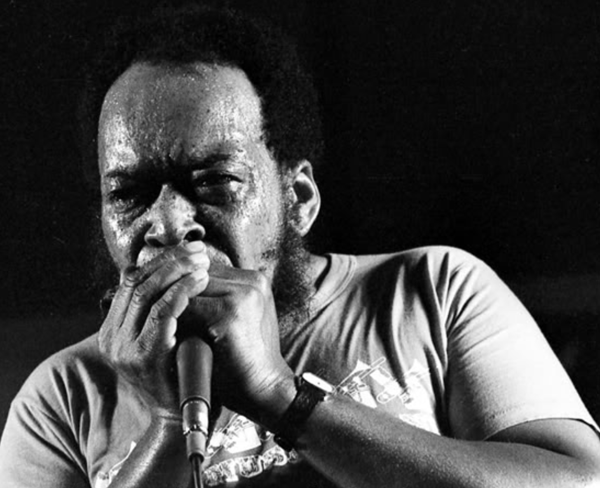 Image source: Sandrango: James Cotton blowing harp at the Texas International Pop Festival September 1 1969, eleven weeks before the Staples concert.
When you ask who is the best harmonica player, Cotton will probably in the top two replies. The man cooks and there are many great recordings of his work!
SMOKE – FREE CONCERT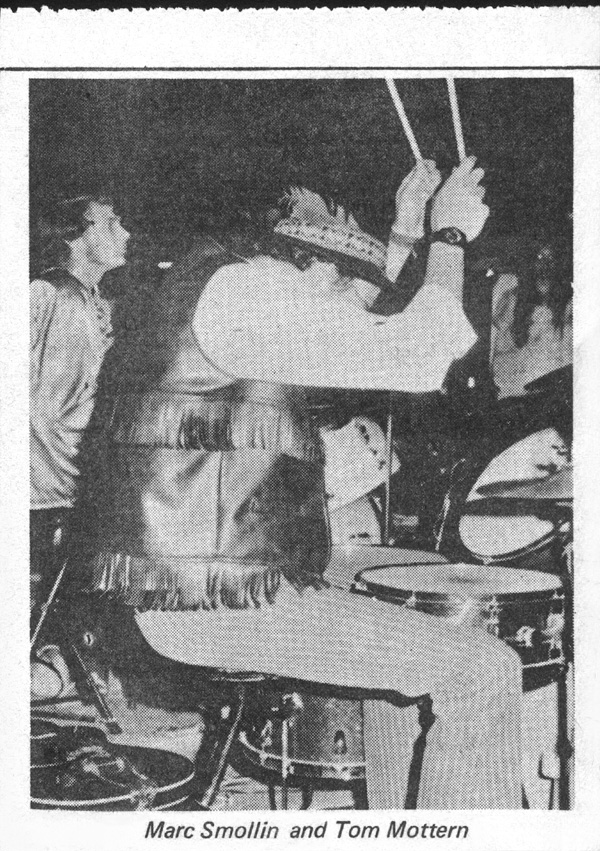 From Westport News: Mark Smollin - drums & percussion with Tom Mottern - drums, engaged in an extensive dual-drum-solo, trading licks and layered.
Also on stage: Harry Eisenberg - guitar, Peter Morgen - bass & vocals, Jeff Dowd - guitar & vocals, (pictured below) John Leimseider - keyboards.
Famed to be the loudest thing ever heard at this venue!
1970
BLUE MAGOOS with STONE HAMMER – June 1970
Senior Prom – Waterfalls And Caves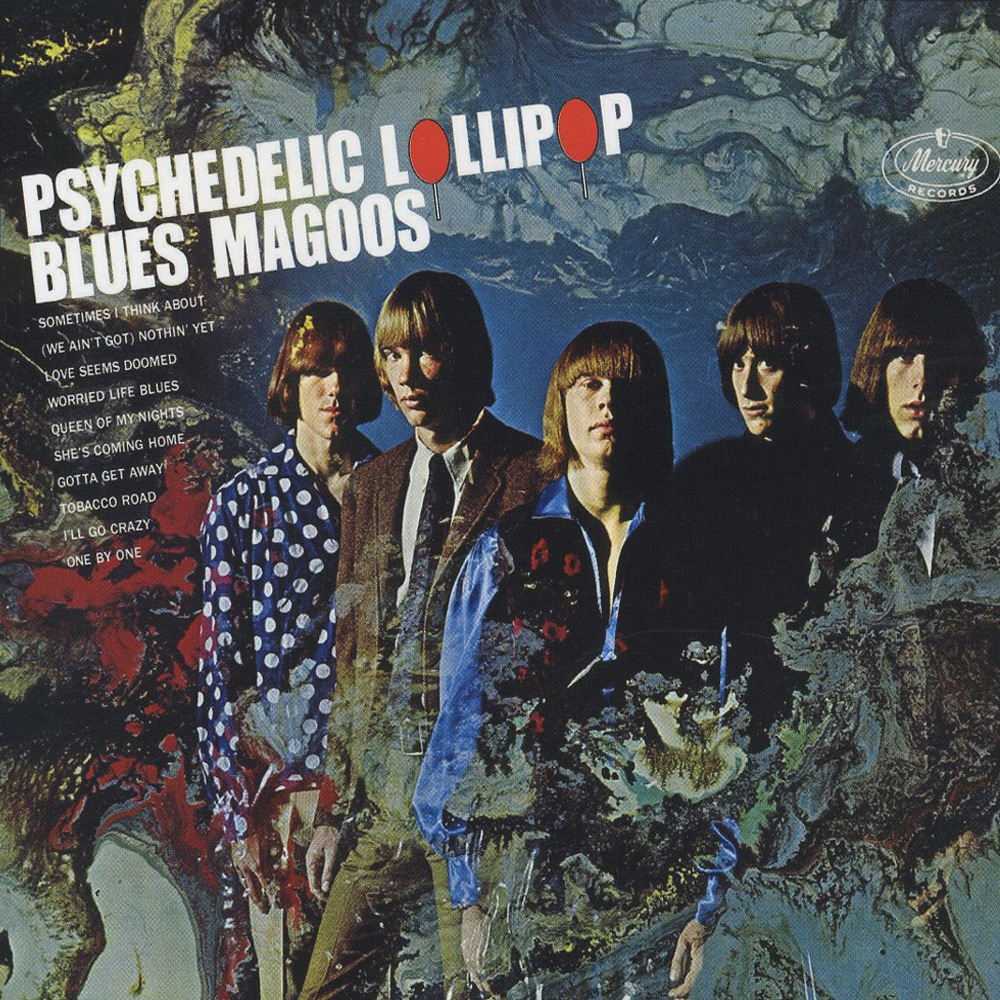 Active: 1964-1970, 2008–present: The band was formed in 1964 as "The Trenchcoats". The original members were Emil "Peppy" Thielhelm aka Peppy Castro - vocals & guitar, Dennis LaPore - lead guitar, Ralph Scala - organ & vocals, Ronnie Gilbert - bass, John Finnegan - drums.
777 Member-Class of 1970 prom, "Waterfalls and Caves" was held at the Jewish Community Center in Norwalk, After party at the home of Doug Gilmore, followed by breakfast at Compo Beach served by Staples Faculty. The Blues Magoos and Stone Hammer, 'Hammer,' played rock music for the event.

LIVINGSTON TAYLOR – Sunday December 20 1970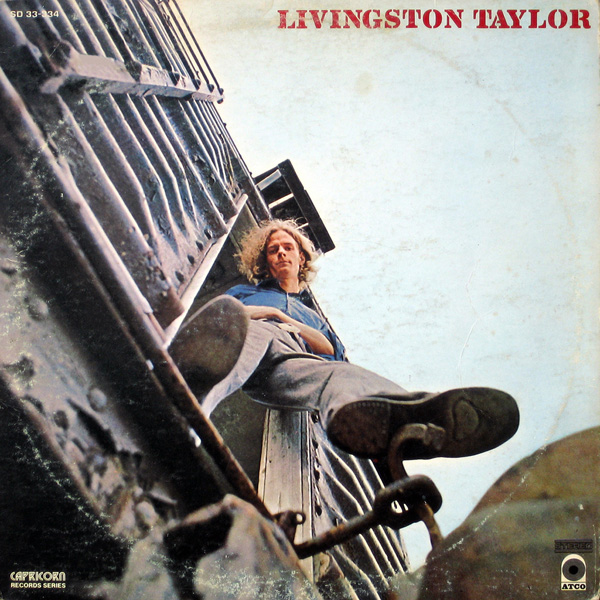 Active: 1970-present: American singer song writer, two years junior to his brother James. who began his career in the Boston area and then greater New England, with a fundamentally acoustic folk sound and soft-rock style. The concert was held specifically to raise money to keep the student newspaper "Inklings" solvent.
1971
MITCH RABIN and MITCH KANNER – Producers
Mitchell co-produced a rock concert with a friend of Edgar Winter's White Trash with Rick Derringer, a highly popular rock band at the time. A seriously risky venture at the time, proved to be stunningly successful and the group played to a standing room only crowd. Edgar Winter himself had such a special experience doing this concert, he came to Mitchell's house for an after-concert party, and told him that he had such a special time that he was going to move to Westport, which he did. This success inspired Mitchell to do this again, this time by himself as producer, and with another very popular group, The J. Geils Band. Again, a record-breaking attendance and another benefit for the school newspaper. These successes led to Mitchell being invited to produce a fund-raising concert for then Presidential candidate, George McGovern (1972). Herbie Mann and Dave Brubeck's sons were the talent. Well-known French trumpeter Don Elliott and other celebrities helped Mitchell with making radio spots and PR, which helped to fill an auditorium in an otherwise rather Republican town not so interested in a "peace candidate". No matter, the concert went well, and the head of the McGovern for President entertainment committee, Warren Beatty, commended 18-year old Mitchell and asked him to head up concert production for the campaign for the State of Ct. – – abetterworld.tv
TAJ MAHAL – Sunday February 21 1971 – Two Shows: 6 & 9 PM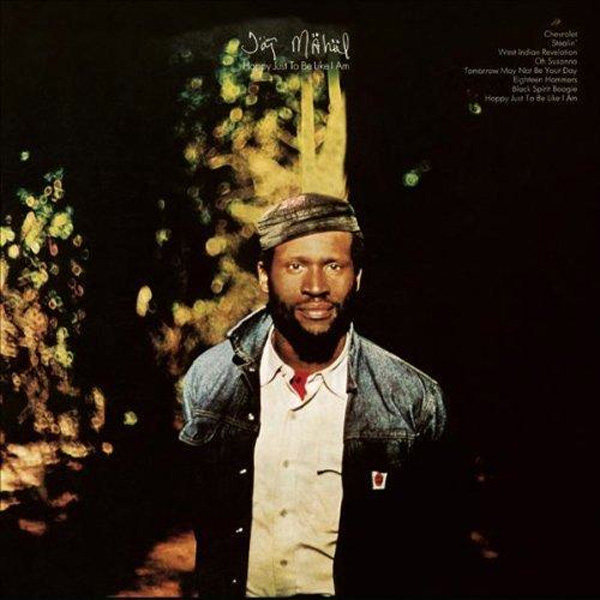 Taj was creating quite a buzz and doing multiple shows at the Fillmore in Manhattan with a knockout-nine-piece band. This concert was sponsored by the Senior Class of 1971.
YOUNGBLOODS with JEFFREY CAIN – Sunday March 28 1971
Active: 1965–1972: For this concert: Jesse Colin Young - bass, acustic guitar & vocals, Joe Baur - percussion, Banana - piano, guitar & banjo.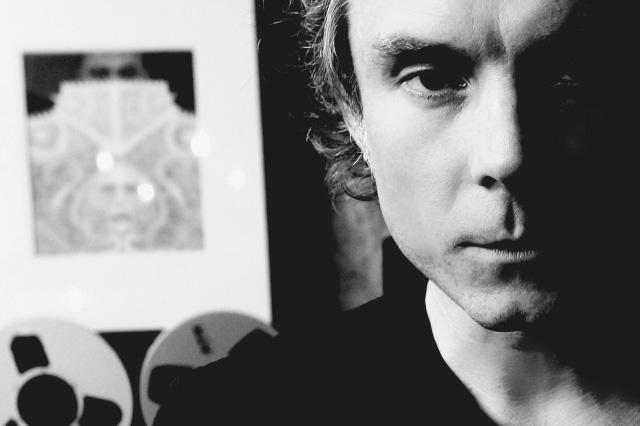 Jeffrey Cain – Country and blues singer and song writer.
CLASS OF 1971 SENIOR PROM – Friday June 18 1971 – Longshore
713 members

COUNTRY JOE MCDONALD – Sunday June 27 1971 – CANCELED!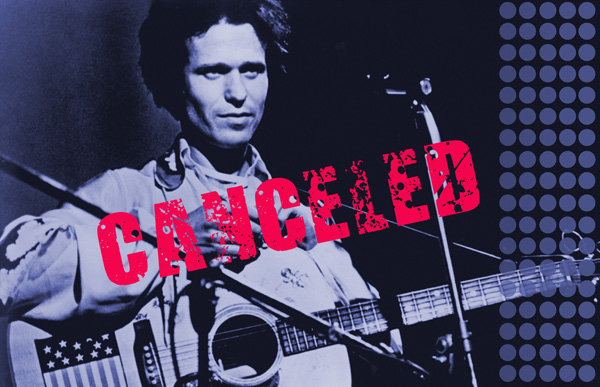 This is what happens when you have a double-booking. This show was canceled because Joe showed up way too late on a school-night. He played a set that was recorded at the Fillmore East, after the Beach Boys and ahead of the Allman Brothers. Apparently the Allmans were intimitaed by the Beach Boys performance and Bill Graham asked Joe to go on next to calm the southern-boys. The Fillmore, known as "The Church of Rock and Roll," was closing its doors on this night, which was an invitation-only-event. Also on the bill were: J. Geils Band, Albert King, Edgar Winter's White Trash, and Mountain. The evening was broadcast live on WNEW hosted by DJs Alison Steele 'The Nightbird,' Dave Herman, and Scott Muni. I cannot blame Joe for breach of contract and hanging out backstage, yet there were many disappointed Westporters who did not get to sing along… "One… Two… Three… What are we fighting for?…"
DAVE BRUBECK with NEW HEAVENLY BLUE – Friday July 2 1971 – Auditorium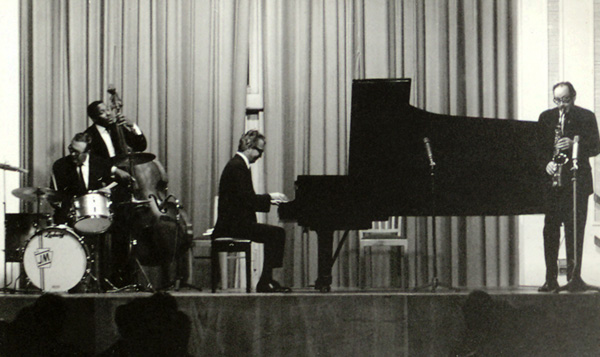 Pictured is the classic Quartet, Joe Morello - drums, Eugene Wright - bass, Paul Desmond - sax.
Active: 1940–2012: For this concert, The New Dave Brubeck Quartet: Dave Brubeck (1920-2012) - piano, Jerry Mulligan - sax, Jack Six - bass, Alan Dawson - drums.
Opening for the Quartet, New Heavenly Blue, featuring Chris Brubeck, Chris Brown, and Herbie Mann.
Dave was the second musician to be on a Time Magazine cover after Louis Armstrong. He made his home in the neighboring city of Wilton CT, so it is suprising that he did not appear here more often.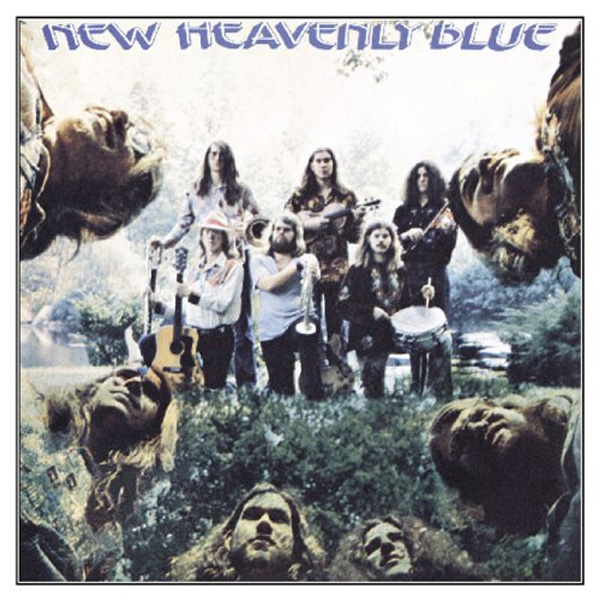 EDGAR WINTER WHITE TRASH TOUR with GOODHILL with BULLMOOCH
Sunday July 11 1971 – Auditorium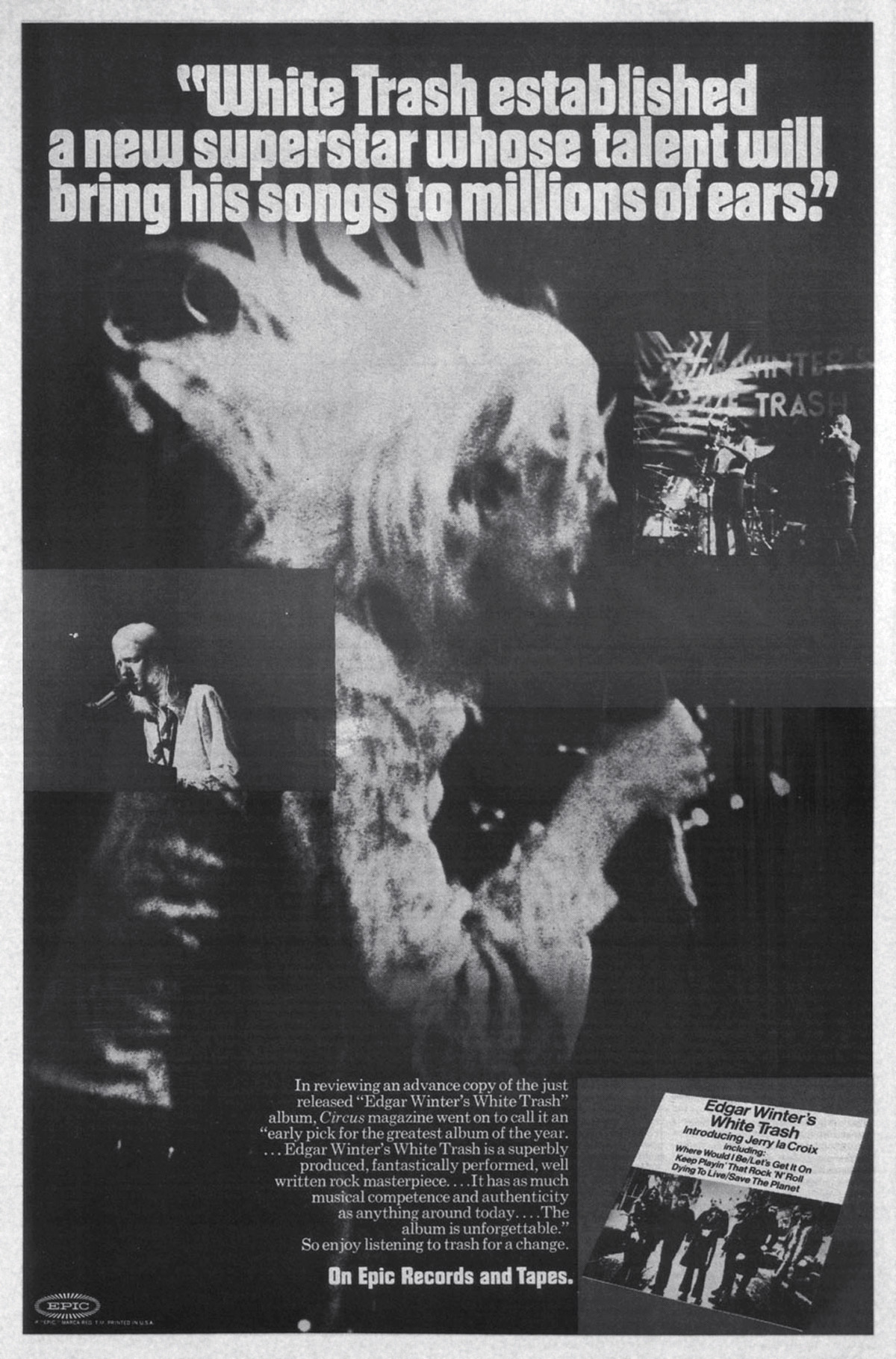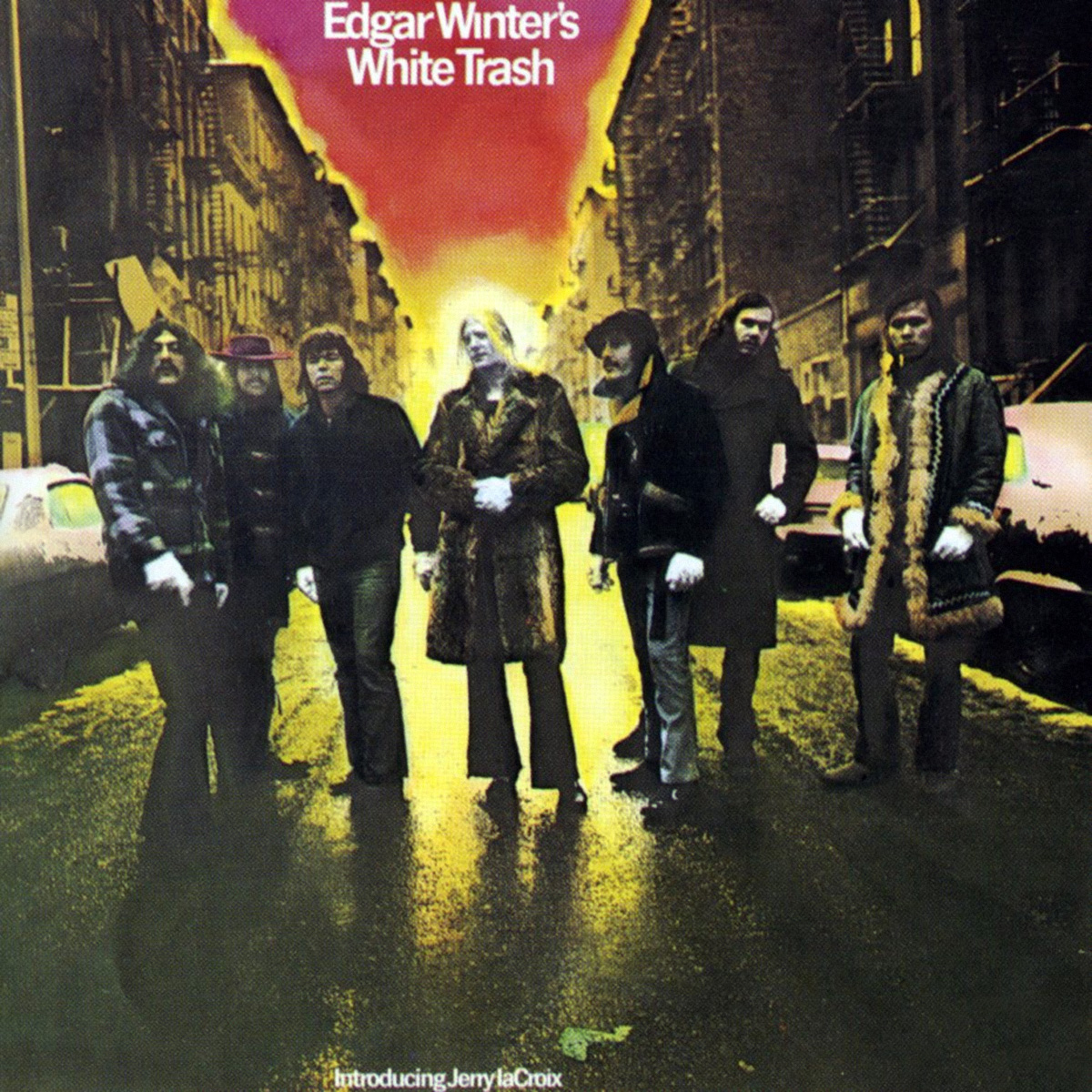 Active: 1971-1972: Edgar Winter - organ, piano, celeste, keyboards, saxophone & vocals, Rick Derringer - guitar, vocals & producer, Johnny Winter - guitar, harmonica & vocals, Jerry Lacroix - harmonica, saxophone & vocals, Jon Smith - tenor saxophone & vocals, Mike McClellan - trumpet & vocals, Floyd Radford - guitar, George Sheck - bass, Bobby Ramirez - drums
This is Edgar Winter's second album released 1 January 1971, first with the White Trash configuration, and one that made quite an impression.
YouTube: Keep Playin' That Rock 'N Roll Live 1973
At the peak of their frenzy, both Winter and laCroix cross over the gospel line and into pure shrieking and screaming. In the controlled doses they administer here, it is very powerful stuff. Such vocal techniques are easily misused, but like everything else on White Trash, Edgar keeps it under control and makes it work for him. The results are a revealing and exciting album -- hopefully, only the first of many more to come. It's the kind of record that makes you want to see the group perform. What higher praise is there for a new album by a new group? – – Jon Landau, Rolling Stone, 5/27/71.
DELANEY & BONNIE with TIM HARDEN – Friday July 30 1971 - Auditorium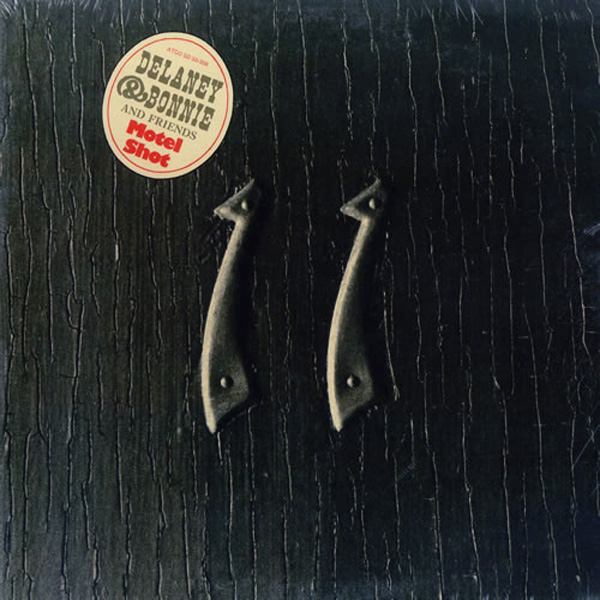 Active: 1967–1972: Delaney Bramlett (1939-2008) - guitar & vocals, Bonnie Bramlett - vocals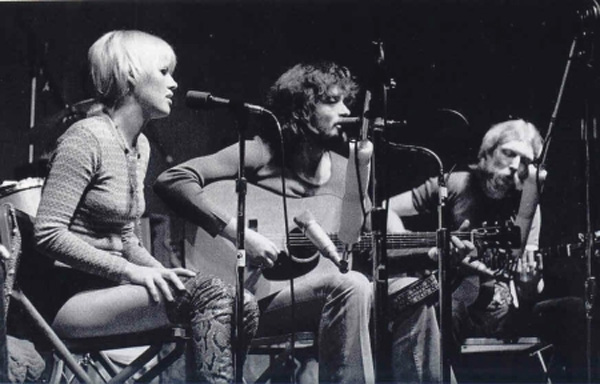 Days before this concert: A&R Recording Studios Session: NYC Radio Broadcast: NY - July 22 1971, seen here with Duane Allman
Delaney and Bonnie are generally best remembered for their albums "On Tour with Eric Clapton" and "Motel Shot". On Tour was their best-selling album by far, and is the only official document of their live work. Delaney and Bonnie were considered by many to be at their best on stage. In his autobiography, Atlantic Records executive Jerry Wexler stated that the studio album he produced for the band, To Bonnie from Delaney, "didn't quite catch the fire of their live performances." Clapton makes an even stronger statement in his autobiography: "For me, going on [with Blind Faith] after Delaney and Bonnie was really, really tough, because I thought they were miles better than us." Motel Shot, although technically a studio album, was largely recorded "live in the studio" with acoustic instruments - a rarity for rock bands at the time, foreshadowing the "Unplugged" phenomenon by nearly twenty years. Delaney and Bonnie's daughter Bekka Bramlett is active in the music business as well. Bekka briefly sang lead with Fleetwood Mac in the early 1990s, and has since pursued a successful career as a backing vocalist, most notably with Faith Hill. – – Rokpool.com
TIM HARDEN – Friday July 30 1971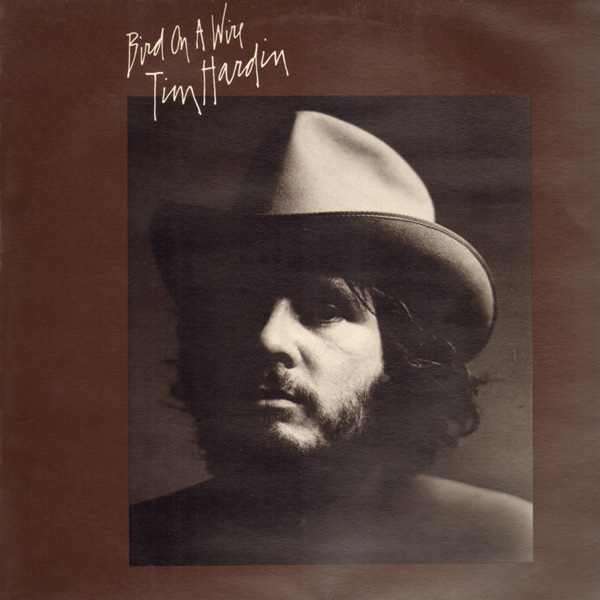 Tim Harden (1941-1980) - vocals, guitar & keyboards. Folk musician and composer with hits such as; If I Were a Carpenter, Reason to Believe & Bird on a Wire, the title of his 1971 album.
THE BYRDS – Friday August 20 1971 – Auditorium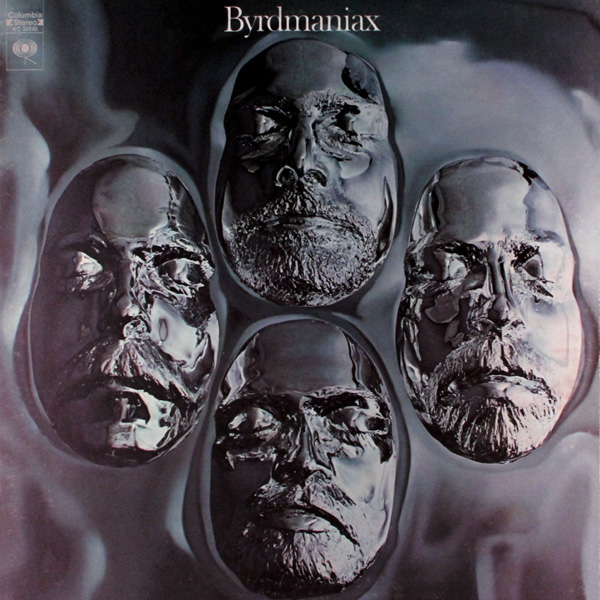 Active: 1964–1973: Roger McGuinn - guitar & vocals, Clarence White - guitar & vocals, Skip Battin - bass, Gene Parsons - drums, harmonica, banjo & vocals.
The Byrdmaniax album was released within months of this concert, and even though the band and the press were not fond of the album, they were on tour and playing their top-charting songs as well as some of the new material.
1972
J GEILS BAND – Sunday January 16 1972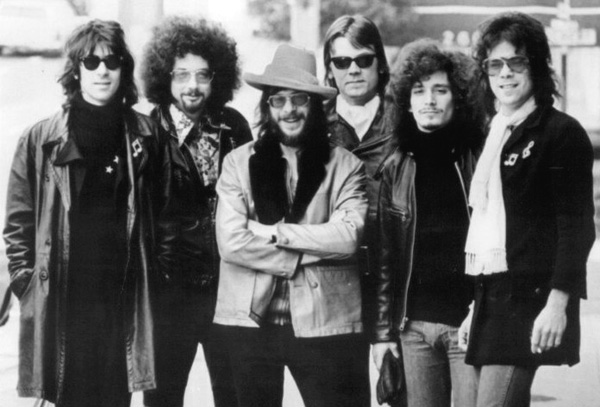 Active: 1967–1985: J Geils - guitar, Magic Dick - harmonica, trumpet & harmonium, Danny Klein - bass, Seth Justman - keyboard & vocals, Peter Wolf - vocals, Stephen Bladd - percussion, drums & vocals
JOHN LEE HOOKER with LIFE ITSELF – Sunday February 27, 1972 – Auditorium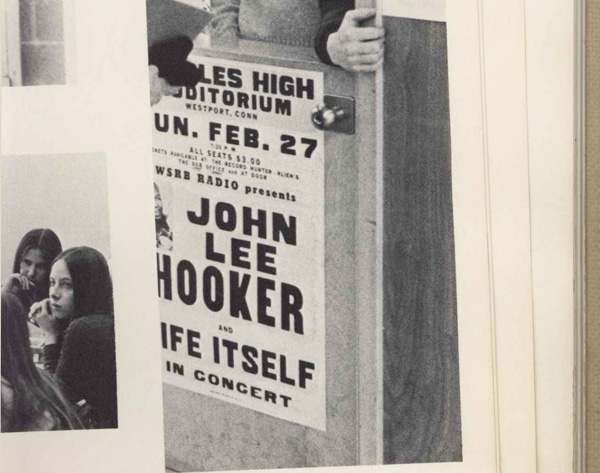 John Hooker (1917-2001) was known for his unique style of delta-talkin-blues. You can see him in the 1980 film: The Blues Brothers, his performance filmed and recorded live, and said to be the inspiration for John Belushi's character Jake Blues.
RISE – ? June 1972 – Class of 1972 Senior Prom – 640 Members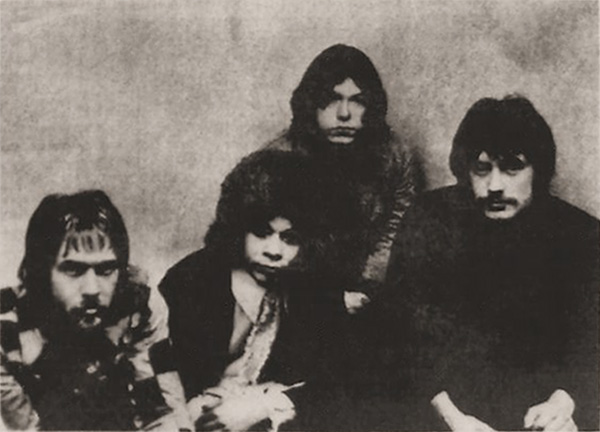 Bill Davidson - drums, Rick Castillo (68) - lead vocals, Ian McNamee (68 d) - guitar, Glen Letsch - bass

JOHNATHAN EDWARDS & ERIC ANDERSON – Friday November 24 1972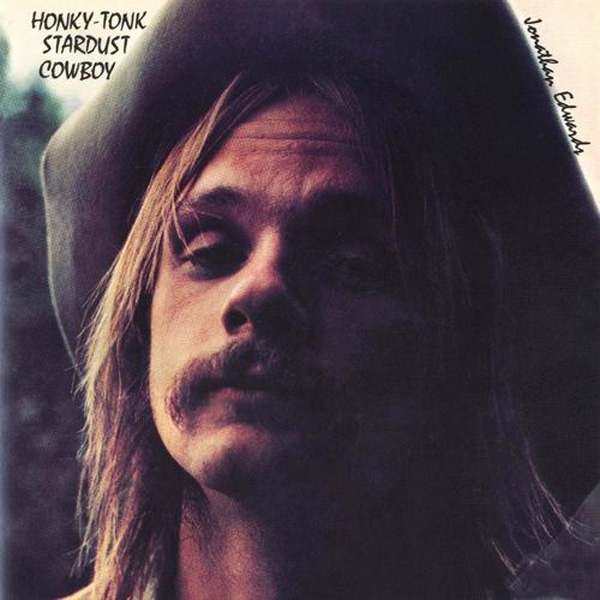 A benefit for the Children's Medical Relief International, featuring country & folk music.
BUDDY MILES FREEDOM EXPRESS 1973 – Auditorium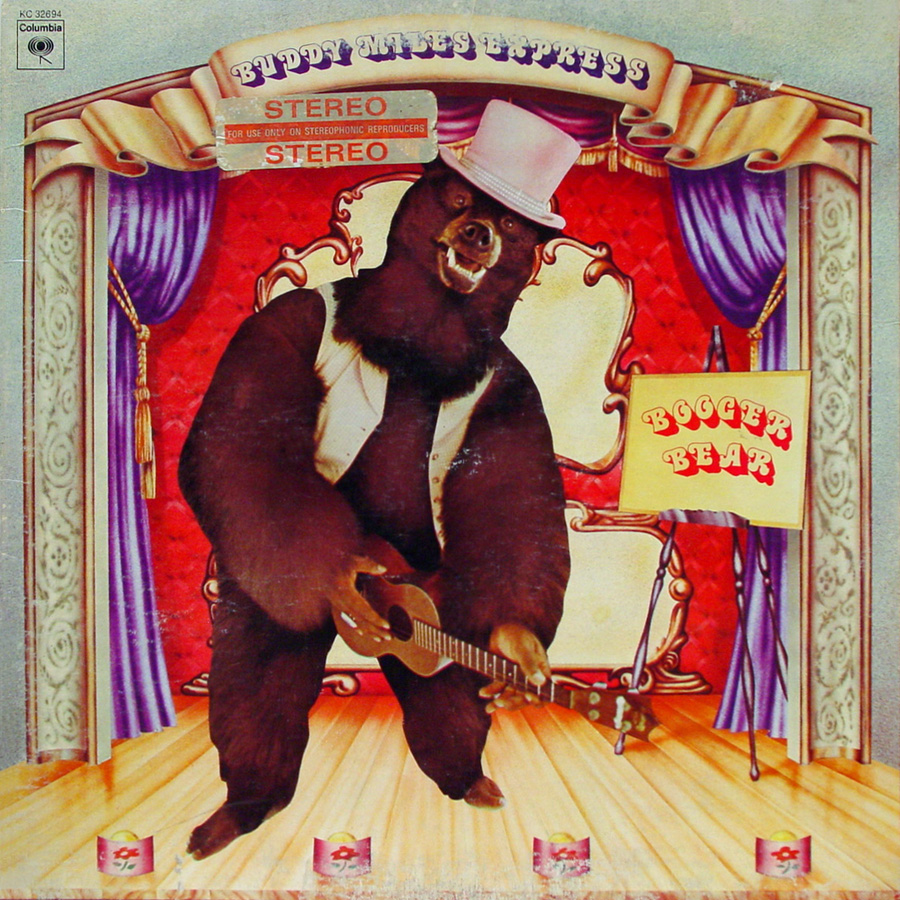 Active: 1969- 1974: Buddy Miles (1948-2008) - drums & vocals
Buddy Miles played in the Staples auditorium the summer of 1973. Mike Rea was the promoter, who represented the young Republican Party. Miles was scheduled to play two shows. The first show was not very good, Mike had to cancel the second show because Miles said he was to ill to continue. The guy was too messed up to play, so Mike had to refund the sold out show. My opinion was Miles was a big rip off. – – Guy Northrop 2012
Well, that one was post-Charlie Karp. He left the band in 1972 to form White Chocolate. And, as I said, Charlie played with Buddy at Staples prior to his becoming a member of Buddy's band in 1970. I guess Buddy missed Charlie! – – Fred Cantor
BAND(S) UNKNOWN – ? – Class of 1973 Senior Prom
666 members
MAHAVISHNU ORCHESTRA with TAJ MAHAL – Saturday July 29 1972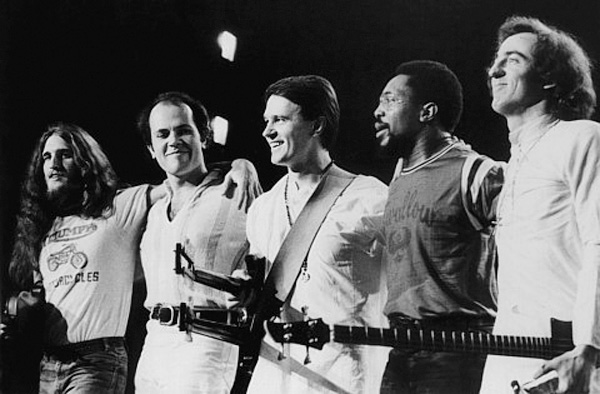 Active 1971-1973: John McLaughlin - guitar, Jan Hammer - keyboards, Jerry Goodman - violin, Rick Laird - bass guitar, Billy Cobham - drums
TAJ MAHAL –Saturday July 29 1972– Accompanied by HOWARD JOHNSON on tuba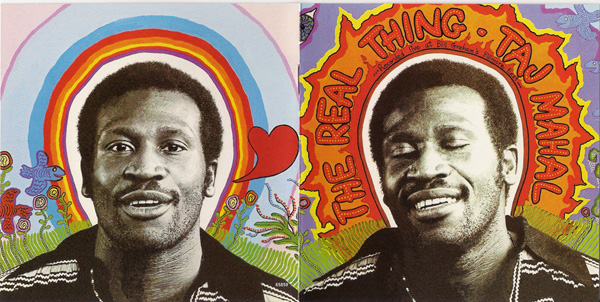 SHA NA NA with NEW HEAVENLY BLUE – Saturday August 4 1973 – Gymnasium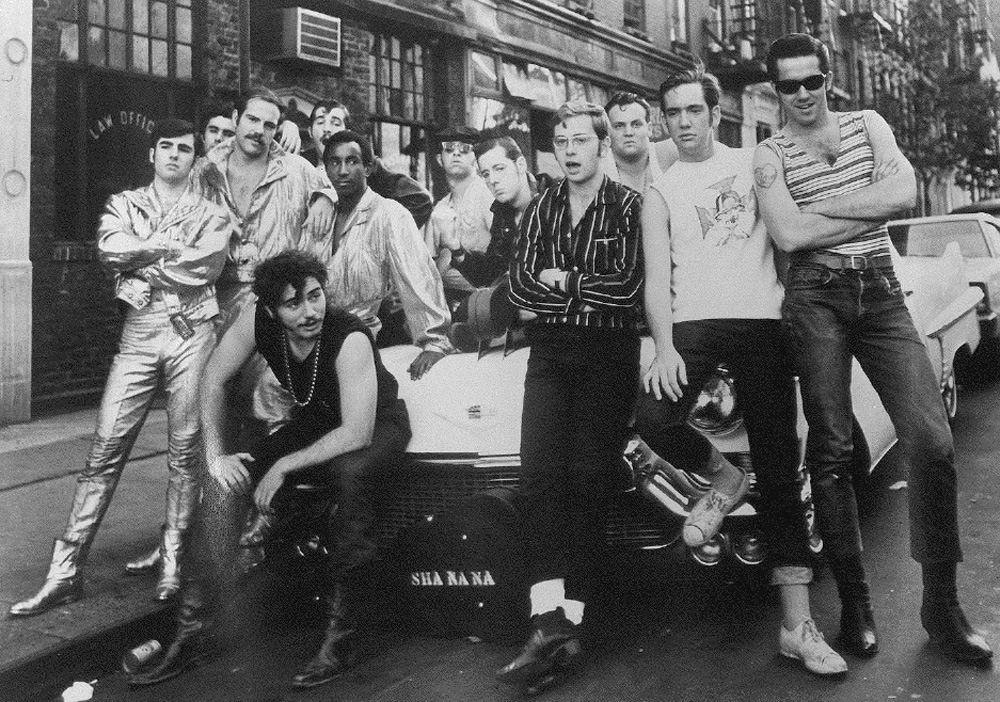 Active: 1969 - present: Sha Na Na packed the gymnasium with fans expecting a great show and they rocked the house on a sweltering night.
50s Retro group Sha-Na-Na played at Staples one Summer (1969, '70ish?). My boyfriend John Griswold was doing stage-crew and I ended up sitting/dancing on a giant speaker @ stage-right during the entire concert. I had a blast and wish someone had pictures. – – Dale Nordling 2012
NEW HEAVENLY BLUE – Saturday August 4 1973 – Auditorium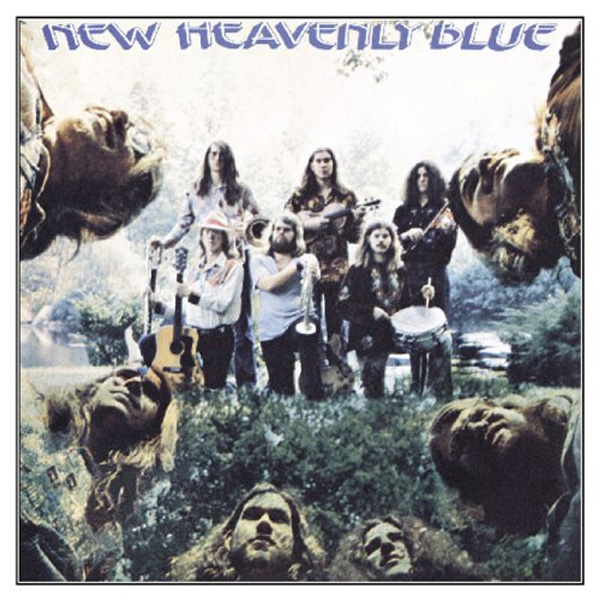 The elite band was formed by Christopher Brubeck, a key talent in this band, playing electric bass, bass trombone & piano, Chris Brown - piano, Dave Mason (Traffic) - guitar, Peter Madcat Ruth - guitar, ukulele, virtuoso-harmonica & random percussion, Peter Bonesteel - bass, Steve Dudash, Jim Cathcart - fiddle & jeyboards.
The band played a fusion of classical, jazz, blues, and rock. They gave their last performance on January 18 1974, when Chris Brown left to form a new band: Sky King.
NEW RIDERS OF THE PURPLE SAGE – Two Shows – Saturday September 1 1973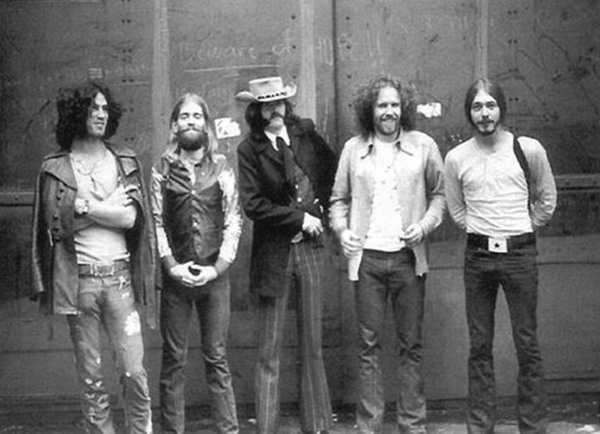 First Show: Teardrops In My Eyes / I Don't Know You / LA Lady / Henry / Hello Mary Lou / One Too Many Stories / Panama Red / Groupie / You Should Have Seen Me Runnin' / Thank The Day / She's No Angel / Portland Woman / School Days / Kick In The Head / Glendale Train / Whiskey / Take A Letter Maria
Second Show: It's Alright With Me / Lonesome LA Cowboy / Teardrops In My Eyes / Hello Mary Lou / Rainbow / Panama Red / Henry / Contract / Dim Lights Thick Smoke (And Loud Loud Music) / Important Exportin' Man / Dirty Business / LA Lady / One Too Many Stories / School Days / Sutter's Mill / Louisiana Lady / Willie And The Hand Jive / Encore: Hony Tonk Women
THE GUESS WHO – February 27 1974 – Longshore Country Club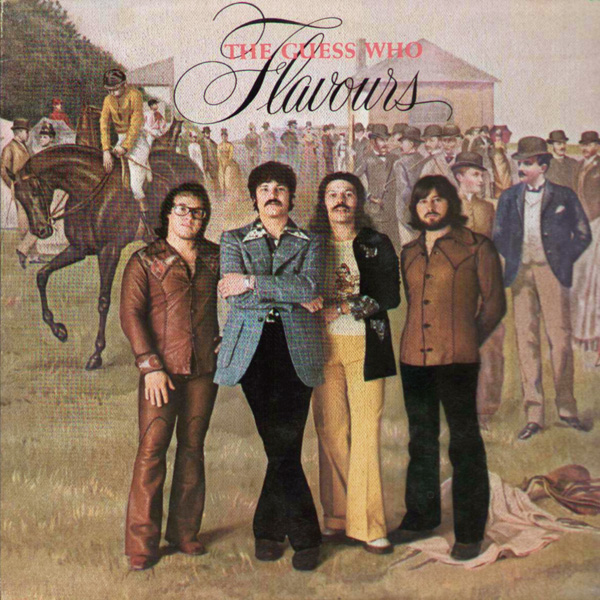 Active: 1965–1975, 1977–present: Burton Cummings - lead vocals & keyboard, Garry Peterson - drums, Domenic Troiano - guitar, Bill Wallace - bass
In 1974 two songs charted: Road Food - US #60 & Flavours - US #48
PETER FRAMPTON – Saturday June 28 1975 – Auditorium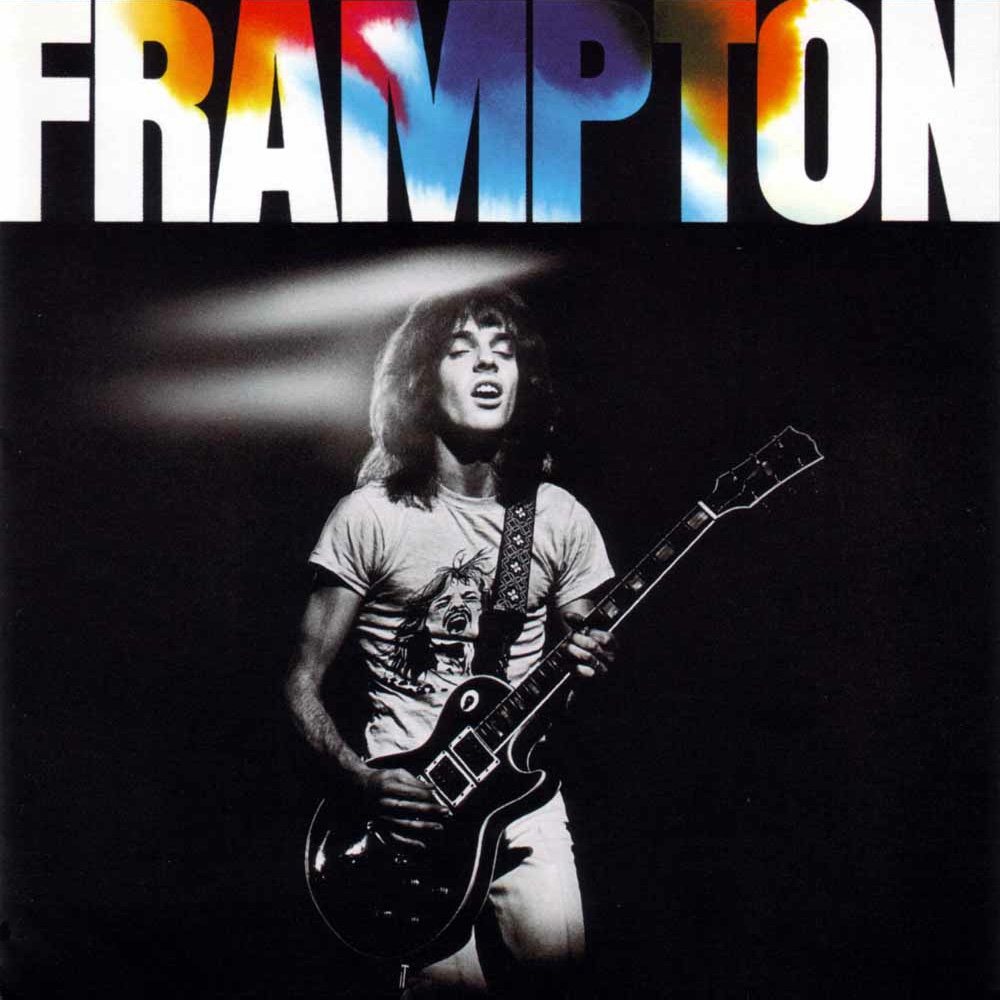 Charles Chic McArthur (70) Produced this event. Although James Gang (post Joe Walsh) were scheduled to appear, they backed out of their agreement.
Peter did the concert three months after the release of the FRAMPTON album and six months before the release of the COMES ALIVE album when he became the hottest act on tour, with classic melodies and rock style. Comes Alive is still the number-one selling live-album of all-time.
THE NINES CLUB BANDS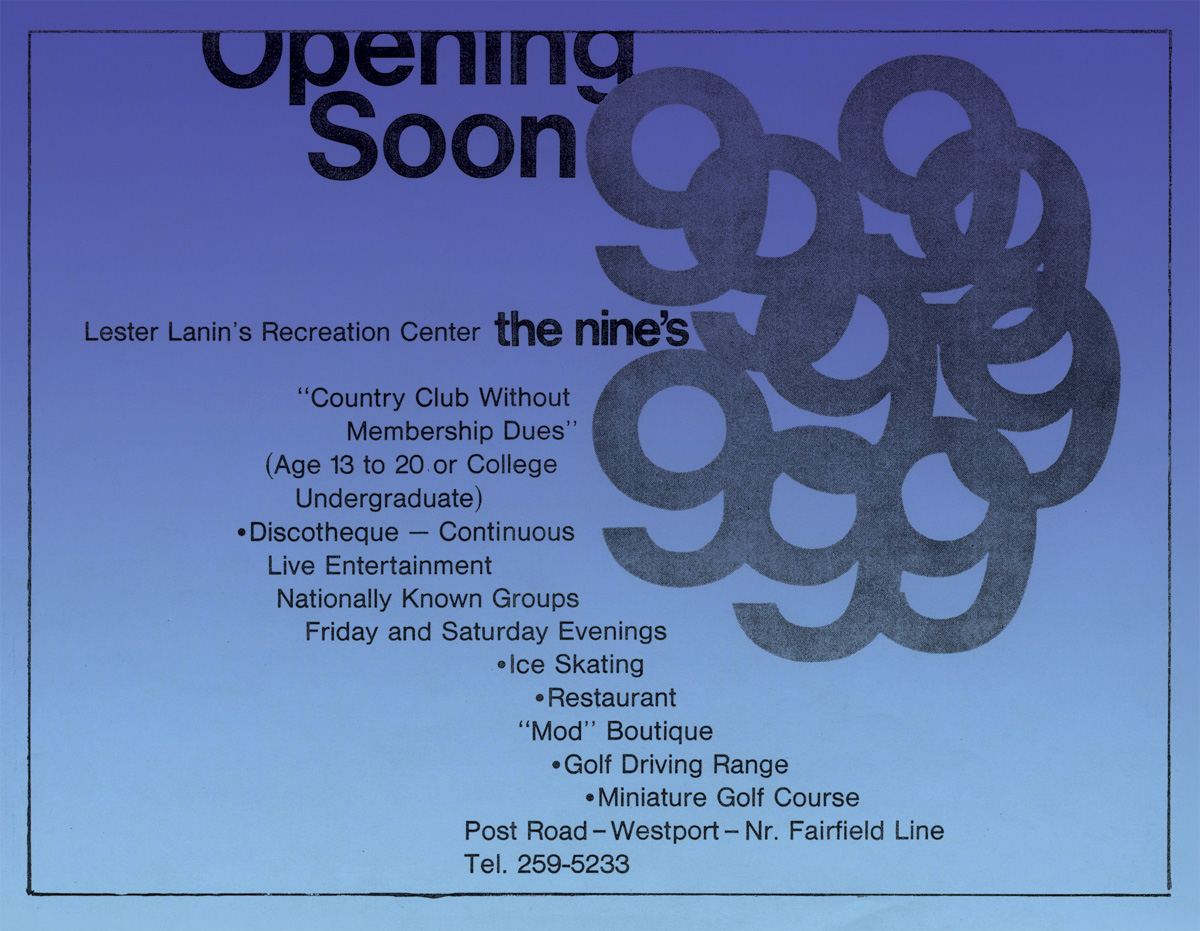 March 15 1967: INKLINGS printed an ad announcing the Grand Premiere Opening of Nines on March 17 and 18, Saint Patrick's Day Weekend: FRIDAY: Question Mark & The Mysterians, Young Bloods, Soul Company. SATURDAY: The Left Banke, Young Bloods, Soul Company.
Does anyone remember when Lester Lanin opened his club for teens called the Nines Club? I still have one of the caps they handed out that says Nines Club on the front. They had some great bands, but I don't remember it lasting very long. – – Wendy Ahrensdorf Powers (69)
I worked in the Nines Club. Started in the coat check room, then started carrying equipment and helping set up the bands. It was open for less than a year. Great bands. Richie Rich and the Rich Kids, The Blues Magoos, Leslie West and The Vagrants. There were three stages, with continual live music. Just wasn't viable financially I guess. – – James Berlin (69)
QUESTION MARK AND THE MYSTERIANS – Friday March 17 1967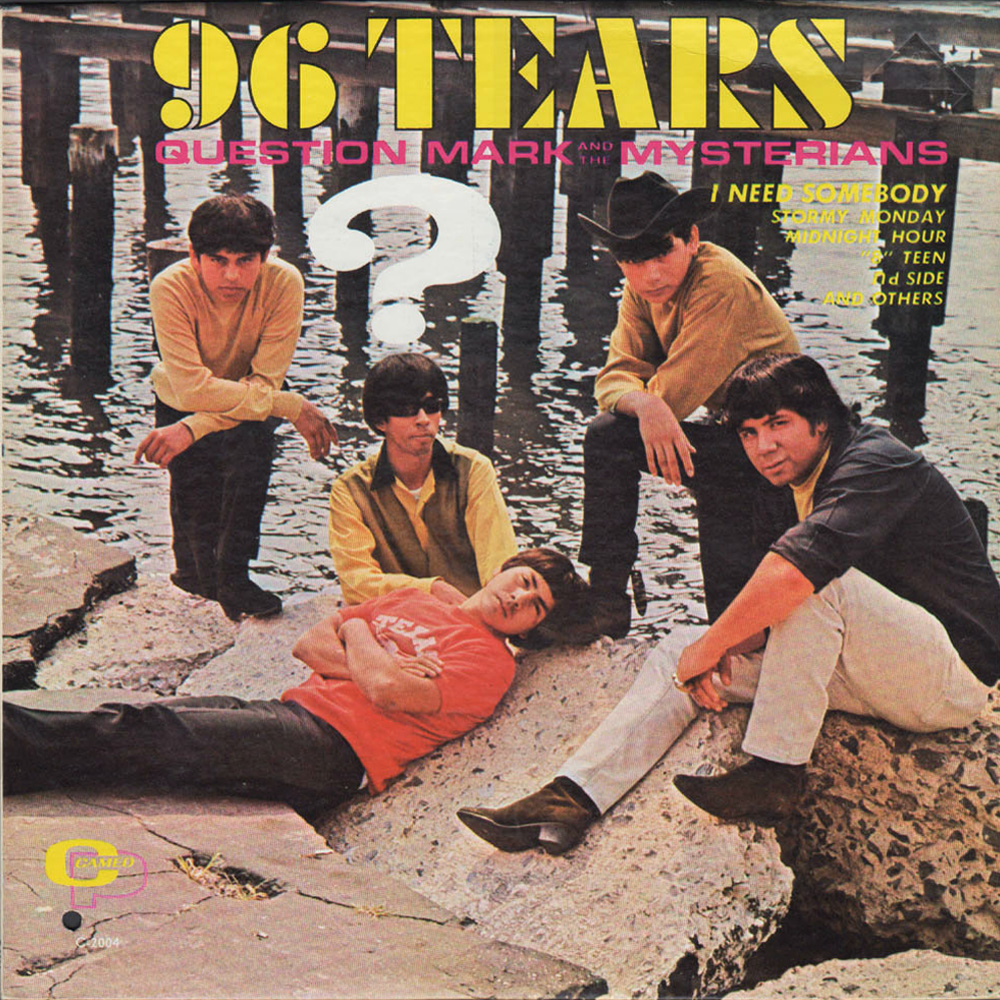 Active: 1962–present: Larry Borjas - bass, Borjas's cousin Robert Balderrama - guitar, Robert Martinez - guitars, bongos & drums, Rudy Martinez (Question Mark - lead vocals.
THE LEFT BANKE – Saturday March 18 1967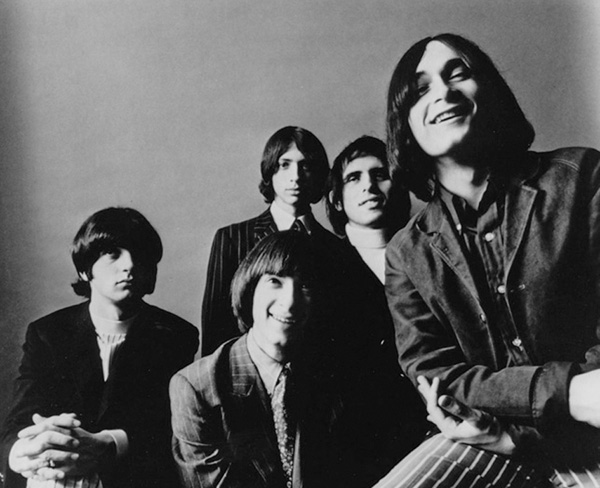 THE YOUNGBLOODS – March 17 & 18 1967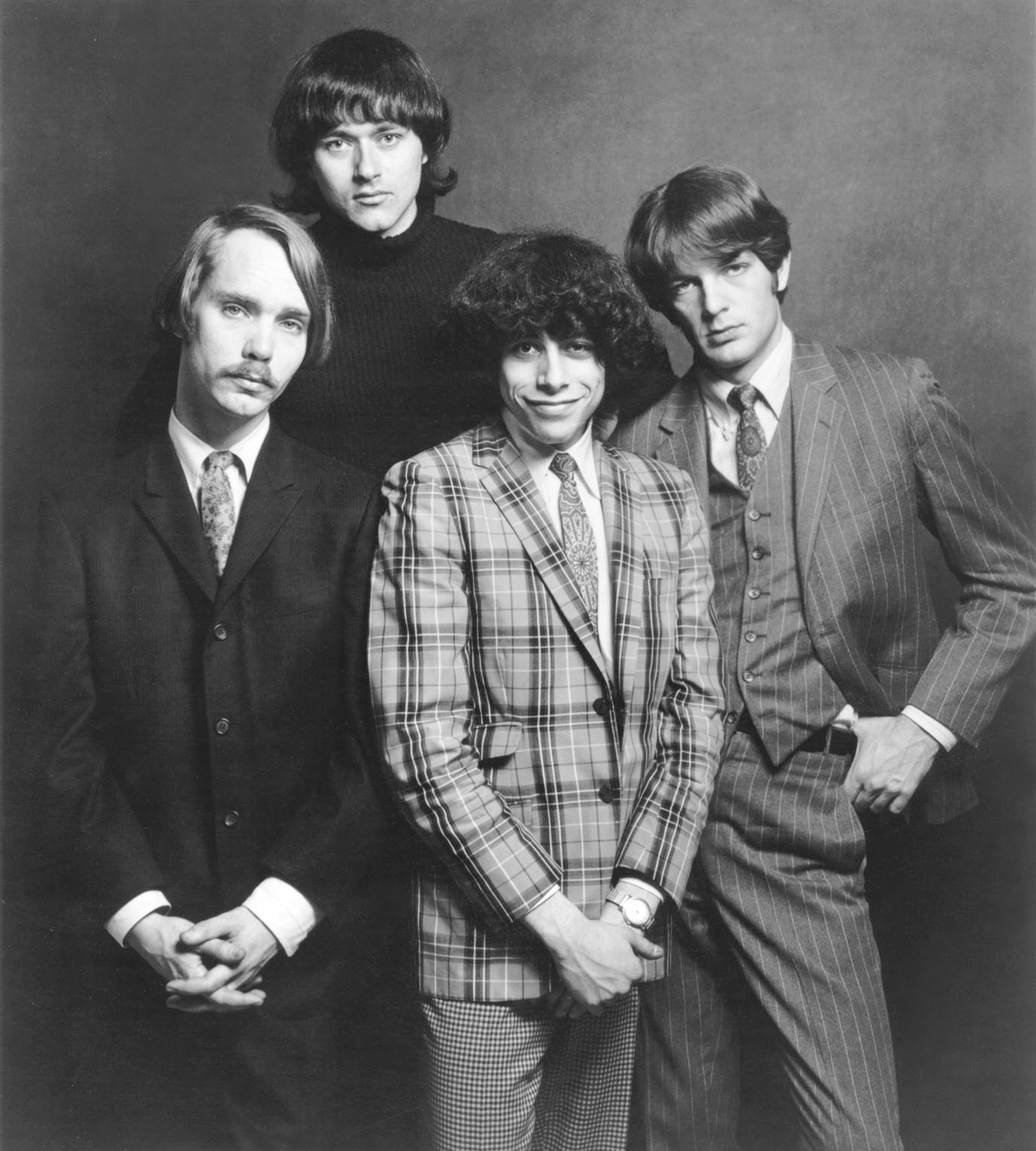 Jesse Colin Young – bass, guitar & vocals, Jerry Corbitt – guitar, harmonica & vocals, Lowell Levinger – lead guitar, piano, finger cymbals & pedal steel, Joe Bauer – drums.
THE SOUL COMPANY – March 17 & 18 1967
THE BLUES PROJECT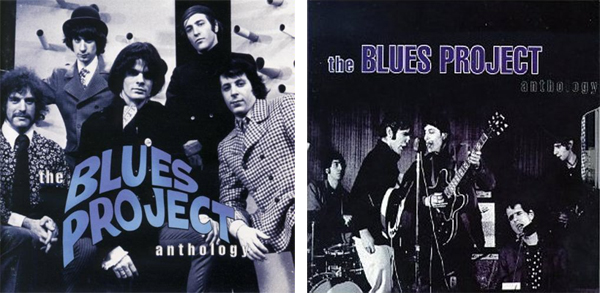 THE VAGRANTS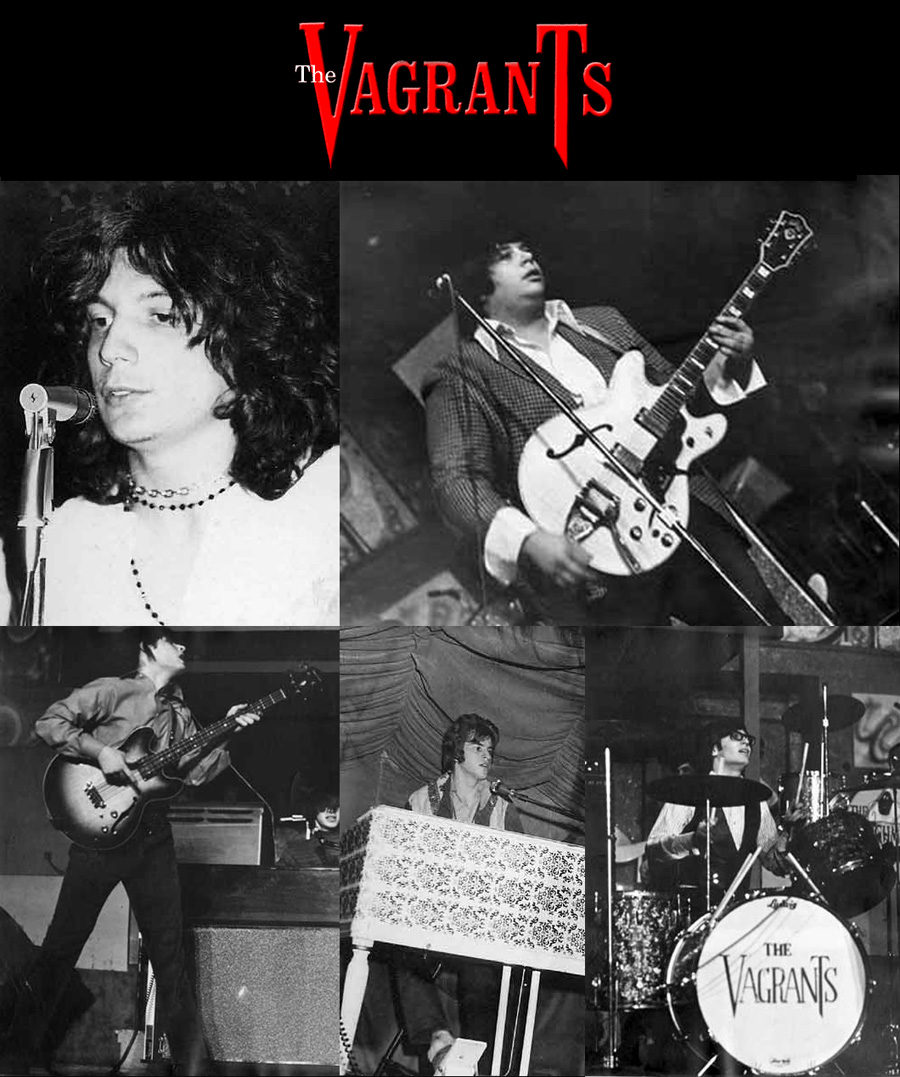 Active: 1964-1968: Pictured: Peter Sabatino - vocals, harmonica, & tambourine, Leslie West -guitar & vocals, Larry West - bas & vocals, Jerry Storch (Jay Storch) - organ, and Roger Mansour - drums. This band was from Long Island NY and recorded on the Vanguard and ATCO label.
THE RICH KIDS
Denny sang lead, but we just called this band from Long Island "The Rich Kids." Perry Como is Denny's uncle, and one might wonder if that had anything to do with a boost into the music business. RCA Victor rounded out their stable of artists with the Kids who offered market appeal (us) similar to The Young Rascals. It looks like they dropped one member and billed the act differently by the time they played Staples. Listen to a cut from this 1966 album on Youtube: Money Isn't Everything. Amazon sells this record 2012.
Did they open for Sly at the Sock-Hop? I think it was Rich Kids opening for Vanilla Fudge in the gym, but they played more than once at our school.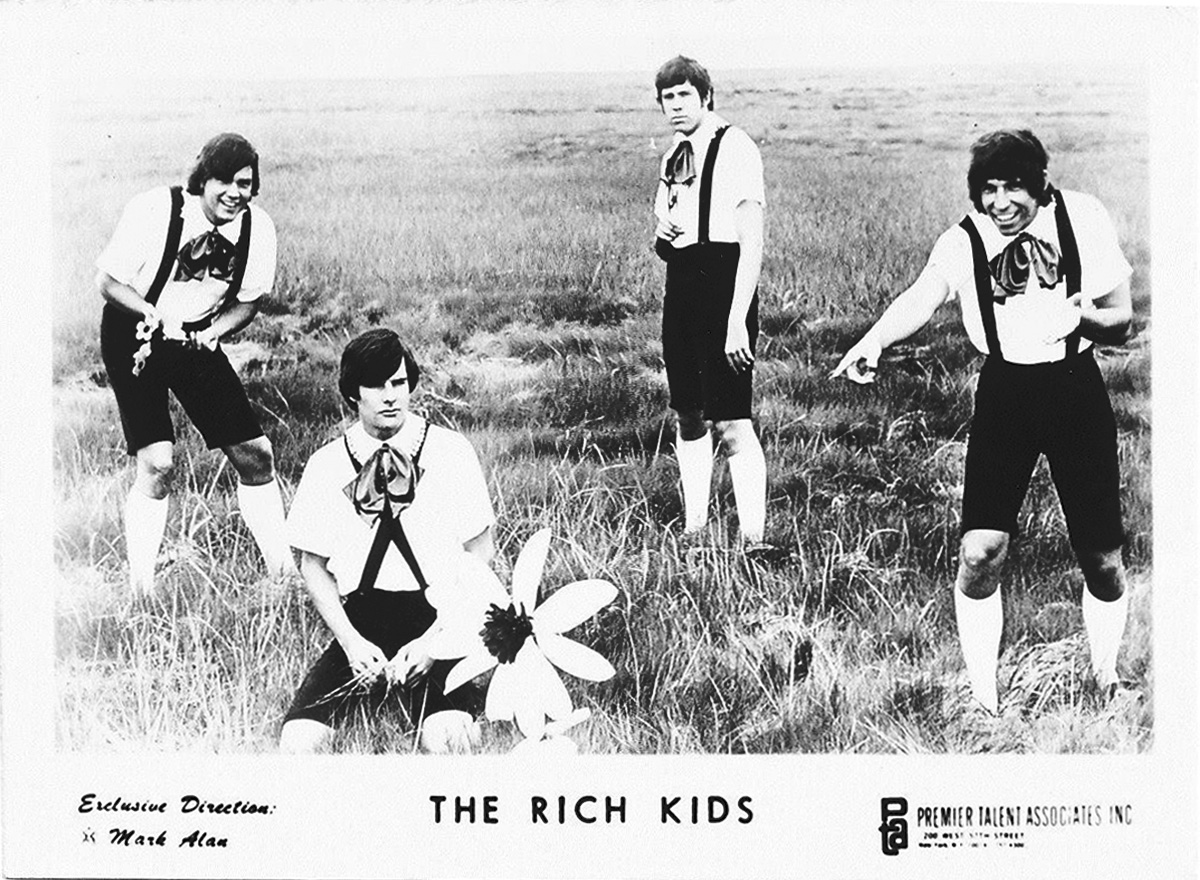 Frank Barcelona (1938-2012) founded Premier Talent Associates Inc in 1964, as the first established exclusively for rock acts, which previously had been represented mainly by long-established firms. Mr. Barsalona was the first to draw a map of success for the new rock music business. The firm represented top music acts that played Staples such as; The Rich Kids, The Yardbirds, and The Animals.
MITCH RYDER AND THE DETROIT WHEELS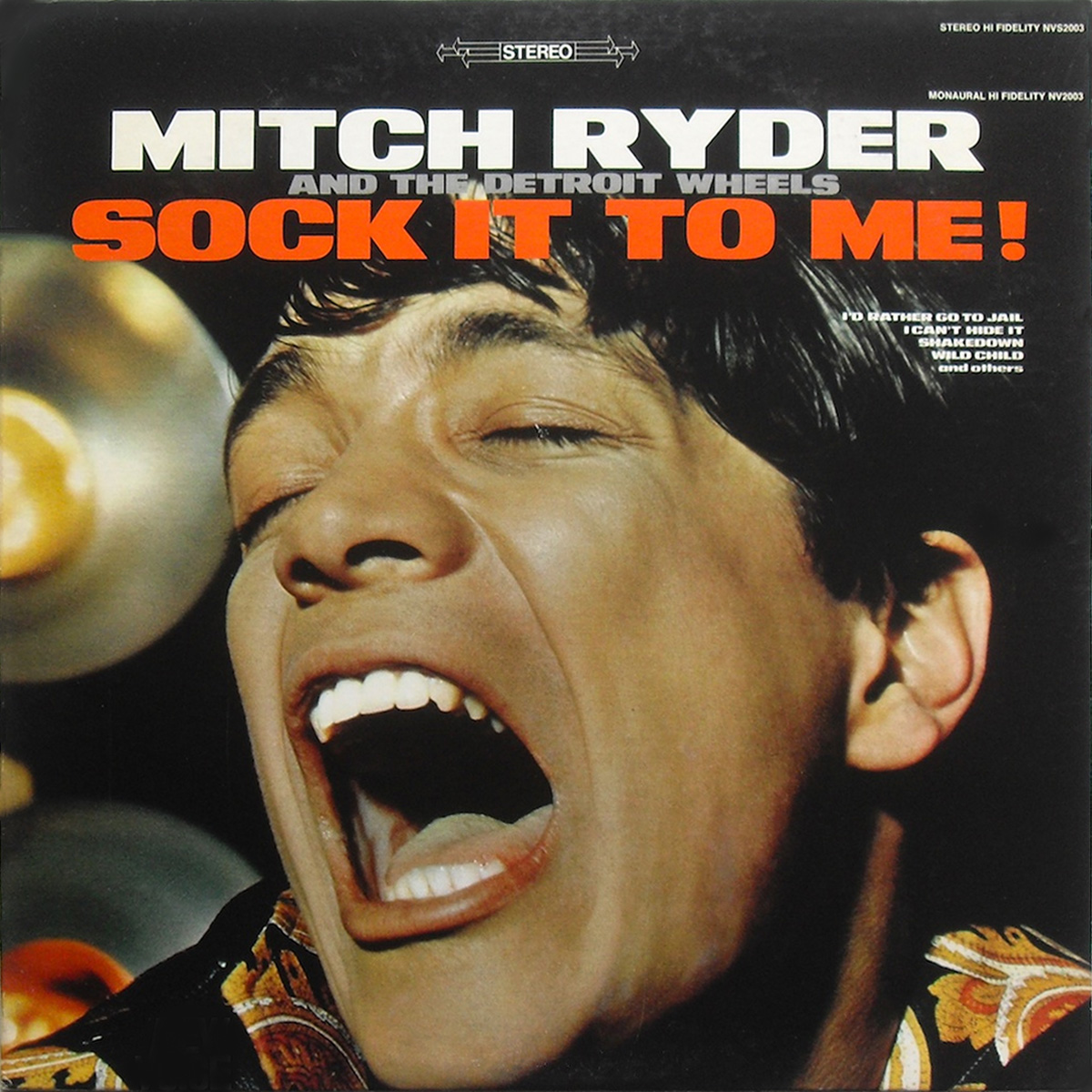 Active: 1962–present: Some people said Mitch is the 'white James Brown,' but it could be argued that Mitch and the Detroit Wheels released more energy in a performance, and certainly burned more calories.
THE GRASS ROOTS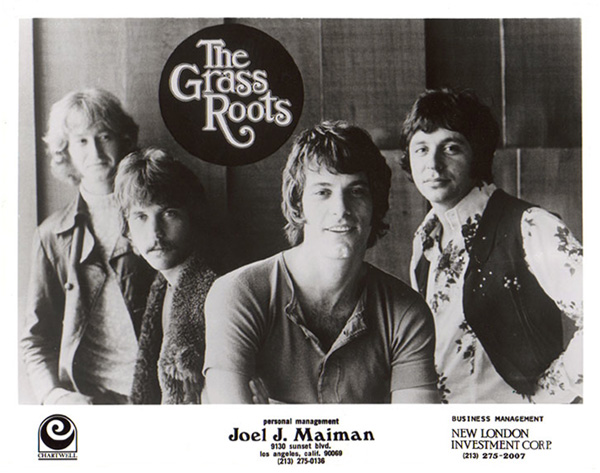 WESTPORT COUNTRY PLAYHOUSE & PLAYERS TAVERN

THE REMAINS with THE CRITTERS with THE MAGICIANS
Sunday June 19 1966 – Two Shows 6-8 & 9-11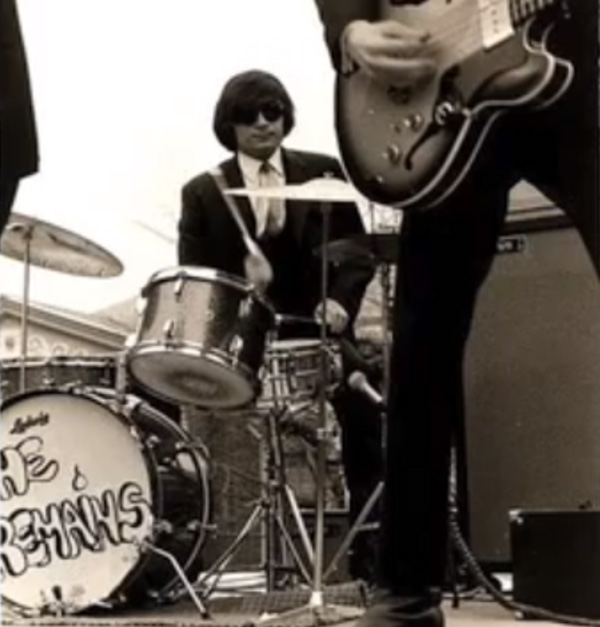 Chip Damiani drumming for the remains quite nicely.
THE CRITTERS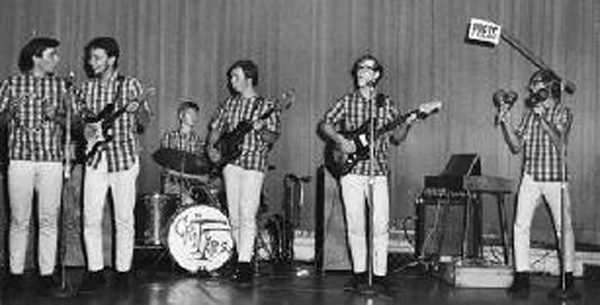 Active: 1964-1967: Don Ciccone - guitar & vocals, Bob Podstawski - sax, Jim Ryan - lead guitar, Ken Gorka - bass, Jack Decker - drums, Chris Darway - keyboards. The soft-rock group formed in New Jersey and had two hits; Younger Girl and Mr. Dieingly Sad.
THE MAGICIANS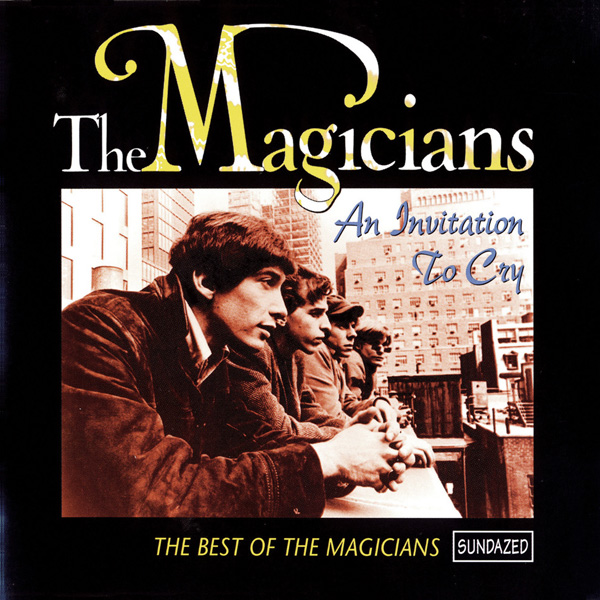 Active: 1965-1967: Alan Gordon - drums and songwriter, Mike Appel - guitar, Allan "Jake" Jacobs - lead vocals, John Townley - bass. Listen to the Youtube recording.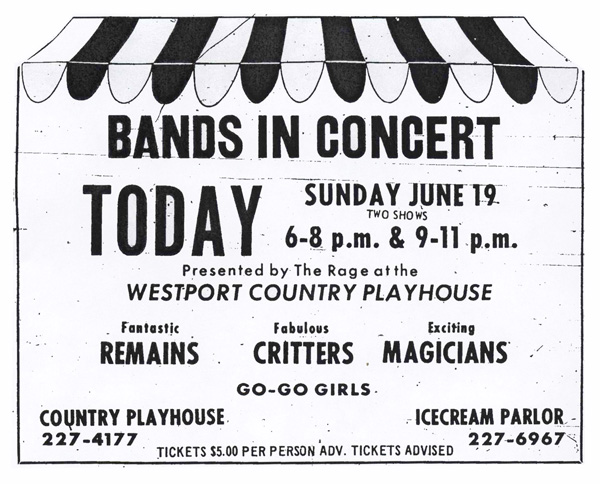 You know the Remains and the Critters, but you can watch a clip of the Magicians on YouTube to learn more.
WHITE CHOCOLATE – Saturday April 1 1972 – Players Tavern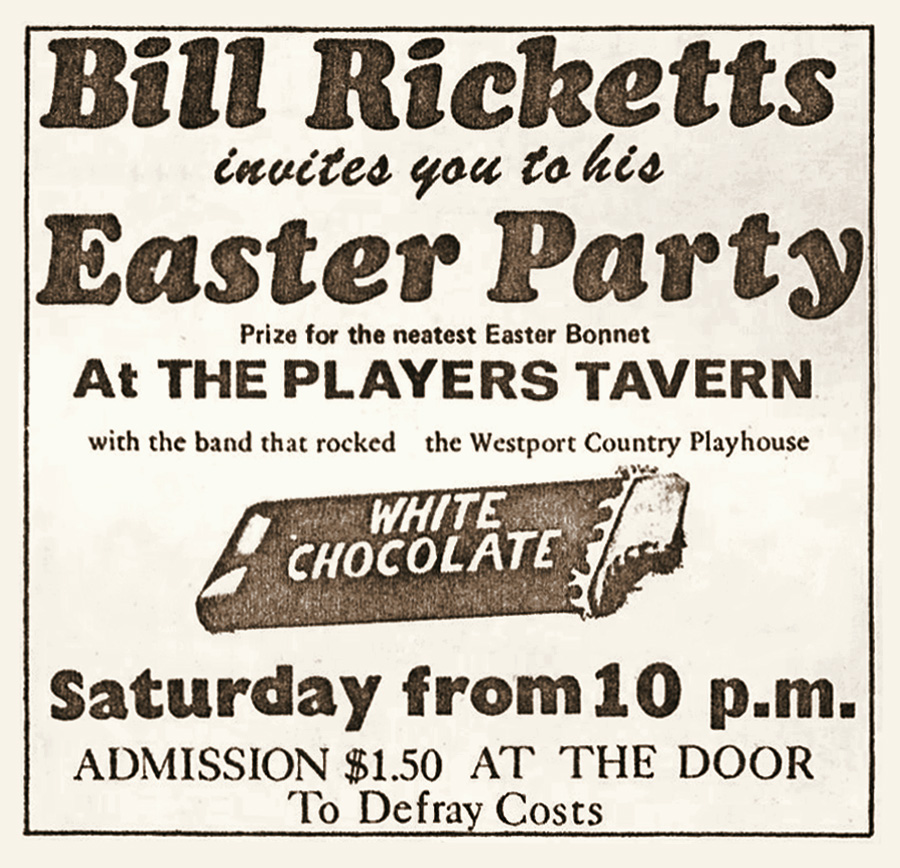 Active: 1972-1981: Charlie Karp - guitar, David Hull - Bass, Jimmy Maher - Drums. The Dirty Angels became the next evolution of White Chocolate by adding George Maher on rhythm guitar.
Ad clipped from Westport News March 29 1972: I and Bill Ricketts promoted the first group party and live band event held at the Players Tavern. Suzi Desmond won the prize for "the neatest Easter Bonnet". White Chocolate's (one of Charlie Karp's bands) logo design concept conceived by moi. – – Bill Banks 2012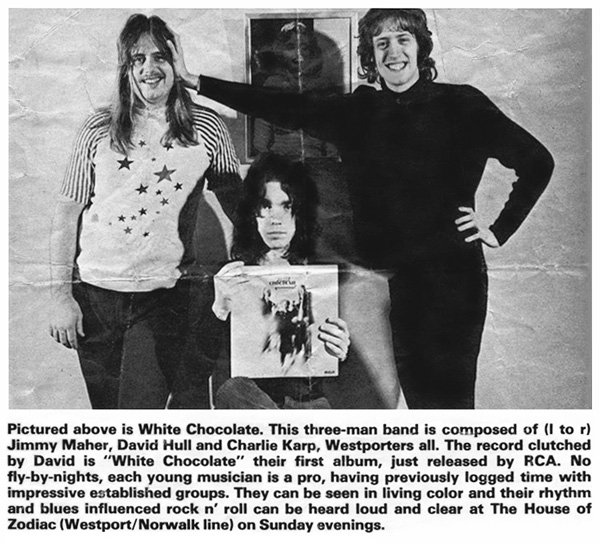 TAJ MAHAL – Wednesday October 30 1974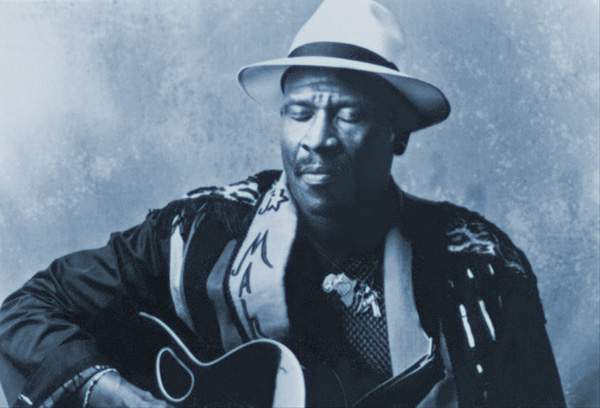 I spent quality time with Taj Mahal that evening as I interviewed him for a local music magazine. He played a National Steel Guitar underneath the interview as we talked in his dressing room. Sitting right outside his dressing room that night was James Cotton who joined Taj Mahal softly on his harp. That is one of my fondest backstage moments when two pivotal blues musicians broke out in improvisational song as background accompaniment in my presence. – – Musicofourheart
WEATHER REPORT – Wednesday February 27 1974
MUDDY WATERS – Tuesday June 22 1976
DIRTY ANGLES - Let's Get Funked – Wednesday October 20 1976
LARRY CORYELL with ALPHONSE MOUZON BAND – Tuesday August 23 1977
ROBERT HUNTER – Friday July 7 1978
PAT METHENY GROUP (Mays, Egan, Gottlieb) 1978
PAPA JOHN CREACH – Wednesday March 29 1978
MICHAEL URBANIAK – March 31 1978
DIANE SCANLON – Friday April 1 1978
STEPHANE GRAPPELLI – Tuesday April 4 1978
VASSAR CLEMENTS – Wednesday April 5 1978
THE SIMMS BROTHERS BAND – Thursday March 30, Thursday April 6 & Friday 14 1978
DIRTY ANGLES – Friday April 7 1978
CHEZBRO – Saturday April 8 1978
RAMSEY LEWIS – Wednesday April 12 1978
SHENANDOA – Thursday April 13 1978
MUDDY WATERS – Saturday October 7 1978
CHICK COREA AND RETURN TO FOREVER –
The Strawbs with Barnaby Bye (unconfirmed)
Roy Buchanan (unconfirmed)
James Cotton Blues Band with James Montgomery Band (unconfirmed)
Two Generations of Brubeck (unconfirmed)
Jan hammer and Al Dimiola (unconfirmed)

Opening Night THE CHAIN REACTION with THE SCREAMERS 1967
STYX 1967
BOSS BLUES Friday June 16 1967
RAGGS INVENTION Saturday June 17 1967
UNCONFIRMED ARTISTS
FERRANTE AND TEICHER – < 1969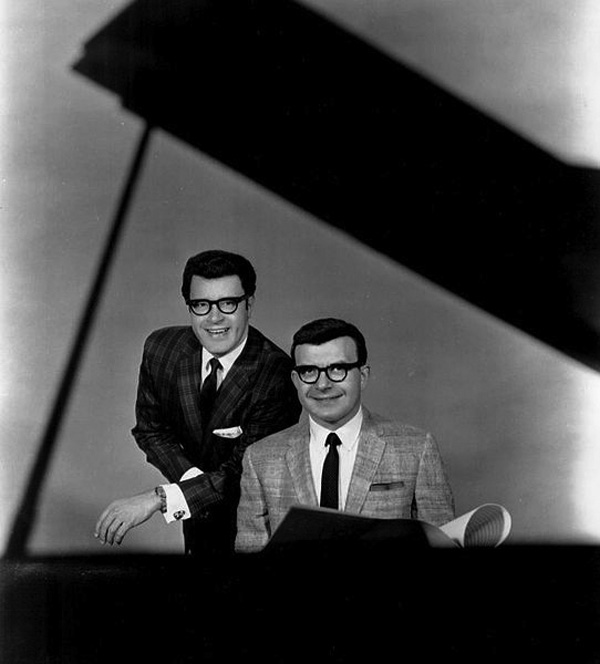 Active: 1947-2002: Arthur Ferrante and Lou Teicher (1924-2008) were a famed piano duo who met at Juilliard and classically trained, most widely known for playing movie themes and show-tunes. They used inventive methods of striking and strumming all parts of the piano, with various implements, often rigging their instruments to produce bizarre tones that sounded synthesized. One of their best albums was titled: Adventure In Carols, a Christmas LP that has all the best characteristics of their creativity, but no longer available. They probably appeared at Staples prior to 1969. Mister Teicher lived in Westport Connecticut.
VANILLA FUDGE
Active: 1966-1970: Mark Stein - organ & vocals, Tim Bogert - bass & vocals, Vince Martell - lead guitar & vocals, Carmine Appice - drums & vocals
Played NY September, November 1967, Played NY April 1968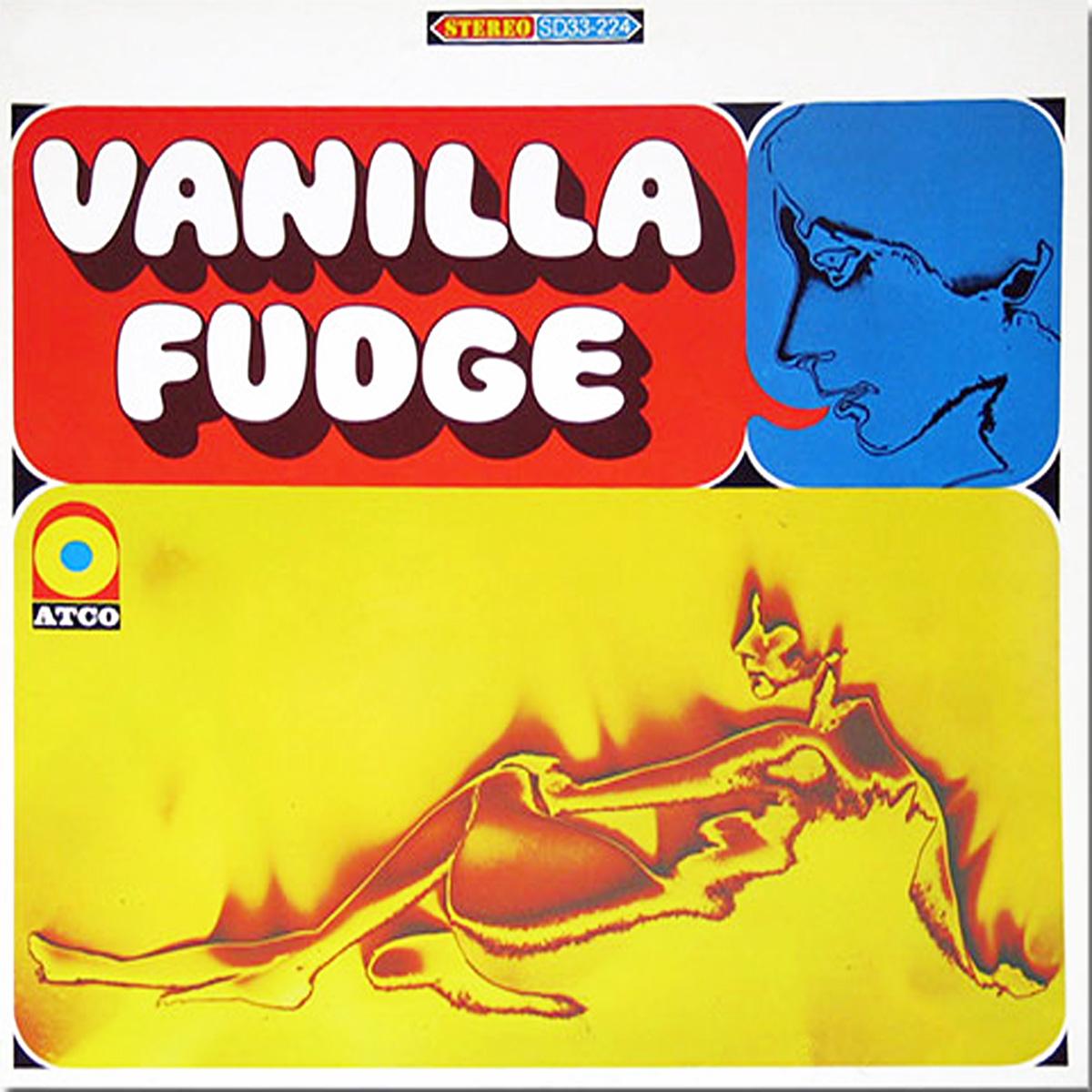 Strawberry Alarm Clock - class of 68 or 69 event perhaps - 69 senior prom?
Active: 1966–1971:
1968 Nov. 17-26 Hartford and Fairfield CT
Nov. 17-26, 1968: With the Beach Boys, Buffalo Springfield and (some shows) the Soul Survivors. Beach Boys' Fifth Thanksgiving Tour, various venues primarily in Northeast.
EDDIE CONDON – jazz guitarist
THE GRASS ROOTS 1965–present: Let's Live For Today: May 13, 1967… in the region June 1969 Newport Rock Festival, and August
THE GUESS WHO
John Sebastian? Active: 1965–present, Woodstock Aug 16 1969, Performance at New York Summer Festival for Peace, Shea Stadium, Aug 20 1970
Last Update: November 2014
MAIN TRIVIA PAGE LOCAL BANDS ROCK PROS ALUMS MAKE GOOD