C L A S S M E S S A G E S
If you would like to post a message, please send it in an email to message@smollin.com and I will post it here. Most recent messages appear at the top of this page.
1 MAY 2009: WE ARE NOW PLANNING THE 2010 REUNION
The Runion Committee is now forming to plan and execute our 40th Reunion. If You are local to Westport we need a volunteer to run the cookout at Compo Beach on Sunday. There have been many reminiscent posts and pictures by classmates on a number of websites which are very fun. The committee has also established a facebook group just for our class as well.
2 OCT 2005: History Of Staples Book Published
Finally -- it's published! Staples High School: 120 Years of A+ Education may be the only history of an American public high school – it certainly is the only one that's 400 pages long, contains 150 photos, and in 33 chapters and 65 sidebars covers everything from an early principal (a 22-year-old named Wilbur Cross) to sex education in the 1940s; from the abolition of German courses in World War I to the creation of the SGB, the most innovative governmental structure in the country; from an astonishing arts program to the devastating effects of No Child Left Behind, and everything in between.

The story of Staples High School mirrors not only the growth of Westport, from farm town to artists' colony to upper-class suburb, but the growth of American public education as well. It's a tale of one renowned school, but anyone who has ever gone to high school can relate to it too.

The Westport Historical Society and Westport Public Library are sponsoring a publication party (Sunday, November 6, 12 noon at the Library). We hope you can be there. If not, you can purchase Staples High School: 120 Years of A+ Education online -- at www.StaplesHistory.com <http://www.StaplesHistory.com> or http://www.itascabooks.com/index.cfm?page=Detail&isbn=0-9648759-3-4
It's also available at the Westport Historical Society, 25 Avery Place, Westport.
Dan Woog
20 AUG 2005: Reunion Thanks
I had a wonderful time at the reunion. Thank you for putting together such a great event. I'm sure you spent hours upon hours working on the email messages and managing the website. Mary Gai and all the other organizers are to be highly praised too. Everyone did a terrific job. And Smoke sounded absolutely incredible. It was lots of fun to listen and dance to you guys.
Carol Harrison
13 AUG 2005: Just Finished Looking
We just finished looking at, and oohhing and aahhing at the reunion pictures ~ and we are cursing each other for missing out on all of the fun. (Our family reunion was the same weekend of our high school reunion. Boo hoo!) You all look fantastic and we are so glad to see so many of our old friends both alive and well. Sally Flynn, Jono Walker, Steve Baumann, and Amy Yergin ~ seeing your pictures brought back so many memories of Bedford Elementary School. You ALL look great, and I only wish that I had been there to give you all a hug. Can you believe it? We have been married five whole years now and are still feeling like newly weds :-). We love our home in Lakewood Ranch Florida, which is right outside of Sarasota, and an hour and a half drive from the forever-young Bobo. We invite you all to give us a call if you are ever in need of some sun and fun. Keep well and hopefully we will see you in 2010.

Love and Best Wishes - - Carol and Frank Barrow @ IWANTTOKNOWWHERETHELOCALSGO.COM website
10 AUG 2005: Hey Kids
Well, I am still feeling 18 and don't know exactly what to do about it. There's no pill to take, no one I can tell about it except you people. There's this afterglow that I am basking in. Some of the comments I heard were… This is Incredible… This is the best party I have ever been to… I haven't laughed this hard in years… The band was great! Do you know what I think? I think it's about being together and reconnecting with the people who helped make us who we are. From Friday afternoon's rainstorm that cleared the air just before the party at Longshore to Sunday's picnic till dark, was pure magic. Yes, I came back and got in some much needed yapping and laughing. If I have one complaint, it's that I didn't have enough. So here's an invitation to you all. When you're in town, call me and we'll have a mini reunion. You locals… let's get together… often. Life is short and friends can be hard to come by. Let's celebrate life together… support each other and do some laughing. OK? I also want you to know that pictures taken with facial expressions that only a mother baboon would love, were lovingly edited out and will not be emailed to anyone. (I am keeping archival copies for possible extortion later on, however)

Love - - Mary Palmieri Gai 203 984-2169
10 AUG 2005: You Are All Welcome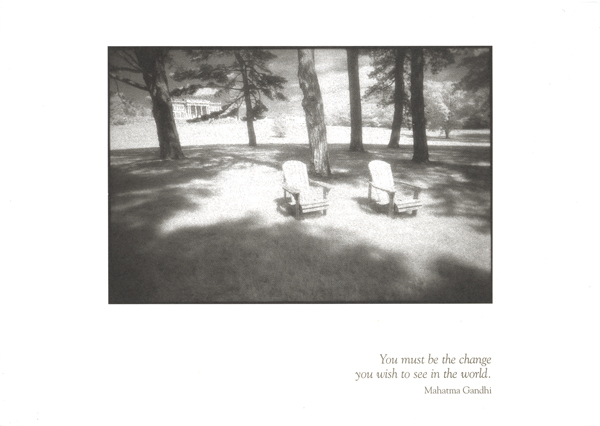 This is the card selected to thank me for doing our website, which was accompanied by two very kewl Brandy Snifters. I believe Booty took the intiative to put them together for me. I was quite surprised and touched by the gesture. The inside inscription reads: Our Love and Deepest Appreciation. Class of 1970.
Thanks for thanking me! It is a pleasure to facilitate our meetings - - Mark

15 April 2005: Greetings and Welcome
Dear Class of 1970:
I am trying to establish this part of my website as a central, permanent and free class resource. It has become obvious that running a reunion is challenging for many reasons, but mostly a matter of being able to contact the class and to receive responses. It is my desire to maintain this website to administer class activities and make them available to reunion directors.
To conserve money and keep the cost of events low, we intend to send all communications via email instead of using snail-mail. Spammers are making things tough for everyone and the nature of email and/or its regulations may change in the future. We move forward assuming email will still work for our purposes.
Please support our efforts and register your contact information. Help us out by informing other classmates about this new opportunity – – Mark Smollin