T H E W E S T P O R T M U S I C S C E N E
LOCAL STUDENT BANDS
It is amazing how many very good bands sprouted up in Fairfield County, particularly those formed by students with enough courage and discipline to put on professional-grade-performances. Most of us were in the orchestra, band, choir, or glee-clubs in addition to our rock forms of expression. This section attempts to list most of those groups and their members in the Westport & Fairfield County area.
Many of these musicians now play in bands where they live, have professional careers in music, and still meet to play in different configurations for Staples class reunions and benefits.
ONE AND TWO… … AND FOUR …ONE AND TWO… … AND FOUR…
ONE AND TWO… … AND FOUR …ONE AND TWO… … AND FOUR…
THE SCHEMERS 1961-1963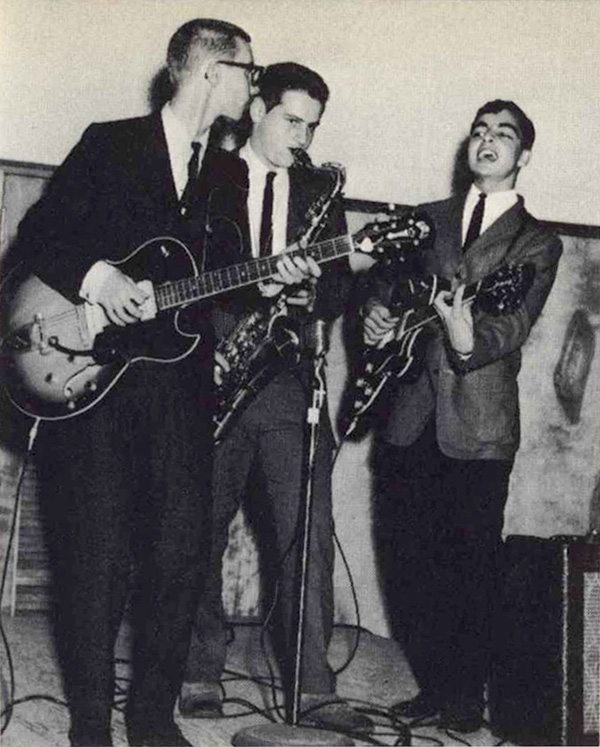 Michael Youngman (61) - lead vocals & rhythm guitar, Rick DelVecchio - sax, Barry Tashian (63) - guitar & vocals, WIlliam Reardon (64) - drums (not pictured above)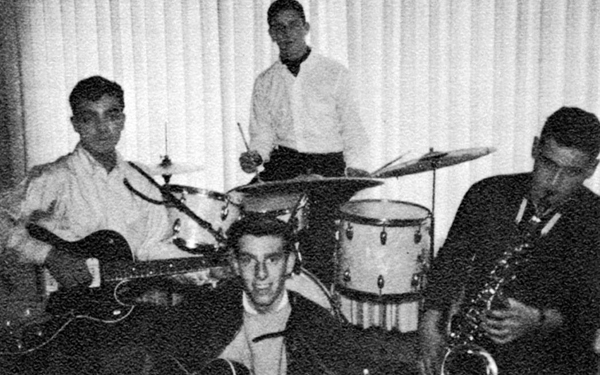 THE RUN AWAYS 196? -1963
need pic
THE RACKET SQUAD 1964 -1965
need pic
Kenny Whitman (65) - lead vocals & guitar, John Boisseau (65) - lead vocas & guitar, James Allison (65) - keyboard & harmony vocals, Doug Cunningham (65) drums & harmony vocals
Kenny was the leader of the band, which was active for about 1.5 years playing dances in the Staples cafeteria, mainly R&B cover tumes with a healthy dose of Rolling Stones, and a sprinkle of Beatles songs. The band did not have a bass player, so James played bass lines on the organ to hold the bottom down.
THE STORMERS then became THE SCREAMERS 1964-1965
need pic
Norman Coates (67) - bass, keys & lead vocals, Michael Fritchman (67) - drums, John Katzenberger (68) - lead guitar, Gary Greenwood (68) - rhythm guitar.
I played bass guitar, keyboards and was the lead singer. John played lead guitar, Gary played rhythm, and Mike drums. Everyone sang harmonies. When we played with the Remains, we added Guy Folsom, bass, and Bill Davidson percussion and vocals and an extra lead guitar, whose name I forget. Eric Burgess was our equipment manager. The original band started as The Stormers in 1964. It was with Jon Hayden on Sax and lead singing, me on keyboards, Mike Fritchman, and John Katzenburger on guitar. That lasted until 1965, then Jon left and The Screamers were formed. We also played for the opening night at the Ice Cream Parlor's discotheque, Terpsichore – – Norman Coats 2012
THE INTRUDERS 1965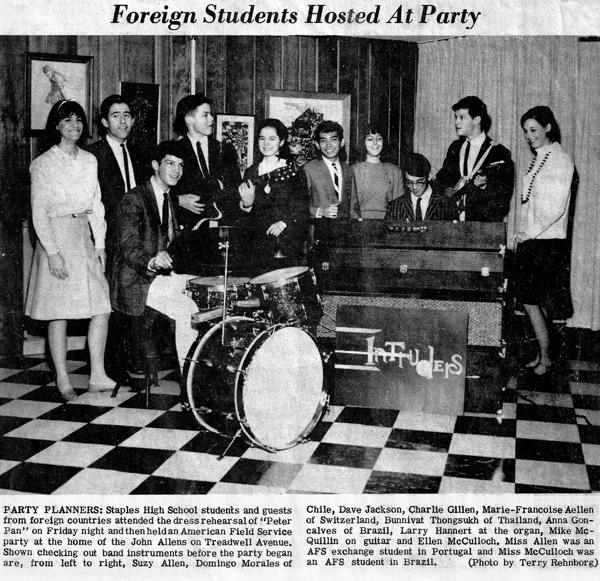 Dave Jackson (67) - drums, Charlie Gillen (67) guitar & vocals, Larry Hannert (67) - organ, Mike McGuillin (67) - bass, Frank Spear (67 NOT PICTURED) - guitar & vocals
Town Crier scan courtesy of Lawrence Hannert (67)
THE UNDERDOGS 1966-1967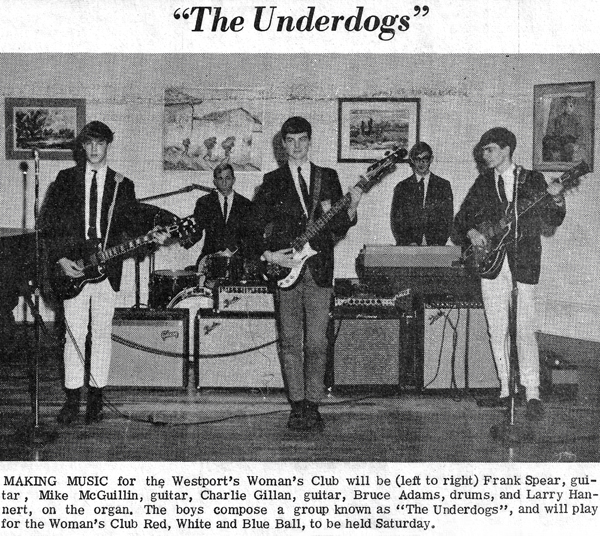 As pictured: Mike McGuillin (67) - guitar & vocals, Bruce Adams (67) - drums, Charlie Gillen (67) bass, Larry Hannert (67) - organ, Frank Spear (67) - guitar & vocals
Town Crier and Party Poster scans courtesy of Lawrence Hannert (67)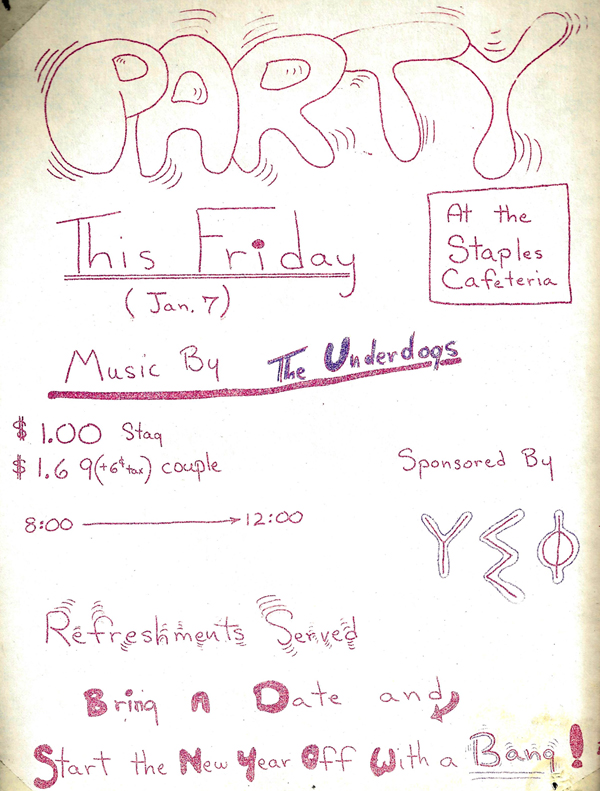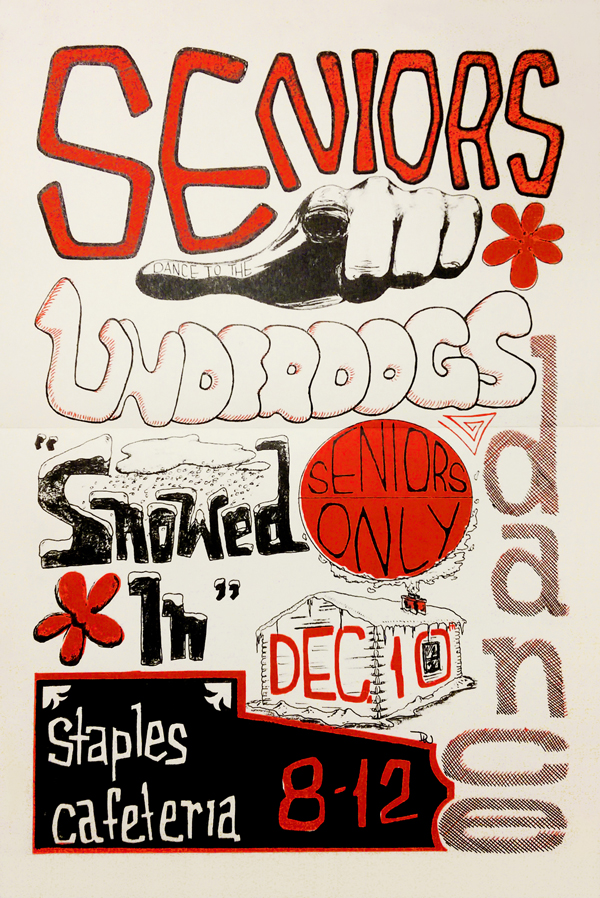 THE REVERBS 1965-1966
need pic
Larry Didona (66), Bob Erisman (68), Fred Erisman (66), Ken Josselyn (66), Gerry Lenore (66 d)
THE TRIUMVIRATE 1964-1966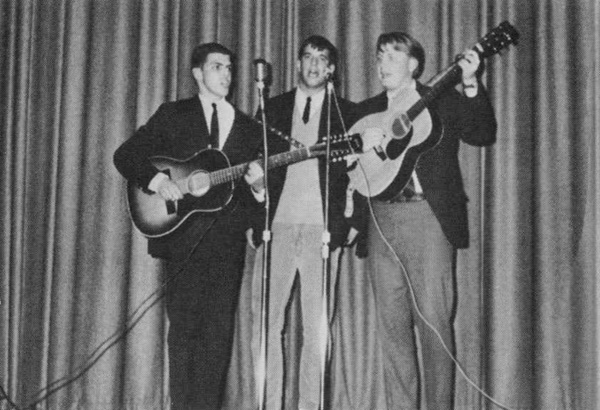 Active: 1964-1966: Robert Carlson (66) - guitar & vocals, Steve Emmett (66) - vocals, and Chris Avery (66) - guitar & vocals.
THE LOVED ONES 1965-1967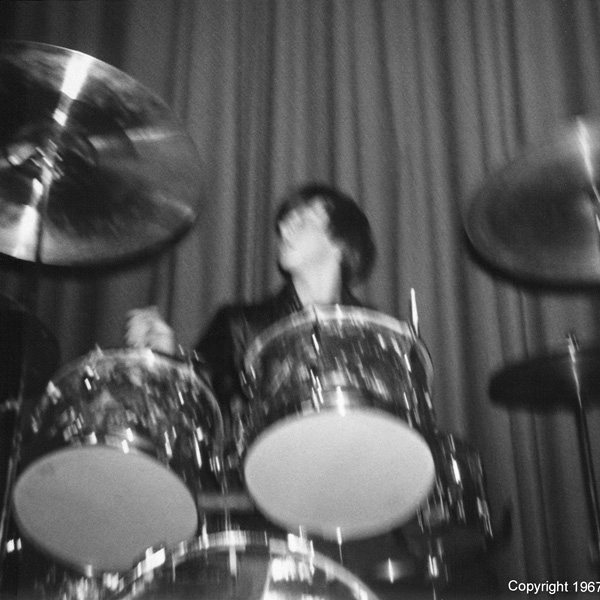 Active: 1965-1967: Rocky Manchester (67) - lead vocals & keyboards, Tim Jackson (67) - drums, Tony McDonald - guitar & vocals, Chris 'Liggs' Higgins - bass & vocals
My best recollection: The band came together in late 1965; last performance was August, 1967. The Class of 1967 Staples musicians: Tim Jackson, drums and vocals; Rocky Manchester, keyboards and vocals. From Roger Ward HS in Fairfield: Tony McDonald, guitar and vocals; Chris "Liggs" Higgins, bass and vocals. The first border-crossing Fairfield County band I'm aware of.
Tony and Liggs were the core of a popular Fairfield band, name now forgotten by me. They were among many (including the Yonkers band "The Strangeurs", later "Chain Reaction", fronted by Steve Tallarico, later Steve Tyler) who offered to open Staples concerts for nothing or next to nothing. The Fairfield band had a deficient drummer and no keyboardist, so I introduced them to Tim and Rocky. I don't remember the name of their earlier Staples band. Tony and Liggs were the first kids I met who bought, sold and smoked pot.
The Loved Ones opened for the Young Rascals at Staples. which required the addition of two new songs to their "A" set list because they did a lot of Rascals covers. Surely, they opened another concert or two; and, played many dances at Staples and other Fairfield County high schools. I recall they opened for The Turtles at Darien High School. I'm quite sure their last gig was in late August, 1967 when they opened for The Rascals at Bushnell Memorial Auditorium in Hartford (my first commercial production). They pretty much froze when the curtain went up and they got their first look at a packed 3,500-seat house. A real Auntie Em I-don't-think-we're-in-Westport-anymore moment. Tim and Rocky then went off to college. Tony and Liggs stayed home and sold dope. – – Dick Sandhaus 2012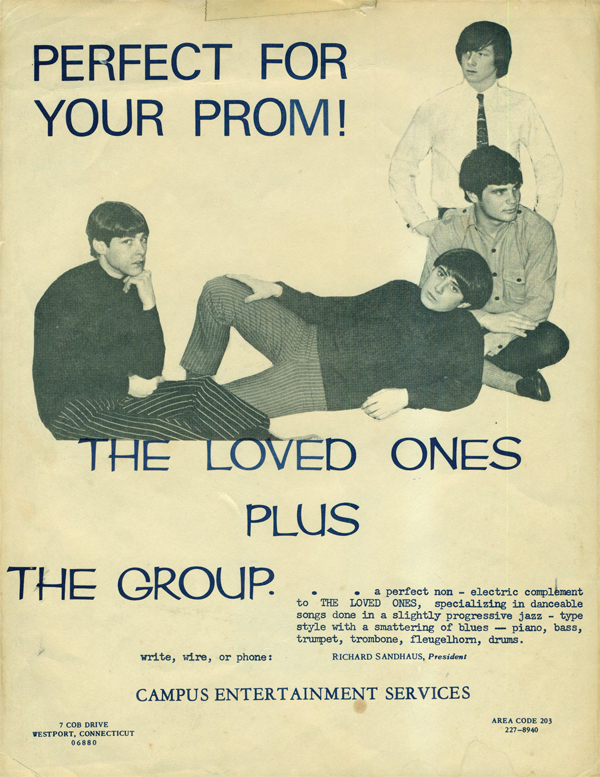 Dick says I went "off to college" - yeah, until Rob Carlson with Benefit Street, and then Dick himself with artists on Columbia Records pulled me out and gave me opportunities for a pretty good career. I went on to play with Tom Rush, LaVern Baker, and Robin Lane and the Chartbusters, the 11th band on MTV, among many others. I just finished a feature documentary on Robin Lane's life. Still gigging, and teaching film in college here in Beantown. I finished college and got a Masters 30 years later! – – Tim Jackson 2013
THE WREYS 1965-1967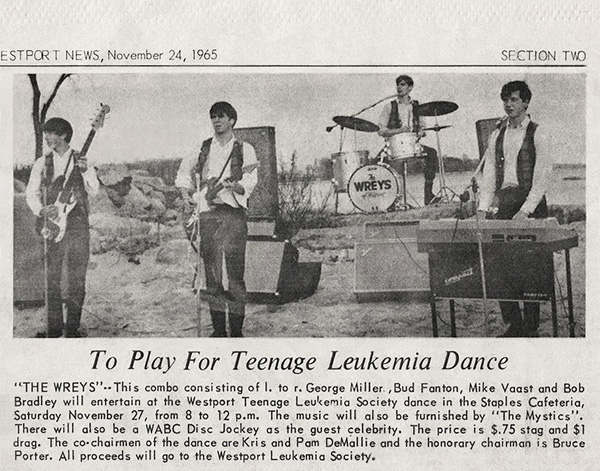 Active: 1965-1967: As pictured: George Miller (66) - bass, Bud Fanton (66) - guitar, Michael Vaast (67) - drums, Bob Bradley - keyboard, an all vocal band.
THE ROGUES 1962-1966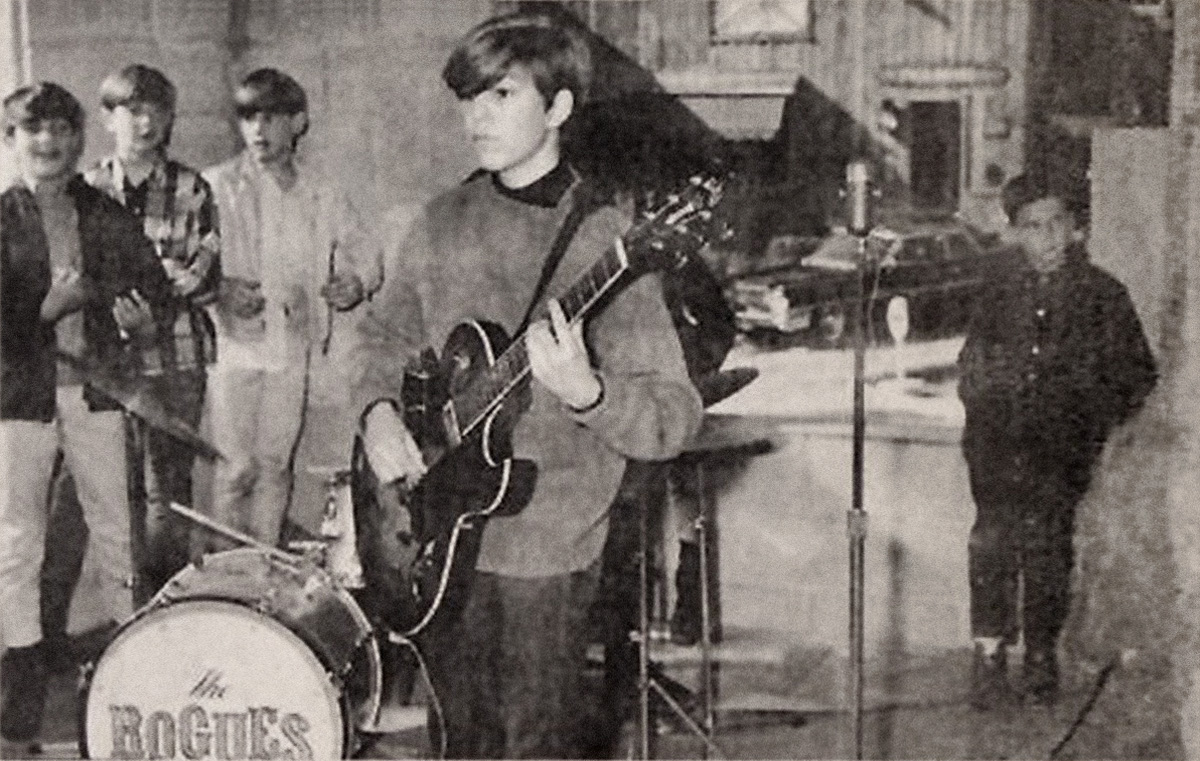 Caption from the Town Crier 1962: ROOF RAISING: The Remarkable Book Shop gave an old fashioned roof-raising party Saturday to celebrate an extension being built in the back of the store. On hand to aid the festivities were "The Rogues," a combo consisting of Timmy Wayne (rhythm guitar) Ricky Castillo (lead singer), Tracy Burroughs (drums) Tony Prior (lead guitar) Chip Jackson( bass). The scene was lively, music and refreshments flowed, and all guests had to hammer a nail in a board and sign his or her name beneath.
You have to laugh at the printing of kiddy names for Tim and Rick. As news that The Rogues would play the opening spread around school, many of us went down to hear what these young boys would do. Other local musicians were particularly interested about the players and their band's presentation of new material.
Active: 1962-1966: Tim and Rick formed the band as neighbors, added Tony Prior on guitar, Chip Jackson on bass and drummer Rit Dixon, a Brit who hung out around the Waynes' place. Dixon seemed more than interested in Tim's sisters, which might be the reason the band needed another drummer. Mutual friend Richard Ritell invited Tracy Burroughs to take his place during class in the old-building at Bedford Junior High, the original Staples High School. Tracy declared that he was just learning to play… "I'm not any good," Rick replied, "It doesn't matter." Tracy was replaced on drums by Mike Dasher and then asked to rejoin the band sometime later. Practice was held at Tim Wayne's parent's house, who probably deserve a special award.
This association of classmates later became known as the band Styx in 1966, and graduated Staples in 1968. see below.
In 1965 I was 13, attending 7th-grade-classes at Bedford and remember going to my first dance clearly. My mother dropped me off in the parking lot and I could hear the bass-line moaning an energetic part distinctly, announcing something special was taking place, drawing me inside. I walked swiftly to hear a live rock band playing for the first time. I entered the doorway as the Rogues were playing Under My Thumb and stood transfixed, just trying to take in the landscape of dancers, colored lights, and the powerful energy of the sound. I felt isolated and alone without a date, and worked closer to the stage as the band played another number inspired by the Rolling Stones, Under My Thumb. As a beginning drummer myself, I was very interested in the performance, and concluded that these guys sounded just as good as the record, they're really good! – – Mark Smollin 2012
RECTOR JUSTIN - "JUSTIN" – 1965
need pic
Bruce Jeffries - bass, (69), Charles Boisseau (70) - horn, guitar & vocals, Gary Parrington (69) - drums, Rick Tavello (Norwalk) - organ, Pete Cody (69) - trumpet
THE WILD SECT 1965-1966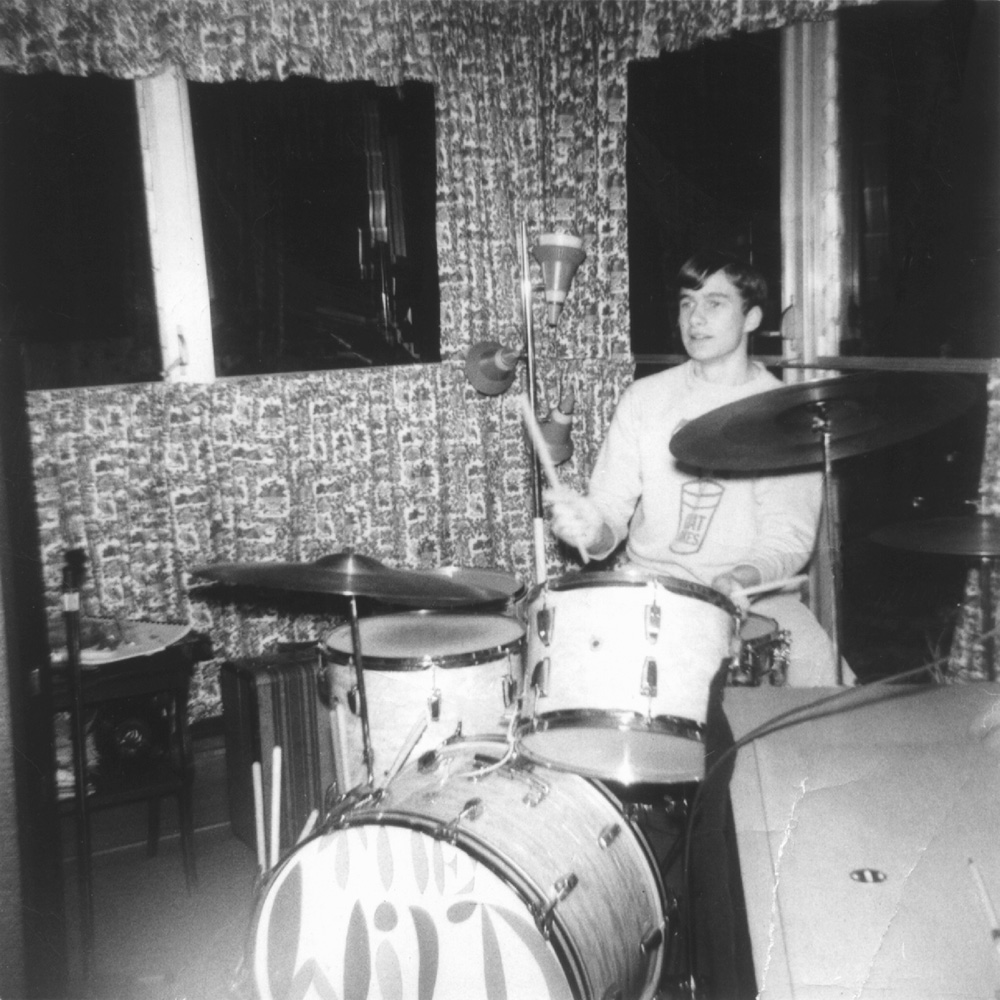 Gene Baker - keyboards & vocals, Jim McDonough (68) - guitar & vocals, Bill McDonough (69) - bass & vocals, Mark Smollin (70) - drums, Colin Campbell (68) - music tech.
This shot was taken in the Baker family den/rehearsal room at Roosevelt Road across from the Compo yacht basin. The top of the Hammond organ Gene played is visible on the right. Mark is wearing a light-blue promotional sweat-shirt for General Foods - Great Shakes, part of an advertising campaign his father worked on at J Walter Thompson ad agency who contracted The Blues Magoos to record a jingle based on their latest hit, We Ain't Got Nothin' Yet. It seemed to be a successful venture, so they produced an album with many major bands including: The Who, The Yardbirds, The Tolkens, The Happenings, The Chiffons, The Spencer Davis Group, with bonus cuts by The Trogs and Stone Ponies. These tunes played on the radio and there was a set television commercials.
THE SAINTS 1963-1966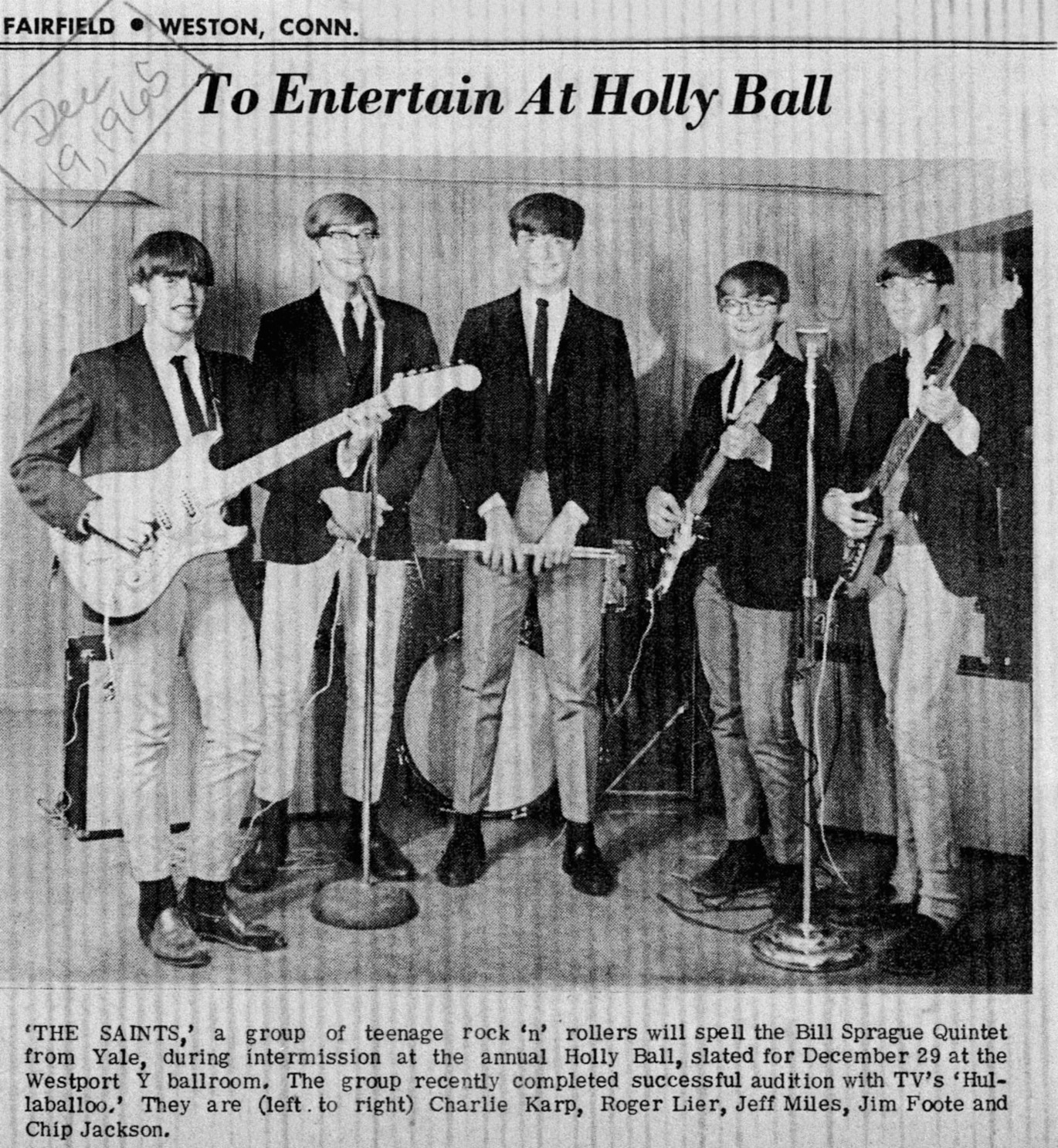 Left-Right: Charlie Karp (71) - guitar & vocals, Roger Lier (69) - vocals, Jeff Miles (69) - drums, Jim Foote (69) - guitar & vocals, Chip Jackson (68) - bass & vocals.
This clipping from 19 December 1965 announced them playing for the Holly Ball 29 December 1965 at the Westport YMCA. This is testimony to the rock takeover, since The Saints would play the second part of the evening from the typically conservative renderings of the Bill Sprague Quintet from Yale. Jeff had a very punchy 20" bass drum.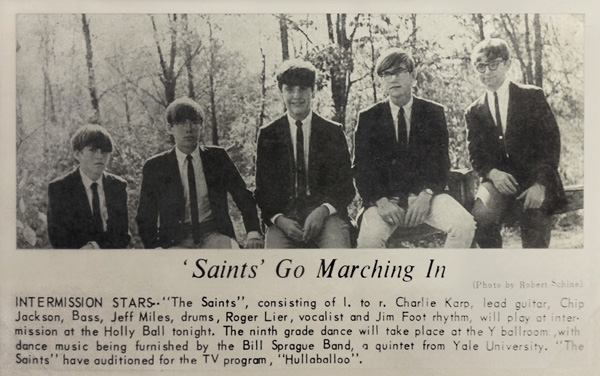 The first paid gig The Saints played was at Bedford Junior High School, when we were in 7th grade! There was actually a picture of us playing the gig in The Westport News, which I will try to find.
The original members of The Saints were Charlie Karp (lead guitar), Chip Jackson (bass), Jim Foote (rhythm guitar and organ), Roger Lier (vocal) and me on drums. Sometime around 1965 Chip Jackson left the band to join The Rogues. Chip was replaced on bass by Hank Anderson. After we became The Soul Purpose, Charlie Karp left the band to play with The Fun Band in Fairfield. He was replaced by Kenny Samuelson, who had played lead guitar for a group called The Third Rail. We also picked up two terrific sax players -- Milton Sloane and Rudy Costa. – – Jeff Miles (69)
THE MYSTICS – 1966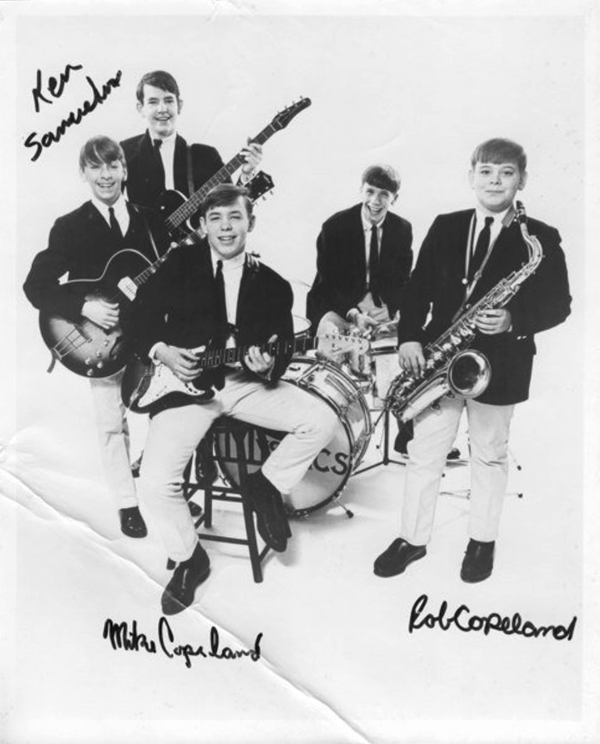 Stu Dixon - bass, Bill Ross (68) - drums, Kenneth Samuelson (68) - lead vocals, lead guitar, Mike Copeland (68) - Stratocaster guitar, Rob Copeland (70) - sax
The Mystics were based in Weston CT.
THE SHADOWS – 1964-1966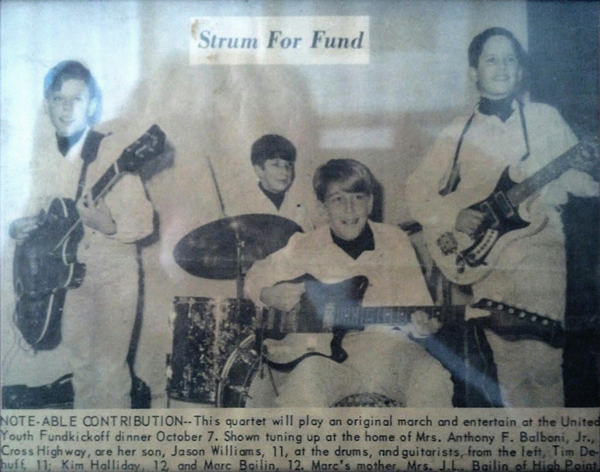 Jason Williams (70)- drums, Kim Halliday (70) - bass & rhythm guitars, Tim DeHuff (72) - lead guitar, Marc Bailin (70) - bass & vocals
They were together about two years beginning late early 1964. Their first "paid gig" was a party at Jon Morley's house. They also played Laura Jean Golden's, Chou Chou's sixteenth birthday party along with sock hops at the Northfield Church in Weston and the Unitarian Church in Westport. The band slowly dissolved or devolved.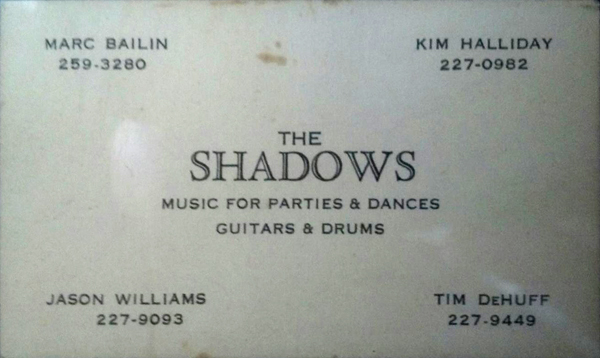 THE NOMADS – 1966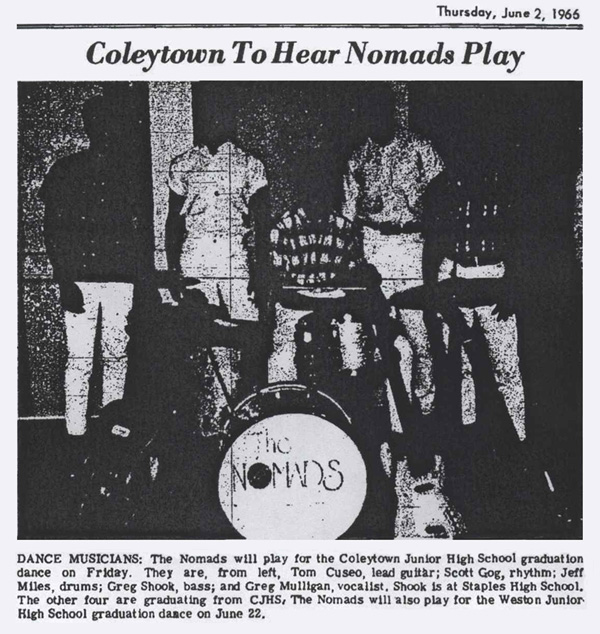 Active: 1966: Tom Cuseo (68) - guitar, Scott Gog - guitar, Jeff Miles (69) - drums, Gregory Shook (68) - bass, Greg Mulligan - lead vocals.
THE HEREAFTER – 1966
need pic
Chuck Boisseau (70) - Guitar & vocals, Larry McFadden (70) - drums, Brian Keane (71) - guitar, Art Barton (?) - bass, John Leimseider (70) - keyboards.
THE KNIGHTS 1965-1966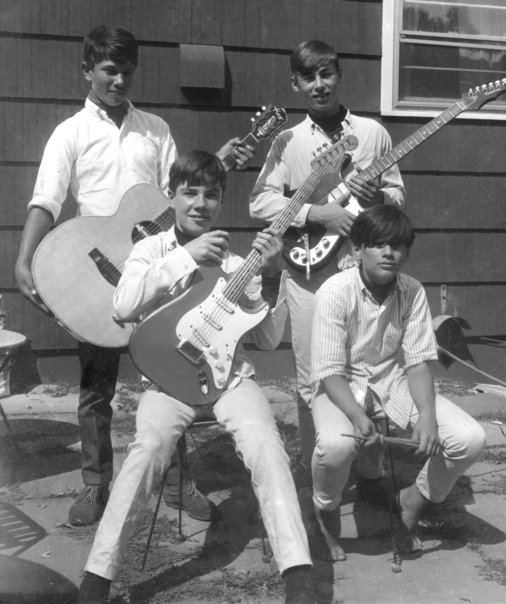 Dave Carchere (71) - acoustic guitar, Brian Keane (71) - guitar, Arty Barton (71) - guitar, Bill Sims (71) - drums
Actually, this might have been '66. The band that played on WICC had Bill Sims and Myself, but I think it might have had Joe Nistico on organ, and one of the O'Connell brothers. At any rate, it was a later config than the band in this photo. The "Knights" played gigs in 1965 and '66 (when I was in 6th grade at Bedford Elementary school, and in 7th grade...the first year of Coleytown Junior High school). I believe Bill and I were on the radio the summer of '66, but it might have been '67. Bill played me the recordings a few years ago at a get together at his house (his sister taped it). I was prepared for public humiliation, but we actually sounded pretty good! In the interviews, you could hear that our voices hadn't fully changed yet, and that sounded pretty funny. – – Brian Keane 2011
THE RUNAWAYS – 1966
need pic
Tim Dehuff, guitar - Dana Stephenson, six-string-bass - Derek DeVries, drums - Jim Pratt, guitar.
We did Satisfaction, and Dirty Water by the Standells." Down by the banks of the river Charles" "Oh, yea, Boston you are my home". Great tune! - - Derek De Vries 2014
SMOKE 1966-Present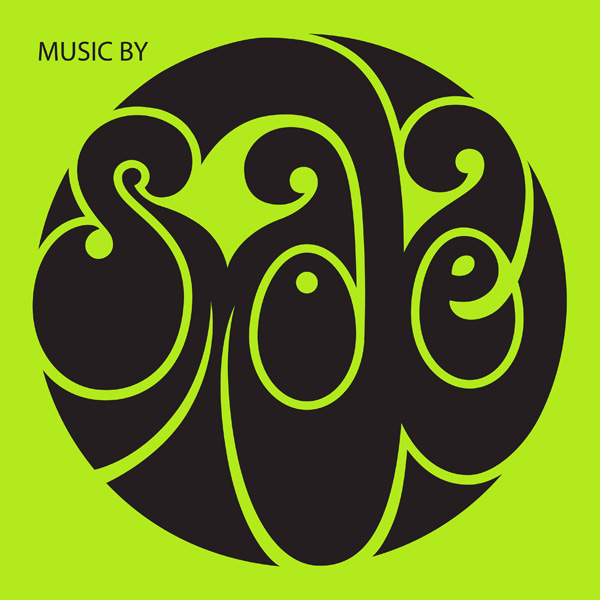 The Smoke logo was designed because the band had an upcoming gig and no promotional material. One of the band members found a mail-order ad for a printer that offered 500 self-adhesive stickers for $15.99, so Mark Smollin sketched a rough version of this design in the cafeteria at a band meeting that was sent out immediately to meet the turnaround deadline… and of course, it was printed in puky-chartreuse-dayglow-ink and plastered everywhere. The design was later refined as displayed and hand-painted on the bass-drum-head pictured below.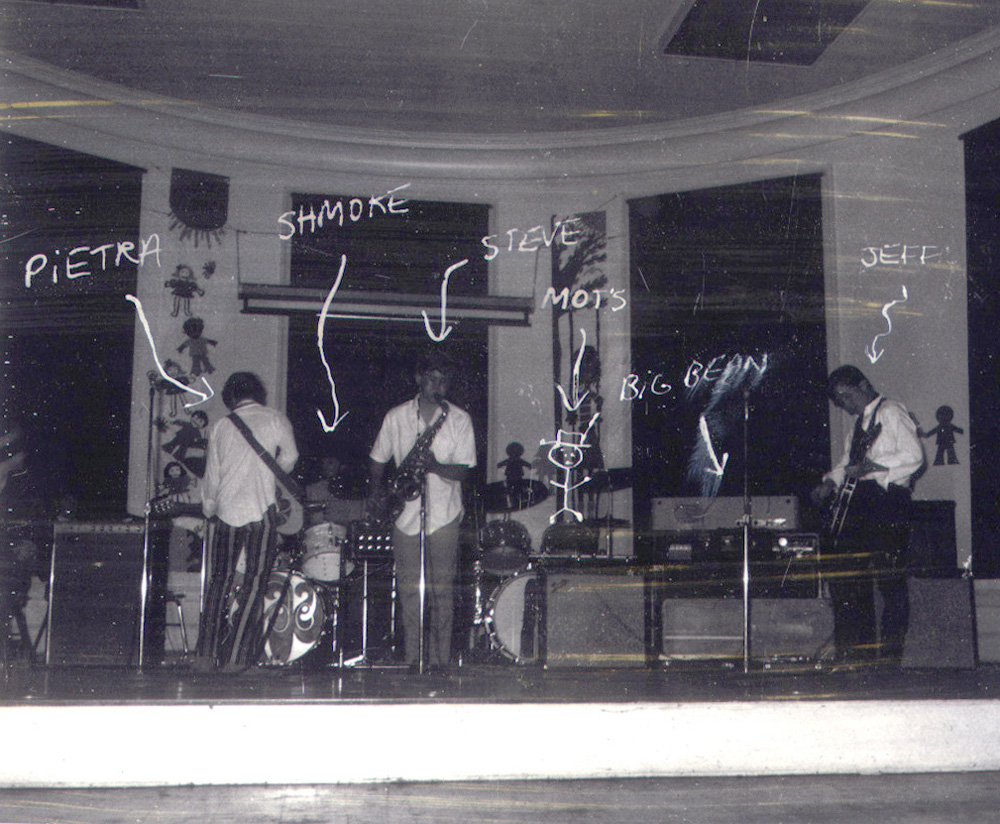 Pictured above is the third incarnation of Smoke doing sound-check at Bedford Junior High 1968 with members: Peter Mogren (70) - bass & vocals, Mark Smollin (70) - drums, Stephen Wall (70) - sax, flute, guitar, vocals, Tom Mottern (70)- drums, John Leimseider (70) - keyboards, Jeff Dowd (71) - guitar & vocals.
ORIGINAL MEMBERS: Chuck Boisseau - guitar & vocals, Peter Mogren - guitar & vocals, Marc Bailin - bass & vocals, Mark Smollin - drums percussion & vocals: FOLLOWED BY: John Leimseider - keyboards & tech, Stephen Wall - guitar sax flute & vocals, Jeff Dowd - guitar & vocals, Mike Mugrage - guitar & vocals, Tom Mottern percussion & drums. Special performances by the Staples Brass; Steve Wall - sax, Dan Potter and Andy Kaunitz - trombones, and Peter Cody and Herb Whitely - trumpets.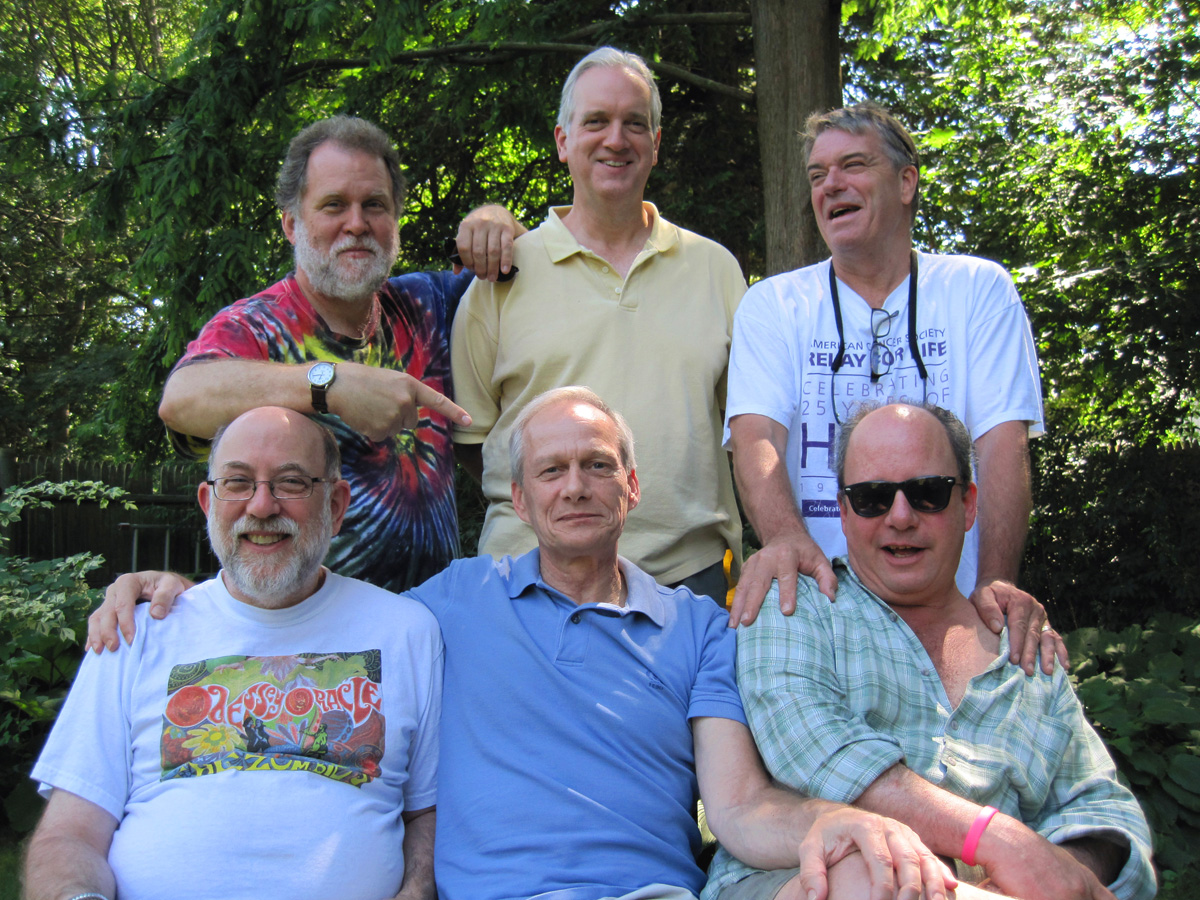 Band publicity shot August 2009 from top left: Stephen Wall, Charles Boisseau, Peter Mogren, John Leimseider, Mark Smollin, Marc Bailin… all class of 1970.
10] STYX – 1966 - 1967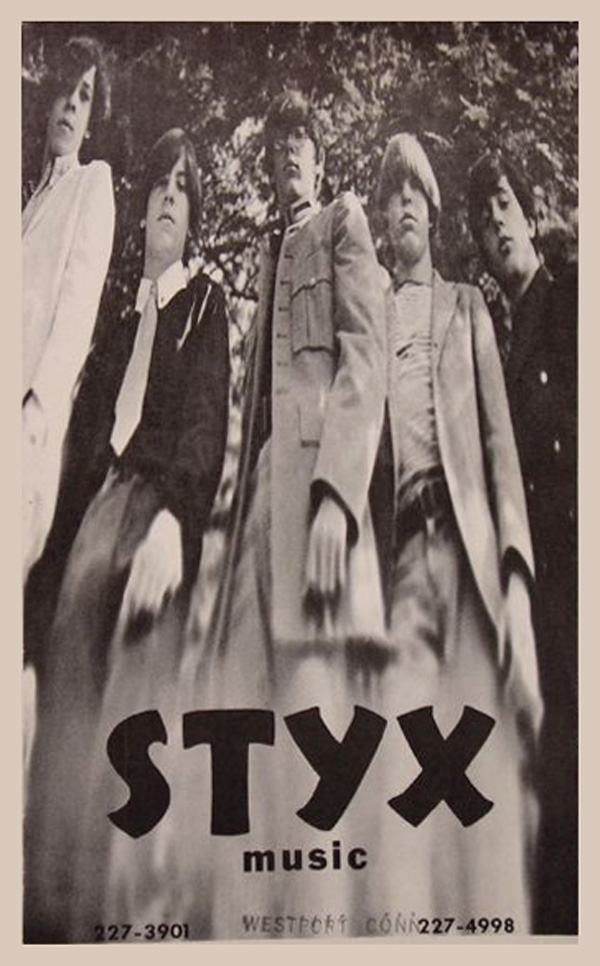 Photographs and prints by Billy Kaye who attended Staples his sophomore year before going to private school.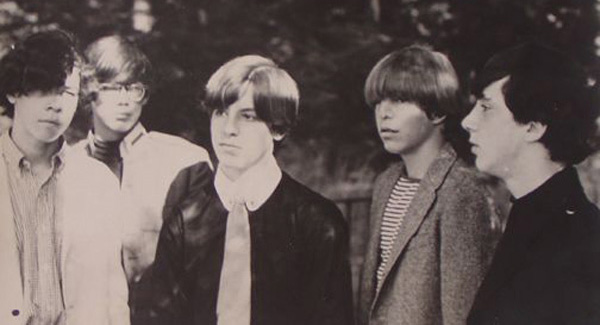 Rick Castillo (68) - lead vocals, Chip Jackson (68) - bass, Tracy Burroughs (68) - drums, Tim Wayne (68) - rhythm guitar, Tony Prior - lead guitar
THE SOUL PURPOSE – 1967-1968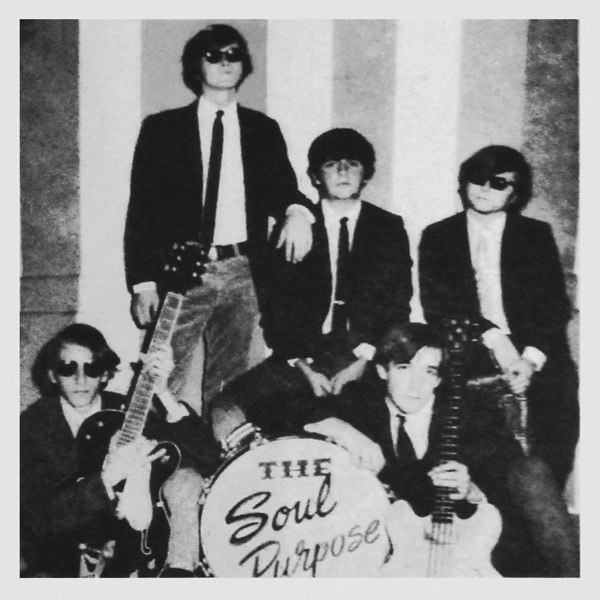 Charlie Karp (71) briefly, replaced by Kenny Samuelson (68) - lead guitar, Roger Lier (69) - vocals, Jeff Miles (69) - drums, Hank Anderson (69 d) - bass & vocals, Jim Foote (69) - keyboards
Charlie Karp (71) left to join The Fun Band in Norwalk. Milton Sloane and Rudy Costa (not pictured) on sax for special tunes.
Picture from The Westport News November 16 1967 issue.
In 1967-68 The Soul Purpose played in three separate concerts with nationally-known groups: with The Turtles at Darien High School in Darien, Connecticut; with Eric Clapton and the Cream at Staples High School, and with Sly and The Family Stone (also at Staples). Many of the guys who played with The Soul Purpose went on to play with well-known musicians. Charlie Karp played lead guitar for Buddy Miles. Chip Jackson played bass with jazz greats Bill Taylor and Chuck Mangione. Milton Sloane played sax with Joe Cocker, and Rudy Costa played sax with Taj Mahal! – – Jeff Miles (69)
MANDRAKE ROOT – 1967-1968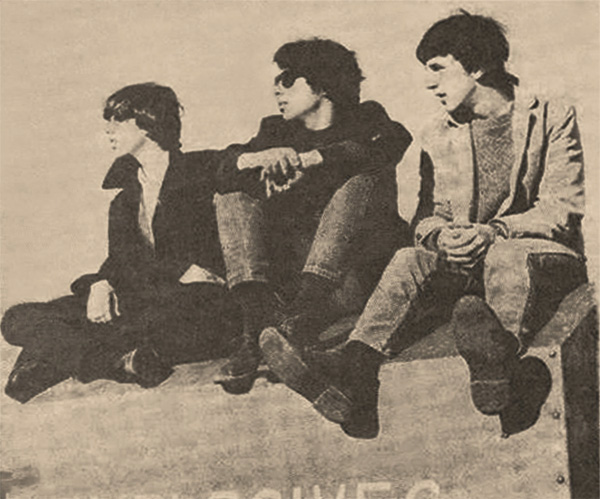 Pictured: Chip Jackson (68) - bass & vocals, Leigh Sobel (68) - drums & vocals, Tony Prior (norwalk) - guitar & vocals,
After the Soul Purpose broke up in 1968, Jim Foote (keyboard and rhythm guitar in the Soul Purpose) and I joined Mandrake Root. Leigh played drums with Mandrake Root, so when I joined to play drums he went out front and to sing lead and play harmonica. He was very good at both. – – Jeff Miles (69)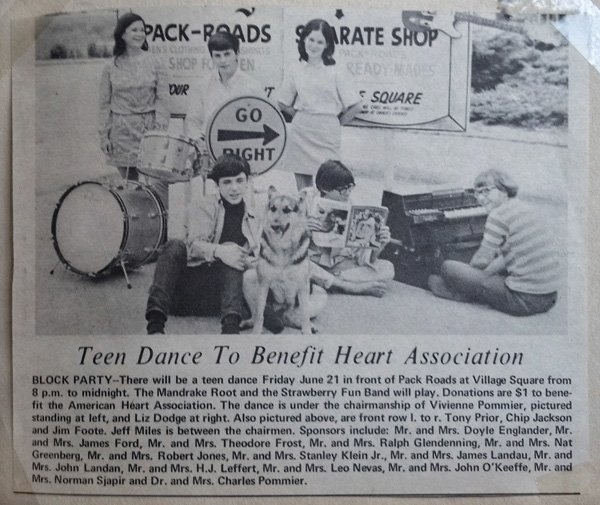 The girls are not in the band, but the photo shows the new lineup for Mandrake Root minus Leigh Sobel, who was out shopping for a new pair of sunglasses. Pictured from top left: Vivienne Pommier (70), Jeff Miles (69), Liz Dodge (?), Tony Prior (with new girl-friend), Chip Jackson (too busy to pose), and Jim Foote laughing-off curvature of the spine from playing keyboards too long.
THE ST ELM STREET BAND – Summer 1967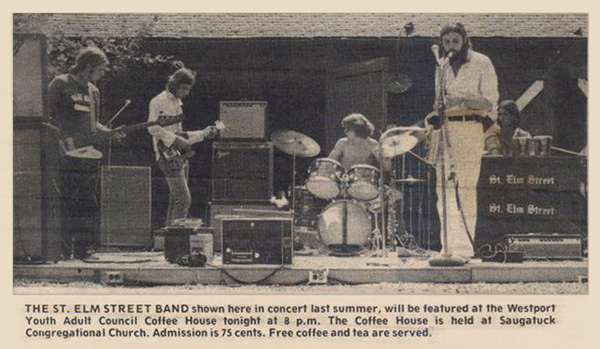 Active: 1967-1968: Alan Borden (68) - guitar, Steve Clarke (68) - sax, Tim Jackson - drums, Rob Carlson
- need more info
THE STRAWBERRY FUN BAND "THE FUN BAND" – 1967-
Chris Higgens (aka 'Liggs' from the Loved Ones) - lead singer, John Stowell - lead guitar (the only lead guitarist i knew in a rock band who would play sitting on a stool), Charlie Karp (71) - guitar, Milton Sloane - sax & flute, George Miller - bass
Not much info out there about sidemen like Milton Sloane (Strawberry Fun Band) and Christopher (Liggs) Higgens. Both Fairfield born and bred, who toured and recorded with some of the most popular acts of the 70's. In Milton's case, Joe Cocker during 72 and 73, Milton played sax and trumpet. In Liiggs'case, he toured with CSNY on American tour in 1976, and then in 77, he toured with Kenny Loggins, as the bass player. May also have done studio work with Kenny Loggins .
1972 and 1973 Milton Sloane recorded with Joe Cocker. You can find him on Cocker discography. He came from Fairfield and was a modest monster of a virtuoso performer. – – Kerry WIllet 2012
9] GOODHILL – 1969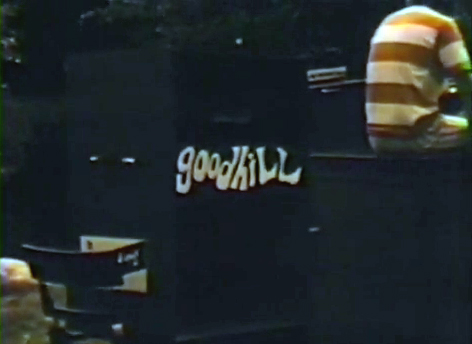 Charlie Karp - lead guitar, Neil Stubenhaus - bass, ???
Goodhill was named after the road in Weston where some of the band members were from. See a video of the band playing outdoors available on YouTube.
11] THE THIRD RAIL – 1969
John Williams (68 Jason's older brother) - bass, Mike Copeland (68) - keyboards, Tony Prior - guitar, Drummer - drums
THE WATERBOYS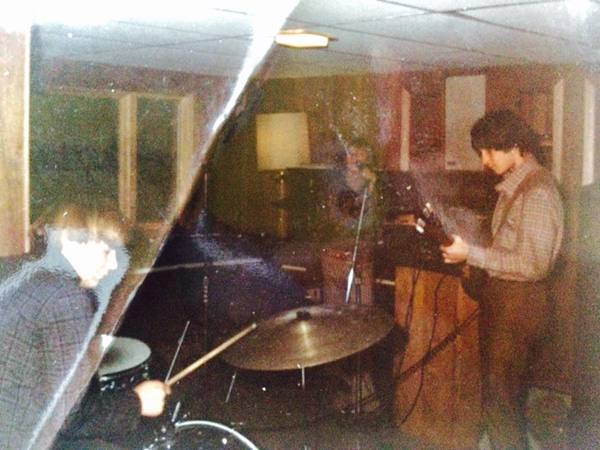 Harry Eisenberg - guitar, Chris Janis (70), Steve Park (70), and Rob Copeland (70) - keyboards
STOPWATCH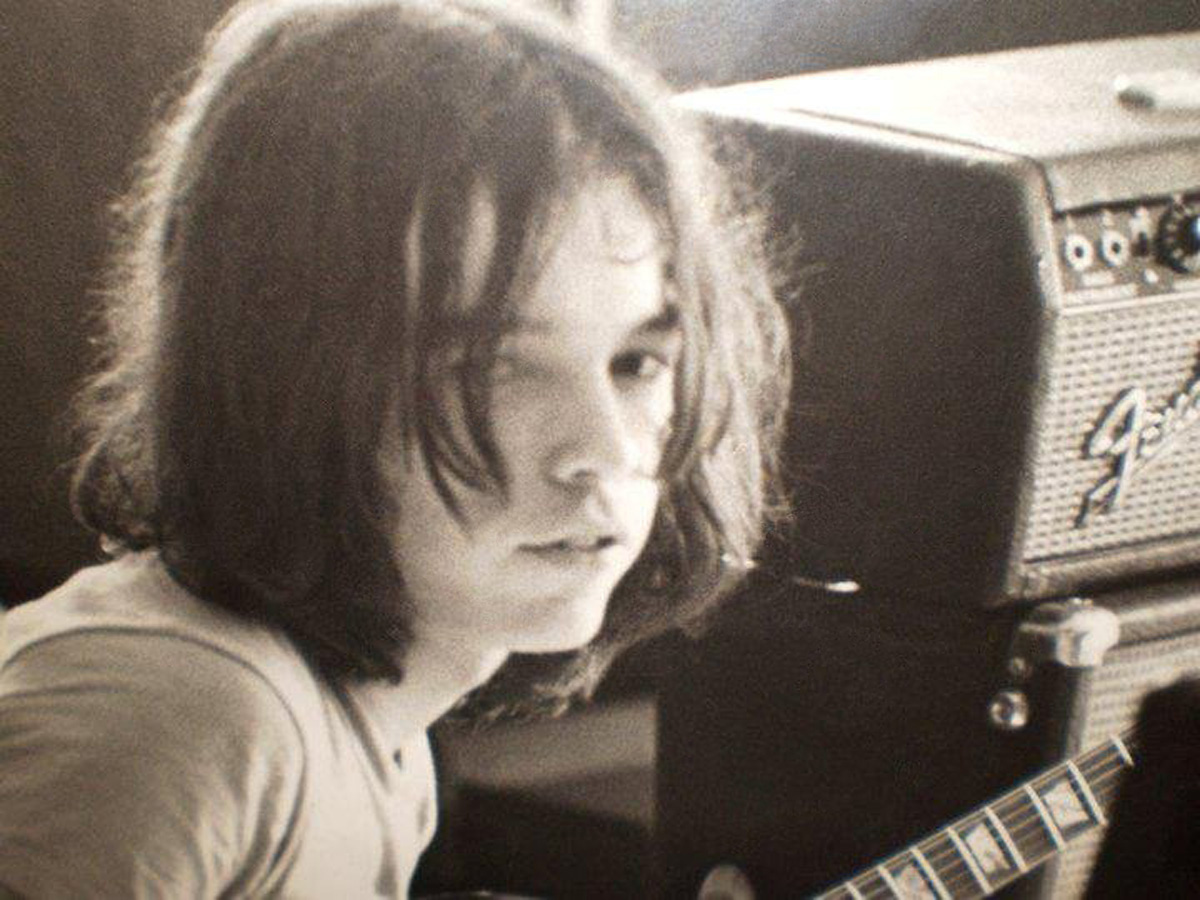 Ian McNamee (68 d) - guitar, Jeff Miles (69) - drums, Joe Nistico (69) - organ, Beau Parsons - bass, Jeb (from Barlow) They mostly played private schools.
THE BAD OZZIES 1969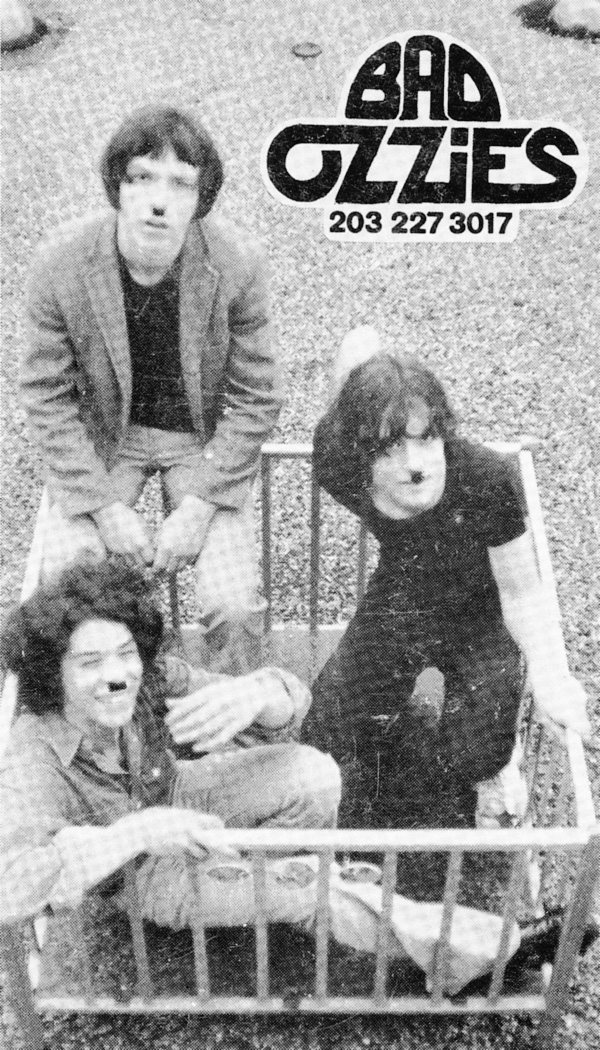 Promo-Postcard front with back below: We liked the unsettling contrast of 3 weird looking guys with Hitler mustaches being barely contained within a baby crib, an artifact of innocence and childhood. I think I was into the absurdity art of Marcel Duchamp at the time. – – Miggs Burroughs 2012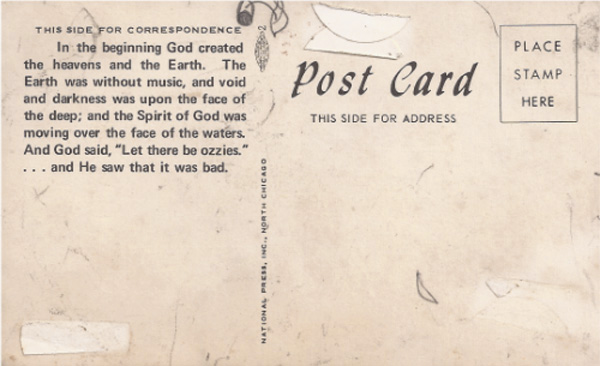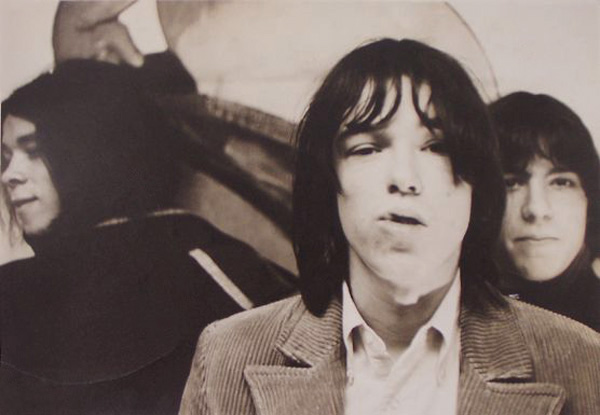 As above: Richard Castillo (68) - bass, guitar & vocals, Ian McNamee (68 d) - guitar, Tracy Burroughs (68) - drums.
Ian McNamee 1950-2010 leaves an extensive legacy of music, both written and recorded, and was recognized as a master guitar player whose musical taste and sensibility were esteemed by both those he played with and for throughout his life. Read the Westport News Obit.
2012 - Tracy Burroughs runs a multi-media company, Little Men Entertainment.
MOTHER ROTHCHILDS FIRST AID CENTER BAND 1969
Dusty Matthews - lead vocals, Hank Anderson (69 d) - bass & vocals, Tim DeHuff - Guitar, Robert Jackson (71) - drums, Fred Reynolds - pno
Dusty sang in a style similar to Joe Cocker. I heard them play downtown Westport at the Acrcade. The band played Staples and recorded at Don Elliot's studio in Weston. - - Mark Smollin (70)
KILLER WATT 1969-1972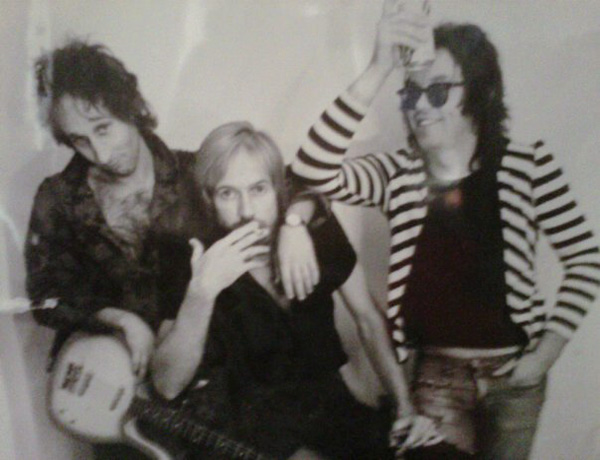 Yale Greenman - bass, Bill Davidson - drums, Ian McNamee (68 d) - guitar
RISE 1970-1972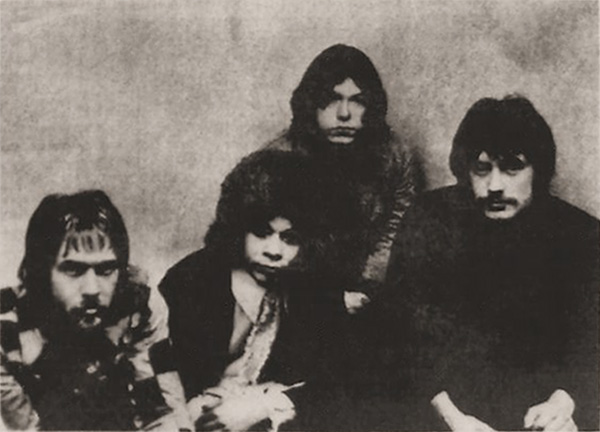 Bill Davidson - drums, Rick Castillo (68) - lead vocals, Ian McNamee (68 d) - guitar, Glen Letsch - bass,
They played all over New England and spent a year in San Diego when I was in HS (class of 72). They played around Fairfield Co., The Tavern, Beachside, Surfside... – – Michele McNamme (72) 2012
MAD LIGHTS 1966-1973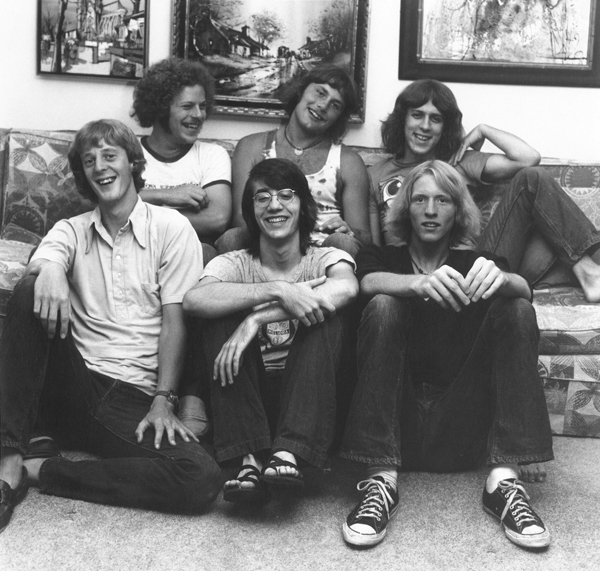 Rear L to R: Larry Paris (72) drums & vocals, Bill Carli (72) percussion, Jerry Mande (72) guitar. Front L to R: Brad Stevens (72) guitar & vocals, Jack Marshall (72) bass, Steve Moen (72) harmonica.
First, there was our band Ungathered Moss, then Connecticut Eye & Ear Control, and finally Mad Lights. We played junior & high school dances, proms, clubs, coffee houses, & Jesup Green concerts from '66-'73. I joined the band in 1966 in 7th grade as manager and light show director. I had just started playing guitar that year and continued learning from my band mates and Chuck Boisseau. In high school Jeff Franzel our keyboard player moved again this time to Houston, TX. I replaced Jeff. At that point we started covering a lot of Allman Brothers Band songs after seeing them open for the Dead at the Fillmore East and we went with their double lead guitar sound.
- - Jerry Mande (72)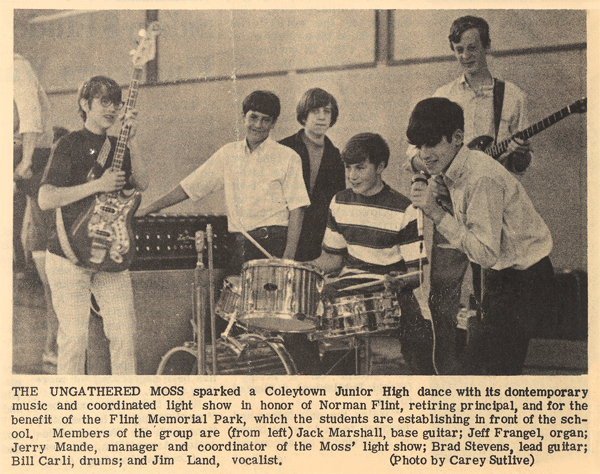 JEFFREY RAHN (d)– MUSIC PROMOTER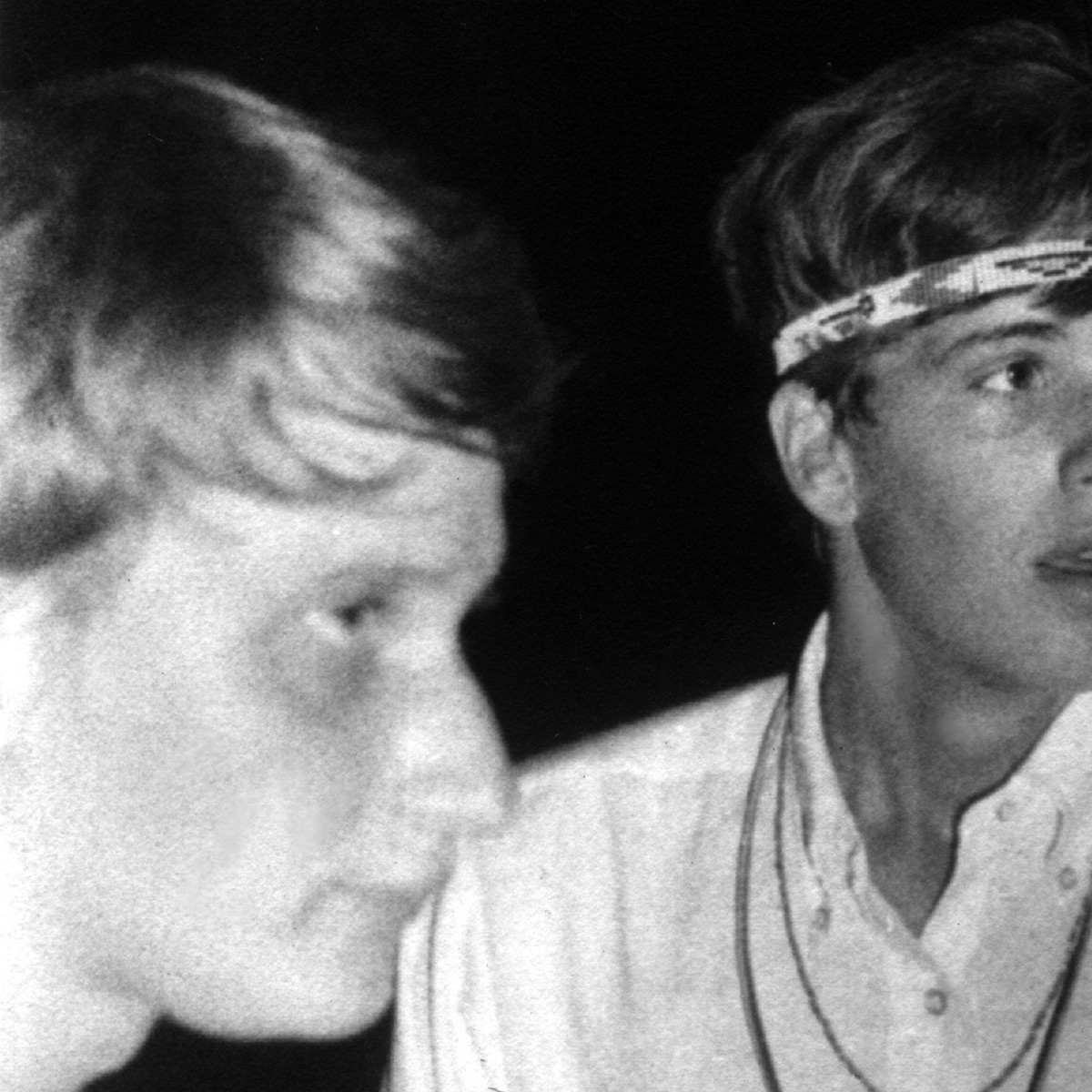 Jeff (left) is a music lover and did much to encourage and support the efforts of many talented bands in southern Connecticut including: Smoke and the Blueberry Band.
A little history on Al Watts Blueberry Band – they were an amalgamation of musicians I knew in New Canaan High School where I came from and Staples where I wound up. The background, a New Canaan group formed of Gordon Stone, John Mucci, Bo Parsons and Phil Digiacomo formed called the Brass Tacks. I tried to play with them – but sucked musically, so they were kind enough to let me talk them into managing and they borrowed some of my gear. Simultaneously, Bo played in a band with his brother Randy Parsons, Doug Barrett, and Dave Humphrey called the Dimensions. Somehow we all connected with Joe when I moved to Staples so a shuffling of personnel occurred and Al Watts Blueberry Band was formed with Joe, Doug, Dave, Randy and Bo. Music and musicians became my life for many years – they were the first crowd of people I felt accepted by as a geeky kid growing up – and having grown up on a combination of English Choral Hymnody, Gregorian chant and Mahalia Jackson, finding rock in the 60's was great! it was an extension of my love of music that helped me cope in life and has to this day. I find all music healing and some of the friendships I formed then and in following years remained healing also – what can I say – I have been blessed beyond my wildest dreams. Mike Mugrage and John Leimseider and I reconnected in recent years and had a wonderful visit with John and his wife here in Austin last year. Just a footnote for here. – – Jeffrey Rahn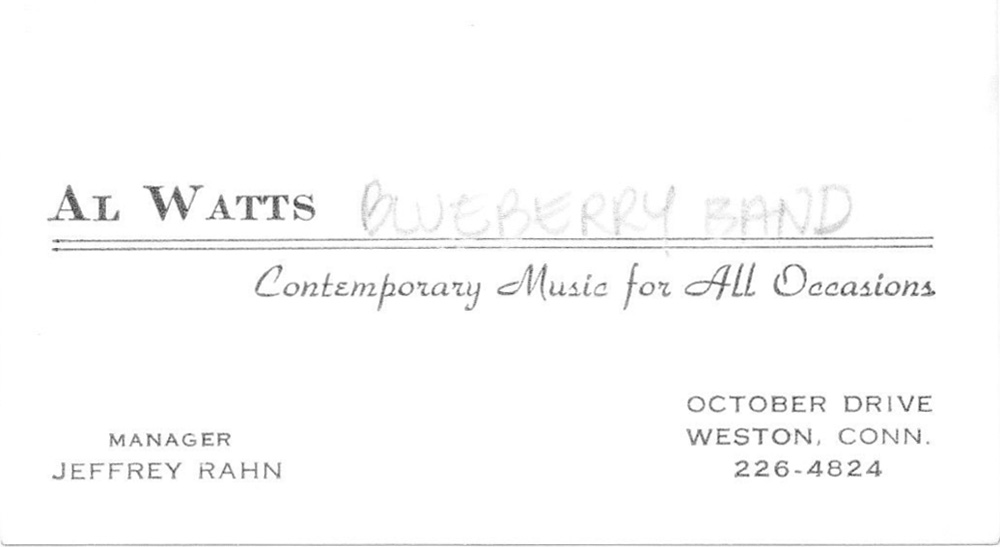 GEMINI LIGHTS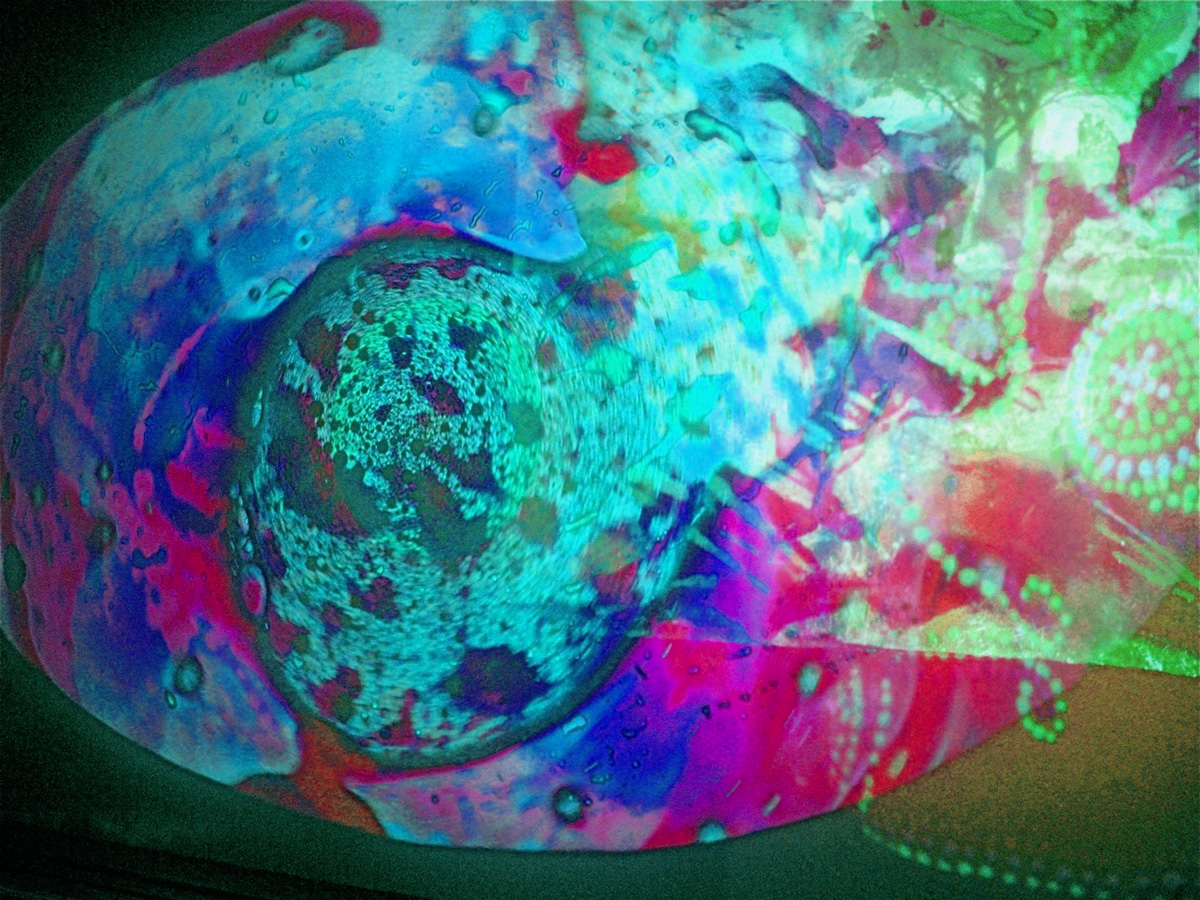 David Abelow and David Eyes of "Gemini Lights" did a light show for The Strawberry Fun Band, among other things, in the Cafeteria, Charlie was the one we dealt with. Not that we were a huge part of the scene, but we did sets with a handful of bands from that era, quite possibly at least once with Smoke, maybe at congregational church?. Also don't remember what they called themselves, but Ford Dixon and Kevin Donahue (class of 70) had a light show too, they were players tech folks. They (with some other guys) did the James Gang gig among other things. it was an amazing time and very magical and very worth remembering. – – David Eyes
JEROME LIGHT SHOW
Steven Katz (69) founded the Jerome Light Show with Kevin Donaher (70) and Ford Dixon (70). They used 35MM projectors or at least a professional level 16mm projector with a xeon light source for all the movies and furnished a projection screen. JLS performed in Westport and at the Fillmore East, doing shows for the Grateful Dead, Vanilla Fudge, Sly and the Family Stone, Dave Amram Quartet among others. Katz trained with Josh White of the Joshua Light Show at the Fillmore which later became Joe's Lights.
LAST UPDATE: 2014
MAIN TRIVIA PAGE LOCAL BANDS ROCK PROS ALUMS MAKE GOOD